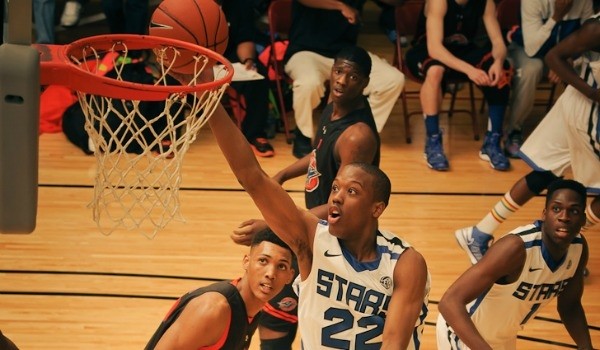 Our in-house evaluator has spent over the last 10 years on the sideline as a college coach. At the Norman Parker Showcase, Winston Neal was on the sidelines for HoopSeen.com to catch the action. We asked him to unveil his top players and top surprises.
Here's his short list of players for college coaches to watch as we move into the spring evaluation period.
Justin Smith (ATL Xpress) – great body, active around the rim.   A-10 and Conference USA programs will have to fight off HM programs for this young man from Dublin, Ga.   Interstate 16 will be well traveled this fall by college coaches recruiting this young man.  
Bryce Brown (ATL Xpress) – this shooter from Columbia with a strong body will have many a school chasing him around during the July period.
Darius Alexander (Georgia Stars) – athletic wing with a good frame that can get hot from 3.   Lists offers from George Mason, ECU, Tennessee, Winthrop, Georgia State, and Tulsa.   Reminds me of another former Georgia Star, Jaqawn Raymond, who started his college career at NC State and is now staring for the Blue Raiders of Middle Tennessee State.  
Courtney Alexander (Georgia Stars) – athletic combo forward that has a lot of success attacking the basket off the bounce.   He has athleticism and a basketball pedigree that will get HM coach's attention, so it would not surprise me to see colleges from multiple levels evaluating him this spring and summer.  
Shawntrez Davis (Game Elite) – this Power Forward will turn heads with his athleticism.   He showed the ability to score in the post and make the 15ft jumper this weekend.   If he continues showcasing those types of skills he will have everyone from Conference USA to the SEC recruiting him.  
John Carlos Reyes (Game Elite) – size is tough to find for college coaches.   Size that runs the floor, blocks shots, and goes to the glass is even tougher to find.   This young man has re-classified and should see his recruiting take off should he continue to play like he did this weekend. 
Winston Neal spent the last nine years as an assistant coach at Jacksonville University. He also coached at Southern Cal and Loyola Marymount. He played four years at Georgia Tech. You can reach him at coachwneal@gmail.com.