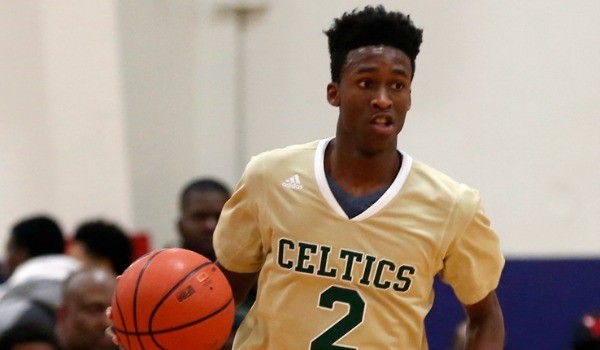 DALLAS, TEXAS -- College coaches of all levels were treated to competitive games at the adidas Gauntlet over the weekend.  From future NBA lottery picks to LM players trying to earn a D1 scholarship, there was something for everyone to see in Duncanville. 
The Best of the Best
Jaylen Brown (Game Elite) – He left no doubt that he is one of the Top 20 players in the country and is making a case to crack everyone's Top 10.   Future lottery pick is the best way to describe this young man's game.   His 37point scoring clinic vs. Texas Select was the highest single game point total for the tournament.   He's the main reason for so many chartered flights in and out of the Duncanville Jet Park over the weekend carrying the Elite HM head coaches flying in to see the young man in action.  
Carlton Bragg (OBC) – Coach Duncan for OBC has a special player on his hands.   Big-time body, HM Athleticism, and the Ability to shoot the ball from the perimeter.   He's listed as a PF/C but the young man's game is about versatility and scoring from all over the court.   He proved he's a Top 20 player over the weekend and has the talent to have his name called on draft night one day.  
Thon Maker (Team Loaded, VA) – He's only a rising junior (2016) but the Elite HM programs should already have offered this young man from Carlisle.   He is the main reason for Team Loaded leading the event in Field Goal Defense.   He has the length, athleticism, and skill to be a pro but what will make him a high draft pick is his intensity on every possession.   Players who don't take plays off are hard to find, especially when they are 7 feet tall.  
Brandon Ingram (Stackhouse Elite) – Length, Athleticism, and Scoring ability = Coach K on the front row Friday night to see you and for you to see him.   The recruiting war on Tobacco Road is heating up for this young man as he keeps impressing coaches with his game.   He didn't put up gaudy numbers in this event but consistently produced every time he stepped onto the court.  
Damon Wilson, Jr. (Game Elite) – the Pitt commit made a lot of HM coaches wish they had gotten on him earlier.   He didn't score the way he did at the Norman Parker Showcase but with Jaylen Brown by his side this time around, he didn't need to take as many shots.   Credit this young man for making a smooth transition and leading an offensive attack that ranked #1 overall on the weekend at 76ppg.
Josh Langford (ATL Celtics) – This rising Junior was one of the Top 15 scorers in the tournament which says a lot but what's even more impressive is that he did it on arguably the most talented team in the tournament.   Playing with multiple HM prospects this young man stood out with his ability to get to the rim and finish.   Expect every SEC and ACC school to have offered this young man by the end of July.  
Braxton Blackwell (ATL Celtics) – Another 2016 HM player for the Celtics, this young man impressed many a coach with his play on the floor.   The big young wing has handles and the ability to break defenses down for scoring opportunities.  
Kobi Simmons (ATL Celtics) – The Celtics just keep throwing HM young players on the court causing opponents headaches.   The question on the sideline about Kobi is if he is a PG or a Combo.   My answer: It doesn't matter, just get him the ball and let him make plays.   Coming from a high caliber academic high school program will make this young man a priority for the HM Academic Schools (Stanford, Vandy, Cal, Ga Tech) but they will have to fight off multiple HM programs for his services.  
Deng Adel (Florida Elite) – This young man from Australia has a skill package that is tough to find.   The 6'7" wing brings a feathery shooting touch from the perimeter and an ability to create off the bounce.   There's a lot for the HM programs to like about this young man's potential, especially when you throw in fact he's only been playing organized ball for 3 years.  
Damontre Jefferson (Rebels) – All he did was lead the tournament in scoring at 26pts a game.   Teams looking for a guard that can score need to call this young man.  
Josh Sharma (Mass Rivals) – The big fella from Northfield Mt. Herman really turned college coaches heads.   Whether it was blocking shots or crashing the glass for tip-dunks, this young man played his way up many a HM Program's Recruiting War Board.   He's by no means a finished product but has the frame to add weight once he gets to college and really blossom for the right college program.  
Mario Kegler (MBA Hoops) – The junior put on a scoring show every time he stepped on the court.   He's got a college body and a knack for scoring.   He scored at every level over the weekend:  making 3's, off the bounce, and in the post.   He's already a priority for HM teams in the south but as this young man grows and develops, he will become a nationally recognized name.  
Dennis Smith, Jr (Team Loaded, NC) – The rising junior guard is going to cause a recruiting war between the boys on Tobacco Road and may find himself in the discussion as a Top 25 player nationally.   He combines quickness and athleticism with a knack for scoring the ball.   You don't see many PG's who can break their man down, drive down the middle of the lane, and finish with a 2 hand slam.   This young man has a chance to be a special player.  
Billy Wampler (D1 Minnesota) – Shooter alert!   This young man is continually improving his stock among college coaches.   He's a smart player with a high bball IQ that combines a sweet shooting stroke with the ability to create off the bounce and finish above the rim.   College programs that value shooting will make this young man a priority.  I was asked if I thought he was a 3 or 4 star player by multiple fans.   My response:  college coaches don't care how many stars you have, they care if you can play.   Make no mistake, Billy can play.  
Winston Neal spent the last nine years as an assistant coach at Jacksonville University. He also coached at Southern Cal and Loyola Marymount. He played four years at Georgia Tech. You can reach him at coachwneal@gmail.com.