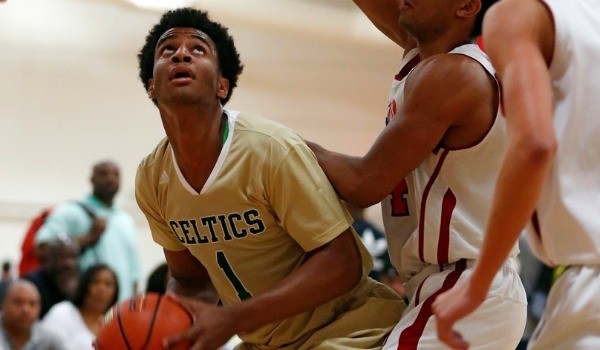 DALLAS, TEXAS -- College coaches of all levels were treated to competitive games at the adidas Gauntlet over the weekend.  From future NBA lottery picks to low-major players trying to earn a D1 scholarship, there was something for everyone to see in Duncanville.  Here are Coach Winston Neal's
Adidas Gauntlet Team Superlatives:
Top Offensive Teams:  
Game Elite - They led the tournament in scoring at over 70ppg while shooting over 50% from the Field as a Team.   The game today is guard oriented.   Game Elite starts 3 HM guards, enough said.  
Mass Rivals – They have size in the paint with Josh Sharma, shooters on the perimeter led by Curtis Cobb, and big-time guard play with Jalen Adams on the court.   All of it adds up to a balanced scoring attack.  
Team Loaded, NC – They are led by a young HM PG in Dennis Smith, Jr.   Combine that with size in the paint (Iran Bennett) and versatility at the forward and guard positions means you have a potent offensive attack.  
OBC Elite – They are loaded with a wide range of D1 talent.   They have an elite talent in Carlton Bragg but when you throw in the versatile Devon Andrews with other D1 players you get a talented offensive team.  
ATL Celtics – They are arguably the most talented in the Adidas Gauntlet.   What makes them scary good is that their most talented players haven't even begun their junior years in high school.    Throw in their 2014 D1 players like Travon Bunch, Malik Benlevi, Jordan Burrows, and Kaiser Gates and you get a loaded team that can put up big offensive numbers every time they step on the court.
Top Defensive Teams:
Team Loaded, VA – They are anchored in the paint by Thon Maker and Matur Maker who don't give up any easy baskets around the rim.   Their athletic guards (Kentrell Barkley, Jeremy Carter-Sheppard, and Curtis Jones) get after you defensively on the perimeter.   Add it all up and you get a team that led the event in Scoring Defense and Field Goal Defense.  
Garner Road Elite – They are an undersized team that lists no one over 6'7" but they are athletic and get after it on the defensive end.   This team has a toughness about them and it shows on the defensive end.
Team Loaded, NC – They can score on you and they can defend you.   Credit their young players for buying in defensively and playing hard on both ends of the court.  
Florida Elite – Their length, athleticism, and depth is impressive.  Defense has always been a staple for the Florida Elite Program and playing hard defensively is expected from every player in the program when they step on the court.   Put it all together and you get a team that was top 5 in both Scoring Defense and Field Goal Defense over the weekend.  
Eric Gordon Central Stars – Basketball is the state sport in Indiana, so it's no surprise that their players know how to play.   Credit Coach Mullin and his staff for getting the team to buy in to their defensive game plan. 
Winston Neal spent the last nine years as an assistant coach at Jacksonville University. He also coached at Southern Cal and Loyola Marymount. He played four years at Georgia Tech. You can reach him at coachwneal@gmail.com.