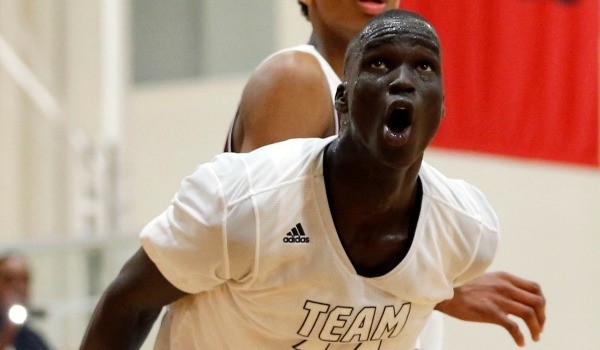 DALLAS, TEXAS -- College coaches of all levels were treated to competitive games at the adidas Gauntlet over the weekend.  From future NBA lottery picks to LM players trying to earn a D1 scholarship, there was something for everyone to see in Duncanville. 
Adidas Gauntlet Player Superlatives
Top Player at the event:   Jaylen Brown (Game Elite)
Top Big Man:   Thon Maker (Team Loaded, VA)
Top Forward:   Carlton Bragg (OBC)
Top Shooters: 
Billy Wampler (D1 Minnesota) – this young man does a lot of things well, at the top of the list is shooting the ball.   A-10, Missouri Valley, and other MM will have to hold off the HM programs for this young man.
Cullen Vanleer (Gateway) – He's a smart, tough shooter.   MM programs who value shooters will make him a priority.
Jakob Lowrance (Gateway) – He's a perimeter 4 man with a big-time stroke.   MM programs who like spreading the floor with shooters will want to evaluate this young man.  
Mike Benkert (EG Central Stars) – Big MM wing who will be a priority for MVC and OVC programs that need a shooter.
Curtis Cobb (Mass Rivals) – The wing from Northfield Mt. Herman can really stroke it from 3.  
Top Rebounders:
Carlton Bragg (OBC) – He's a double-double machine.   You can put him down for +10 rebounds every time he steps on the court.  
Effrem Montgomery (ATL Celtics) – This 2018 big man controlled the paint and the glass for the talented Celtics team over the weekend.   
Emmanuel Olojakpoke (RL9 Elite) – This Forward averaged 9 Rebounds a game for the event and was solid on the glass.  
Jalon Miller (TX Select) – The athletic big man showed he was more than just a scorer over the weekend by controlling the glass on both ends of the floor.  
Iran Bennett (Team Loaded, NC) – The 2016 big man led the tournament in Offensive Rebounding.   Once he gets position, defenders aren't going to move him. 
Winston Neal spent the last nine years as an assistant coach at Jacksonville University. He also coached at Southern Cal and Loyola Marymount. He played four years at Georgia Tech. You can reach him at coachwneal@gmail.com.