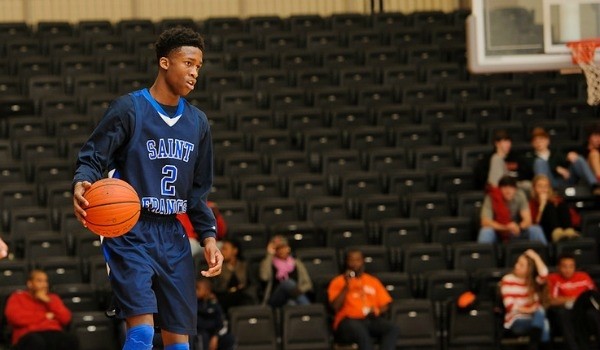 Eric Eleton has been a busy man this month for the HoopSeen.com team, going out to some of the best games in the Peach State. On Friday, he spent the better part of the day checking out the action at Berkmar for the BAMSP Holiday tournament. Here were the five players that stood out the very most to Eleton.
Kobi Simmons, PG/SG, St. Francis, Soph. – After a brilliant 28-point, eight assist performance on Thursday against Pebblebrook, Simmons came back with an effective 19 point, five assist game against Shiloh. A 5:30 match-up on Saturday against Tookie Brown and Morgan County should be a high-flying, back-and-forth affair.
Jaylen Ingram, SF, Morgan County, Soph. – It has been a good month for the 6-foot-6 wing forward. He shined, at times, at the Chick-Fil-A Classic in South Carolina prior to the holiday break. He continued his production on Friday at Berkmar. The sophomore was great against Lanier (Ala.), scoring 23 points all over the floor. He added four rebounds and a couple of steals in the victory. Keep an eye on him in 2014. He's certainly rising.
Juwan Henderson, PG, Stephenson, Sr. - Playing against a pesky Eagle's Landing team, Henderson shined when Stephenson needed him to. As the smallest guy on the court, the senior point guard came up with big plays when called upon. He scored 17 points, handed out five assists and collected three steals. Most importantly, he piloted the Jaguars to a win that pushed the team to the semifinals of the tournament.
Jordan Session, PF, Eagle's Landing, Sr. (Georgia State signee)– Whenever Eagle's Landing needed a positive play, they looked to their rock. Session provided. He did just about everything for the AAAA team. Session scored 22 points, grabbed 14 rebounds, blocked four shots and defended well in a loss to Stephenson. Session was all over the court and shined in front of his future head coach Ron Hunter.
Kiair Crouch, PG, Berkmar, Sr.– For schools looking for a point guard in 2014, the 5-foot-11 speedster is a good place to start. Crouch scored 18 points, handed out seven assists, collected five steals and ripped down four rebounds against Lithonia. Crouch is playing as well as any unsigned point guard in Atlanta right now.