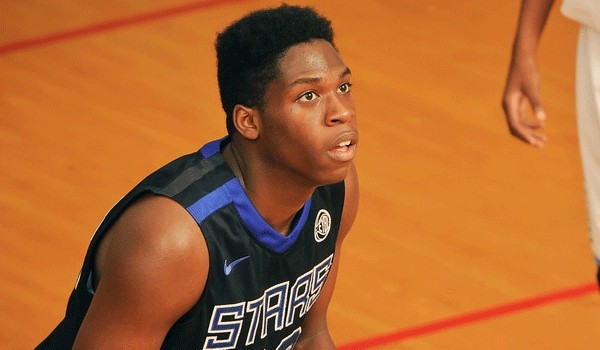 It has been a while since the Peach State has had a multitude of players that will be recruited outside of the normal geographical areas. Not anymore.
I've seen Texas, Ohio State, Indiana, Indiana, Marquette, Georgetown, Kansas State, Oregon State and a host of other schools outside of the Southern reach sitting on the sidelines and baselines during the July period. There are several players from Georgia that are being recruited nationally.
Game Elite's Jaylen Brown, a national top 10 prospect, will have the best of the best knocking on the door. His travel team running mate Marcus Sheffield has a chance to be a national recruit, too, but it looks like his recruitment will stay Southern. At least for now.
Their old teammate Daniel Giddens (he finished the summer with E1T1) will be a national recruit, too. The 6-foot-10 center has grades and game. The country wants that.
Speaking of bigs...Doral Moore, the 7-footer whose recruitment blew up this summer, had a who's who of schools watching him. His recruitment may be the most national of all players in the state. Fellow 2015 center Noah Dickerson has visited Michigan, Georgetown and Stanford already. Clearly, he's looking elsewhere.
St. Francis forward Kaiser Gates is currently visiting UCLA. His teammate Kobi Simmons (2016) will be recruited nationally although sources tell me that Georgia State, yes Georgia State, is in good shape with both players.
Oregon State already landed Isaiah Manderson (who played for the Southern Kings but never at a Georgia high school) and are in there with Devin Mitchell from Collins Hill.
The Georgia recruiting borders have been protected pretty well by the Southern schools but things could be changing.