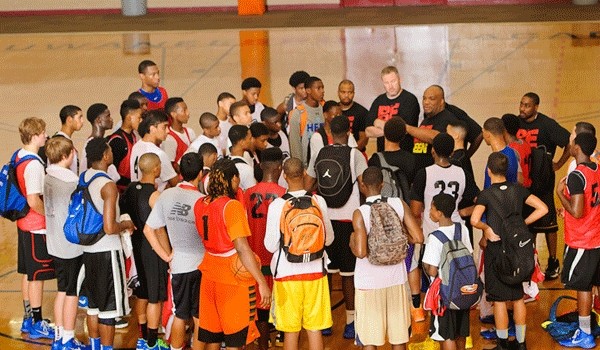 When campers from The Preview showed up on Saturday morning, we told them things weren't going to be easy. We told them they would be tired. We told them they would get a chance to play and compete. A lot.
They did.
And we loved it.
Here's a quick view on the odds and ends from my notepad from The Preview.
Loved how Milton forward Chris Lewis rebounded/blocked shots and then immediately went into transition. Not sure if there was a better big man that ran the floor than him. Great pace to his game. Best I've ever seen from him.
Saw some good moments from Albany Westover guard Alec Williams. He has good instincts. Knocked down a three ball with a step back dribble. Blew by his defender with the dribble.  
Collins Hill forward Justin Macauley did a great job competing. Really liked his motor.
Augusta wing Demontrez Hawes was in constant attack to the rim. Like his length and size. Fearless to the iron.
Really liked how Jerique Walker of Wesleyan passed the ball. Nice pizzazz but also nice control. Saw the floor well.
Anthony Showell of Duluth High School shot really well from deep. Good pull-up jumper. Confident shooter.
After being challenged about his perimeter game Buford wing D'Marcus Simonds knocked down a couple three pointers and told the peanut gallery "I told you I can shoot." Noted.
Fundamentally sound big man. That was the quick hitter note for incoming Buford freshman Shahil Patel. The 6-foot-7 center was a nice helpside defender, too.
Loved everything I saw from Precious Ayah from Greenforest Christian. REBOUNDS!
Malik Jones: Snaked his way through the defense with the dribble en route to the rim. Disruptive defender, too.
Really liked how Brent Duncan of Holy Innocents ran the floor and finished. Just the nuts and bolts.
Drive and kick, Drive and kick. Drive and kick. Kamar Baldwin of Apalachee made some new friends today. Good passer. Unselfish. Gave teammates great shots.
Jacquen Hopkins of East Hall made shots and jumped at the chance to guard on the ball.
Joshua Faulkner of Berkmar owned the stage that was given. The point guard knocked down the three and made some great passes. Really good impression.
Gary Bishop of Dacula - just a solid point guard. Good passer. Can shoot.
Over the course of four games Derek St. Hilare of Dacula just made shots. Not easy to do given all of the players were without their legs in the in final two contests. He was consistent.
Norcross point guard Zac Cook did a fine job at his position of running his team. He knew where to put the ball in order to get buckets.