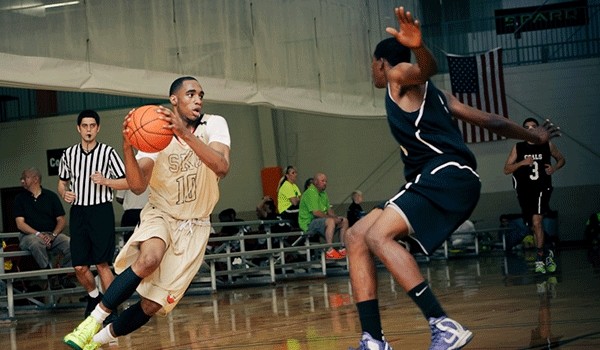 SUWANEE, GA – The focus of all college coaches during the July period is evaluating prospective players entering their senior season.
Coaches start the month targeting players. During the second session they want to discover a player. In the final session, coaches are looking to close on the player they really want to commit to them.
However, before heading back to their campus, some coaches may want to look at what is down the pipeline around Georgia and the Southeast.
Here are underclassman to watch during the Best of the South.
Wheeler High teammates Daniel Giddens and Jaylen Brown are on a number of college coaches wish-list. Giddens is a 6-foot-10 center who just recently was a member of the USA 16U basketball team, which won the gold medal. The Game Elite product has offers from Arizona, Florida, Georgia, Georgia Tech, Louisville, Maryland, NC State, South Carolina, Texas and UCLA. Brown, a 6-foot-7 forward, has dominated the spring and has continued to do so in the first week of July. Arizona, Auburn, Florida St., Georgia, Georgia Tech, Kansas, Louisville, Maryland, NC State, South Florida, Tennessee, UCLA and Vanderbilt have offered.
The Sagemont School's Prince Ali is a 6'4 guard originally from New York, with offers from Connecticut, Georgia, Illinois, Miami, Vanderbilt and Washington, is playing for Florida Elite.
Noah Dickerson has continued to show why college coaches will be visiting him at North Atlanta High. The 6-foot-8 center has offers from Auburn, Georgia, Georgia Tech, Mercer, Tennessee and Virginia.
No players stock has risen faster in the last few months than Marcus Sheffield. The Chattahoochee High and Game Elite 6'5 product has picked up offers from Clemson, Samford and Xavier.
Upward Stars is always loaded with players and one of the more notable players on the roster is Class of 2015 product PJ Dozier. The 6'4 point has offers from Clemson, Georgia, Georgia Tech, Kansas, Mississippi State, Missouri, Ohio State, South Carolina and Virginia Tech.
St. Francis teammates Kaiser Gates and Kobi Simmons will be running with the Atlanta Celtics Horace Neysmith. Simmons has offers from Auburn, Cincinnati, Georgia, Houston, Mercer, Georgia State, and Mississippi State while Gates holds similar offers with the addition of Georgia Southern and Virginia Tech. Both will be playing with the Atlanta Celtics Horace Neysmith.
Alabama native Jackson Emerson is playing for the Atlanta Celtics Stephens team. The 6-foot-9 center is a solid defender and a prospect to watch in the Class of 2015. Jordan Burrow is a crafty point guard from Milton High who will run the show for the Celtics.
Antwan Maxwell, from Savannah, continues to have a solid summer while playing for the Upward Stars McCallister. The 6'7 forward is skilled on both ends of the floor.
Looking for a player in the Class of 2015, Jordan Bruner is one to keep an eye on with the Upward Stars Brandon Gaither. The 6'7 forward is impressive with a smooth handle and depth on his jumper. He is a rising star in progress at Spring Valley High with Dozier.
Possibly one of the quickest guards in the state of Georgia is Alterique Gilbert, from Miller Grove, playing with the Atlanta Celtics Derek Dickerson team. This team also has Kamar Baldwin, who is easily one of the bigger sleepers in the Class of 2016 in Georgia.
Other notables:
Heat Check 15U team is loaded with players who have played up most of the spring and summer. There are guards Kai Lambert and Jordan Lyons along with post players Obinna Ofodile and Zac Orr. … Jashawn Brooks (pictured), Dontae Coleman and Reggie Reid will be on the Southern Kings 16U team playing up. Brooks is a 6'5 guard, Coleman is a solid scorer at 6'2 and Reid is a tough minded, no nonsense floor general. … The Wilson Blue Devils, who played well during the Bob Gibbons Tournament of Champions in the spring, have two Class of 2015 prospects capable of making a contribution during the Best of the South in Joel Davis (6'1) and Joshua Willingham (6'5). … Ty Cockfield, from Johnson-Gainesville, is a high-energy guard with the Atlanta Select Black Future. Shemar Bennett is scheduled to play with them as well. … Phillip Venson and 6'7 forward Lawrence Romich, from Walton High, lead the Atlanta Select Classic squad. … E1T1 has 6'8 John Collins from Cardinal Newman making his presence known. Jean-Michele Tein is a 6'7 beast of nature at the forward spot from Sarasota. Antonio Blakeney is a 6'4 guard from Cardinal Mooney who will leave you interested in seeing more. … D'Andre Mahaffey, a 6-foot-6 forward, is scheduled to play with 3T All-Stars. He has a solid upside to his game. … Xzavier Barmore, Chris Clerkley, Adonis Green and recent Miami commit, Dwayne Russell will impose their will in the 15U division. ... The Georgia Heat will have Avi Toomer running the show and playing solid. … Lane Foster is a solid rising young point guard at Berkmar and Darrion Taylor at Archer. Both play for the Georgia Stars Darrell Brown squad. Justin McCauley, who had a solid performance at The Preview in June, adds some size to the Georgia Stars.