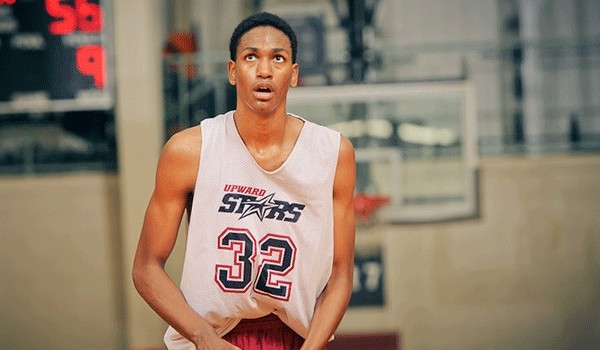 SUWANEE, GA - The Best of the South 15U flew under the scope of some college coaches but there were some names many will remember.
Here are some notable players to follow.
PG: Alterique Gilbert, Atlanta Celtics Dickerson
The Miller Grove High product handled the with precision a lot of times. He orchestrated the team the entire time over the weekend.
SG: Bevin Galloway, Upward Stars
While he played the point, this South Carolina product was as proficient as any shooter in the tournament, regardless of age group. He was so solid some even venture to call him a young Stephen Curry.
SF: Kevon Tucker, Georgia Stars
When it comes to scoring, this Dacula High product knew exactly how to get it done. He was by far the best at the position this week.
PF: Jordan Bruner (pictured), Upward Stars
He is listed as a forward in the book but this 6-foot-7 athlete could potentially be an impact player. Bruner was that on defense changing the game without scoring a point at times.
C: Jake Scoggins, Arkansas Wings Elite
This big fella showed a lot of promise with his moves inside. He has good hands and a good understanding how to position himself at an early age.
Top scorer: Tyree Crump, Showtime Hoops
Top shooter: Collin Hill, Upward Stars
Top rebounder: Kohl Roberts, Georgia Heat
Top shot-blocker: Jordan Bruner
Top guard: Avi Toomer, Georgia Heat
Top wing: D'Marcus Simmonds, Atlanta Celtics Walton
Top big: Jake Scoggins, Arkansas Wings Elite
Best dunk: Brent Duncan, Georgia Stars
Best play: Georgia Stars versus Upward Stars, 15U championship game
After a missed shot, the Georgia Stars pulled the rebound kicked the ball ahead for a Brent Duncan dunk that got college coaches to sit up in their chairs.
Best game: Atlanta Celtics Dickerson versus Atlanta Celtics Walton, 74-72 OT
Both teams were playing for seeding just before bracket play. Dickerson's squad handed Walton's team its only defeat in pool play with a 74-72 overtime win. However, it was Walton's team that capture the top-seed leaving the pool.