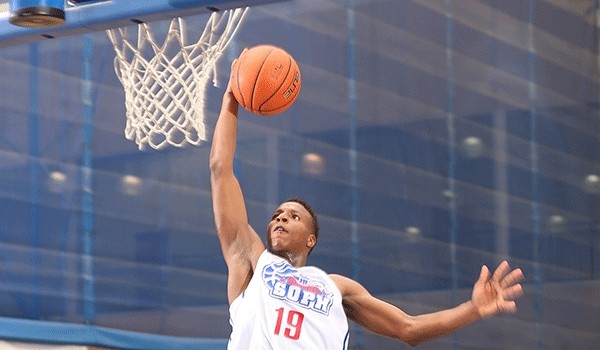 POWDER SPRINGS, GA – For the third consecutive season the Super Sophomore Camp was littered with talent from across the country.
Players came to measure themselves against some quality players and a chance to make their name against others. Georgia's Tyree Crump let everyone know where South Georgia was located. Louisiana's Mark Vital made sure he would become part of the Class of 2016 discussion. Florida's Dewan Huell and Juwan Durham dominated the interior on the weekend. Maryland's Alani Moore and Anthony Cowan showed why they have the floor general position locked up in the mid-Atlantic.
Here is a recap of the weekend:
Best Player: Mark Vital (pictured above)
If there is a player worthy of the title for the weekend was this Louisiana native. Vital did it all from the opening night. The 6-foot-4 forward attacked the rim with purpose and scored from all three levels of the floor. He also found his way above the rim a number of times. Vital was strong defensively and an exceptional rebounder. But probably his best attribute was his attitude as Vital applauded coached his fellow campers throughout. All these things go a long way.
Best Surprise: Tyree Crump
Well, this was no secret for hoopseen.com it was more of confirmation. The South Georgia Marksman knows how to fill up a stat sheet. Crump had performances of 20, 14 and eventually 30 points in some of the games he played. He showed range on his shot and mixed it up in the lane. As he got comfortable throughout the weekend, Crump showed some moxie. However, the most impressive part of the weekend is when fellow campers kept telling him to shoot the ball when he got going.
Best Big Men: Juwan Durham and Dewan Huell
Florida has some budding Big men in the making in Durham and Huell. Durham is an agile 6-foot-9 player who runs the floor well and is capable of putting it on the deck. He has a nice touch and shows some toughness. Huell is a 6-foot-9 shot-blocking machine. In one particular game he finished with an unofficial count of 10, there is not telling what he finished for the weekend. The important part is that he kept if in play. He is also a tremendous athlete with a great motor. If you are looking for a pair of bigs South Florida should be more than a vacation destination.
Best Athlete: Troy Baxter
When something good happens and a person gets fired up one of the best phrases in around is: Can I get a Witness! Well, it didn't take Baxter long to have people saying this after a mini-dunk fest the 6-foot-8 wing had on the layup line. He then went on to put together some eye-popping, rim-rocking dunks the remainder of the weekend making sure everyone Witness Troy  (ironically his Twitter handle).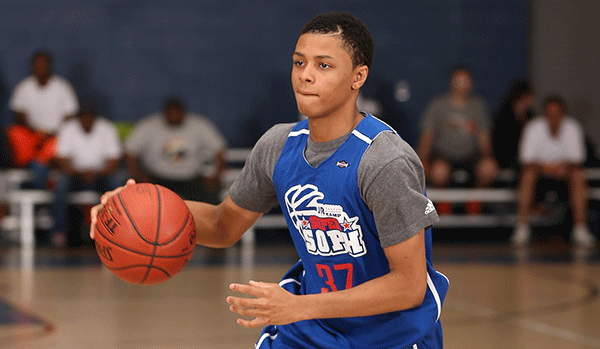 Best Point Guards: Alani More and Anthony Cowan (pictured)
DC Assault's practices have to be good after watching these two perform this weekend. Moore and Cowan both showed why the Mid-Atlantic travel program is in good hands. It also showed why the Good Counsel (Cowan's school) and Dematha (Moore's school) is a game worthy of attending for the next few years. These two shot the ball well, control the tempo and showed excellent passing skills. They both were as confident as anyone on the floor.
Sleepers to watch: Papa N'Diaye
When he walks into the gym it is plain to see, N'Diaye means business. The 6-foot-8 power forward has nice touch. He rebounds like he's mad at the world and is a solid post player. His versatility is hard to guard against. N'Diaye knows how to play the game on both ends of the floor.
Most Energetic: Ryan Murphy
Any time a player wears neon color anything the first reaction is: that guy better know how to play if he's looking to standout. Well, Murphy won this award for many reasons. He had the greenish yellow neon tights underneath his shorts along with some hot pink Kobe's. Murphy also showed that his attire was not the only thing people would talk about. He has a nice feel for the game and plays both ends of the floor hard, which is rare to find at any camp. The Connecticut product, who plays for Dream Vision, has intangibles that hard to teach.