5 things I learned at the Wallace Prather Memorial on Saturday
There was a lot of action to sift through on Saturday at the Wallace Prather Memorial so I'll keep it quick. Here are five things I learned from the busiest day of the event:
1. Jaylen Brown is the best 2015 prospect in Georgia.
The 6-foot-5 wing from Wheeler and Game Elite owned his match-up against the Upward Stars and P.J. Dozier. I mean owned it.
That isn't to discredit Dozier either. He's a fantastic prospect. Brown was/is just better. He's playing like a guy with something to prove, too. Brown was knocking down jumpers. He attacked the rim. Athletically, he's top-notch.
Offensively, Brown has the total package. Here's why I like him as the top guy: he understands the value of a killer instinct. Just a sophomore, his approach has a professional feel to it. He plays like it is business, not pleasure. The calm but competitive demeanor has served him well and should continue to do so moving forward.
From a recruiting standpoint, the who's who of schools are knocking on the door. There are few players in the Peach State that can say that with assurance.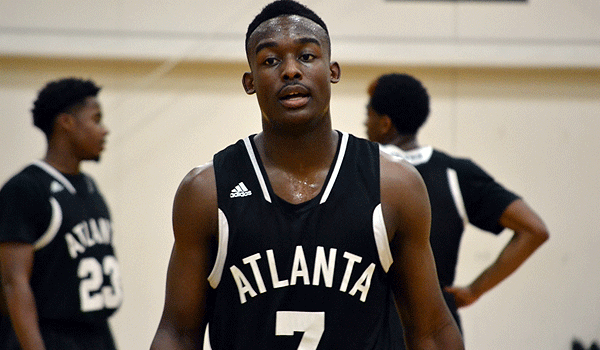 2. Josh Langford isn't human.
I had to confirm it because I didn't believe it but Langford is a freshman. As in class of 2016. As in years ahead of him. That's just silly. Langford had some moments of wow on Saturday. That shouldn't come as a big surprise for a guy that was the Gatorade Player of the Year as a ninth grader.
I went to North Carolina in March to see Harry Giles in action. I was sold. He has been the best freshman that I've seen so far in America. Langford isn't far behind.
Look for a profile story on Langford on HoopSeen.com.
3. Georgia is stocked deep with sleepers.
Each time out there are new names that pop up on my recruiting watch list. The depth is starting to really reveal itself. Here are a couple of guys that I saw for the first time that will be players for college coaches to invest some time in.
Let's start with the point guards...
Hassani Gravett, Vanguard Elite: Easily the team's best player, the 6-foot-2 muscular guard had a strong showing at the Prather. He's tough, knows how to run a team and makes shots. In a relatively thin point guard class in Georgia's 2014 group, Gravett deserves a look by at least low-majors (whatever that means anymore).
Hamilton Muhammad, Georgia Tornadoes: After reading about him all year long with W.D. Mohammad, it was time to lay some eyes on the 2014 point guard. He's the Cliff Notes version: good scoring point guard that plays like a bowling ball. Nice player for low-majors to get some eyeballs on, too.
Marcus Sheffield, Game Elite: I mentioned him at the start of the spring as a guy that can make the jump in the class of 2015. He very much can. At 6-foot-5 and long, the young wing showed off some serious wow potential. He's making big strides in his game. Good enough for high-majors to get in early. The climb has begun.
4. The Preview is loading up.
Between Robert Alfonso, Jr. and myself, The Preview invites are now blanketing Georgia. Players have earned their invites and the opportunity to measure one's self against his peers this summer is here.
We're excited about the camp and have some nice surprises with regards to the coaching staff that players will be working with. This is THE camp for players to participate in. It is unrivaled in benefit, instruction and competition.
We'll release a list of players that have received an invitation to camp later next week. Who will really #BeSeen?
5. Moms rule.
During any event at Suwanee Sports Academy, I'll roam through the lobby and just people watch. It is a fascinating experience. People from all walks of life gather, talk shop, measure their wingspan on the Hawks wall and mingle.
This is also the time where moms meet up with junior and give him some advice, buy him some water, straighten his jersey or lovingly put her arm around the teenager and offer encouragement.
I watched a mom watching her son being interviewed. She beamed with happiness. You could see the pride in her smile. Junior was being recognized for his hard work.
Players oftentimes don't reach their full potential without the selfless efforts of a mother. On the eve of Mother's Day, let me say thanks to all of the basketball moms that sacrifice so much with so little verbal appreciation.
We see you. We thank you. We respect you.
I hope each of you, in your own way, have a chance to sit back and smile at your son as he works towards his life goals.
Happy Mother's Day!