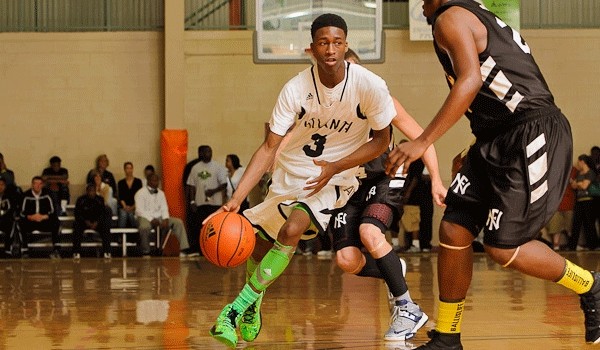 XPRESS OVER XPRESS
If the NCAA tournament taught us anything, just play. Don't look at the jersey, don't look at the name, don't look at anything but what happens on the court.
That's what happened in the Atlanta Xpress and XPress United game. The Atlanta-based squad is coming off the heels of a Final Four run in Pittsburgh last week and the team is anchored by a number of highly recruited players.
The XPress United team, a feisty bunch from North Carolina, isn't the biggest and isn't even a "known" name. But they can claim this after a Saturday match-up with the Georgia team - the Xpress United club is a victor.
Paced by the interior play of Phillip Haynes and speed of point guard Steve Robinson XPress won 51-47.
"I was taught at a really young that I need to play hard and get better 24/7," Haynes said.
That early lesson carried over in the victory over the Atlanta team. Haynes took it right to Trayvon Reed, a highly recruited 7-footer. Haynes has enjoyed a big-time spring season. He said UNC Asheville, Gardner-Webb, UNC Greensboro and Marist are in the mix.
Robinson, the smallest player on the court, attacked the big Atlanta frontline and challenged the guards that towered over him. He drilled three-pointers, blew by guys and got the rim.
Big time win on a big-time stage.
BUCKET BUDDIES
Kaiser Gates and Kobi Simmons played for a state championship this year with Alpharetta (Ga.) St. Francis. The duo are just two of several talented players for the private school in north metro Atlanta.
At the Bob Gibbons Tournament of Champions, the two are playing on different teams and making noise individually.
Simmons, one of the best freshmen in the entire tournament field, competes at a level that college coaches have taken notice. He's enjoying a monster spring and separating himself from the rest of the class in the Peach State.
Gates drilled a game-winning three-pointer against Birmingham Ice in a back-and-forth battle with a number of coaches. The 6-foot-8 combo forward has been drilling the perimeter shot all weekend long.
Not a bad start to the spring for the young Celtics.
THE KIDS ARE ALRIGHT
Want to know who is a competitor and who isn't? Check out any games at 8 a.m. and you'll see who comes to play. I started at the 16 and under division on Saturday to see the next wave of prospects.
SLEEPLESS FROM SEATTLE
Now imagine playing at 5 a.m. That's what A+ from Seattle essentially had to do on Saturday morning. The 16 and under club travelled the furthest of all of the teams at the Gibbons. Their reward was an early morning game against a good Upward Stars 16 and under club.
The result?
Proof that this team might just be full of morning people. A+ was paced by Dejounte Murray, a long-armed 6-foot-4 class of 2015 prospect from powerhouse Rainer Beach. He's a Pac-12 level prospect that could be on the cusp of making the jump from prospect to player.
Class of 2016 lead guard Isiah Brown from Lynwood (WA) Lakeside has the tools to be on the next guys from SeaTac to emerge at the point guard position. Big man Hank Hollingsworth, a 6-foot-11 center from Chelan (WA) High School, is a greenie when it comes to hoops and showed some flashes.
SEE. HIM. NOW.
Tip for assistant coaches: Tre Scott - write the name down. Go watch him. Take in his talent. Go back to your head coach and tell him that it is time to watch the 6-foot-8 forward from the South Georgia Kings. The class of 2015 forward gets better every time out this spring and he's hands down the best player at his position in his class in the Peach State.
Scott scored 24 points in an overtime game against the Jacksonville Warriors and did it in fine fashion, hitting three's, making great passes, scoring inside and out. He's a high-level prospect that is just beginning to develop into a major player.
Mississippi State and Florida recently inquired about him, joining the likes of Georgia, Ole Miss, VCU, South Carolina and Florida State. But here's the catch: No one was there to watch him on Saturday morning. That needs to change. He's the biggest sleeper from Georgia in the Gibbons.
WELL, HELLO THERE BIG FELLA
As good as Scott was, there was another player on the floor that deserves a place in the conversation: Udoka Azubuike. The 6-foot-11 center from Potter's House Christian Academy is listed as a class of 2016 prospect but played like someone that should be running up and down with the 17 and under players.
Azubuike defended the rim, used his big body well, scored at the basket and certainly did enough to warrant a lot of attention.
TEAM WADE - ONE TO WATCH
Dwayne Wade sponsors Team Wade - if you couldn't put two and two together - and this 16 and under crew has some players.
The class of 2015 prospects play well together and don't get in each other's way. In the 8 a.m. game, guard Charles Fisher, Jr. was impressive. The lead guard made the engine move, getting the rock to Terrell Goiser and Alawoe Talent.