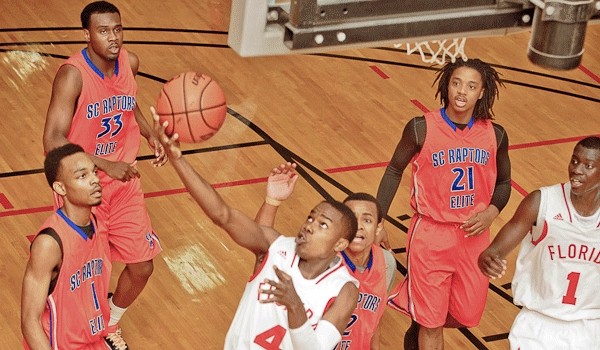 SUWANEE, GA -- Down by as many as 16 points in the first half, the SC Raptors Elite had to dig in and find themselves against Florida Elite in the semi-final game of the Bob Gibbons Tournament of Champions.
Dig they did. The Raptors won on a pull-up jumper in the lane from 2015 guard Gage Ellis with less than six ticks to play to win 76-74 to advance to the finals.
Pressure defense, speed, key threes and relentless attack was the makeup of the victory for the Raptors.
"Coach told us all game that we had to run 'em." 2014 guard Alex Mills said. "When we started running, they seemed to get tired so we went with that."
Mills was right. The pressure defense on Florida Elite caused a number of turnovers that resulted in transition scores for the Raptors. That's where 2015 point guard Juwan Evans is at his best. The top lead guard in the event and used his speed to blow but a bigger and stronger backcourt from Florida.
"I was cold," Mills said, as Evans and Ellis laughed behind him. "I couldn't hit anything. But coach told me to keep shooting. I did. They went in."
They did. Four of them to be exact. Ellis scored all 16 of his team high points in the second half.
Confidence is the key for the young Raptors. It started last week by winning the King James Southern Exposure and the team hasn't looked back. Evans said that's been one of the keys for his team this April.
"If we find ourselves down in games, we don't get rattled," Evans said. "Our confidence gets us back. When we pushed the ball, we responded. We have a big chip on our shoulders and I think that's what does it for us."
Evans finished with 14 points while Justin Dotson, Jameel Taylor and Ellis each finished with 10.
Florida Elite forward Dante Buford, a South Carolina native, ate up the SC Raptors Elite interior, grabbing offensive rebounds and put backs for scores. Buford was brilliant in defeat, scoring 29 points.
SC Raptors Elite will play Team Charlotte for the 17 and under championship of the Bob Gibbons Tournament of Champions at 1:30 p.m.