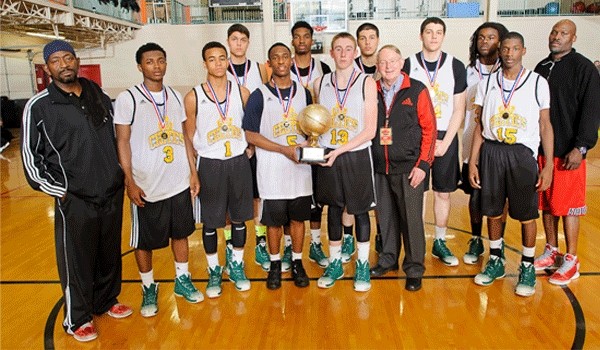 SUWANEE, GA - With five minutes to play and the Atlanta Celtics lead pushing the 19-point mark over the Tampa Bay Ambassadors, on-lookers began to migrate elsewhere to catch another game.
This one was over.
Someone just forget to let the Ambassadors know that. The Floridians just chewed at the deficit and made it a game with less than a minute to play, cutting the lead to three.
Aaron Augustin closed things out on the foul line for the Atlanta Celtics and helped the local team win out 82-76 for the trophy.
But it wasn't easy. Tampa Bay was paced by Jacob Mathis, who scored 20 points and made some magic in the second half. So did 6-foot-9 center Juwan Durham, who scored 17 points in the defeat. It was a major introduction tournament for the big man. He was one of the top overall players in the 15 and under division.
Despite the comeback, Augustin and Alterique Gilbert were unstoppable for the Celtics. The duo are the top two point guards in Georgia's 2016 class. Together, they scored 42 points.
"I thought out versatility was really good. I know with Alterique and I, we are a nice 1-2 punch," Augustin said. "I think the two of us know how to get the rest of the team going. And if I'm not playing well, he's going to play well. We know we will always have a guy that is ready to play."
Gilbert hit six three-pointers and was named tournament MVP.  Kamar Baldwin and Tristan Chambers each scored a dozen.