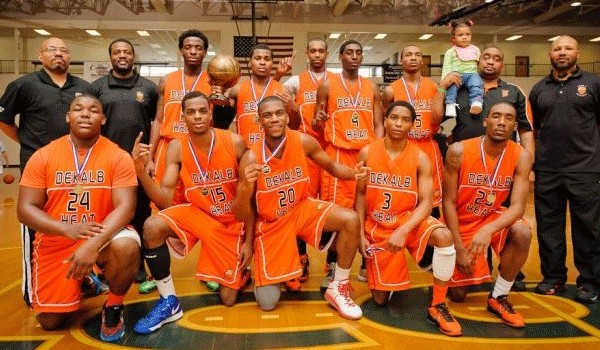 DACULA – All weekend the road to the finals looked like the Grizzlies and the DeKalb Heat were headed to meet each other and they did. Both teams found themselves meeting again with the Heat imposing its will in a 72-60 win over the Grizzlies on Sunday at Dacula High School.
DeKalb went after the Cherokee County-based organization with its size and quickness. The Heat swarmed them and turned up the temperature on every part of the floor. Leading the way for the DeKalb squad was Jon Dunmyer, who was cooking from the perimeter and slicing through the Grizzlies defense at will. Whenever, he was stopped the junior guard was dropping off dimes for teammates for strong scoring opportunities.
A recipient of the attention Dunmyer was getting was Tyrell Thomas. The athletic forward dominated the interior on both ends of the floor. He finished with 16 points and pulled down some critical rebounds. Dunmyer and Brandon Wimberly added 14 points apiece. Davanta Reynolds also helped the Heat set the tempo with 11 points.
The Grizzlies, who had a strong tournament, struggled when its offense was unable to get some clean looks. Playing in a frantic style forced them to rush shots or make some bad decisions, which caused several turnovers. Dalton Satterfield scored a team-high 12 points. Jesse Wood added eight. Austin Graham, JB Charles and Griffin Ghesquire added seven points apiece.