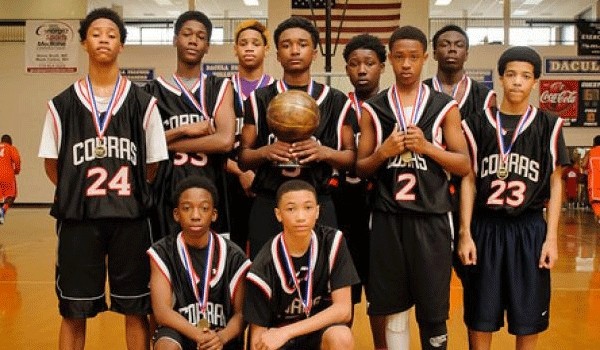 DACULA – The future is here – literally. Team Future is a new team looking to make its name on the travel circuit just before they all embark into the high school season next year. For the teams first tournament, they showed it is looking to make some noise this summer.
This first-year team won the 8th grade HoopSeen Shootout championship with a 65-59 overtime win over Georgia United on Sunday at Dacula High School.
Khalil Cuffe is a name many will hear about outside of the Peach State real soon. The athletic forward was the catalyst that propelled the Future for most of the weekend. He scored at will and look unstoppable at times, despite only finishing with 10 points. His biggest points came in the fourth quarter and the overtime session.
Cuffe hit a step-back jumper in the lane that help the Future keep the game tied. In the extra session he assisted on several baskets and provided defensive presense on the interior.
Leading the way for the Future was point guard Jordan Goldwire. He ran the team like a season veteran despite some excellent pressure by United, who tried to keep the ball away from him. Goldwire finished with 18 points and timely assists late.
However, Georgia United was not going to go out without a fight. It was going to push and find a way to get back into the game. United clawed and scrapped up from a double-digit deficit to a tie ball game at 51-51 when Andrew Moore nailed a three-pointer with 45 seconds to play. Moore and Brian Coffey finished with 12 points apiece. Elijah Butts added 11 points.
United's offense failed to really get cranked up again in the extra session as the Future played efficiently. These two teams will be ones to watch as the travel season gets started.