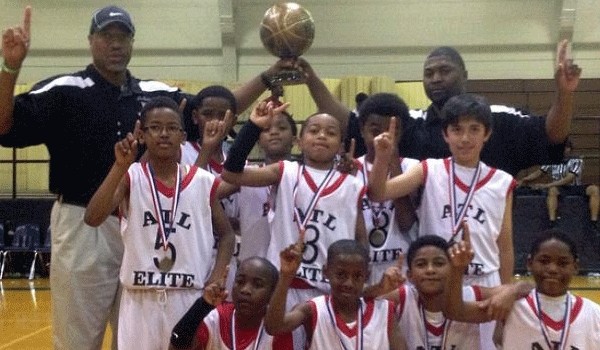 DACULA – Atlanta Elite is playing with a chipping on its shoulder they refuse to let go of any time soon. This first year program is looking to get some respect with teams and have started to do just that after the 4th grade HoopSeen Shootout Championship when the Elite beat Team Threat 42-36 on Sunday at Dacula High School.
Being able to walk away with its first championship also earned them the respect it plans on taking.
The Snellville-based team turned up the pressure defensively and really looked to get after a well-coached Threat team. This did not bother the Elite, who played with poise and under control throughout the tournament. As they made their run they took a lead late and held on for the victory.
Taufiq Smith led the Elite with 20 points and was the catalyst on both ends of the floor. He just handled the pressure of having to play under control. Khamarion Jackson scored seven points, while Kristian Hill added six points.
The Threat, who credited a strong team for defeating them, led for most of the game. Things went sour on them for two reasons. First, its offense was stymied. Second, the credit to the Elite's defense was just too much to overcome.
Leading the way on the offensive end was Najhae Colon, who nailed two three-pointers in the fourth quarter that kept the Threat in the game. He finished with 19 points. Jackson Greene finished with six.