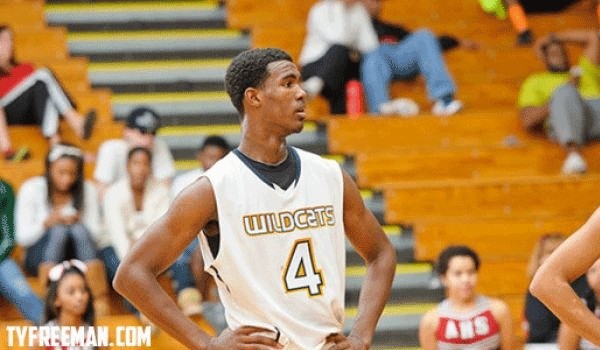 SUWANEE – Daniel Giddens is a standout player in the state, who has gained some recognition around the country with the work he puts in while playing for Game Elite or other individual showcase camps.
Now, the 6-foot-10 sophomore has earned a high distinction as one of the best 23 male basketball players named to the 16-and-under 2013-14 USA Basketball Men's Developmental National Team. He made the team after a strong showing in the October 2012 USA Basketball Developmental National Team mini-camp.
Being part of the team is a tremendous accomplishment because he was the only player from Georgia to make the squad. There is a chance some other players will be added to the roster over the next two years. The 2013 USA U16 National Team and 2014 USA U17 World Championship, should the U.S. qualify for the U17 Worlds, will be comprised of the USA Developmental National Team members.
Named to the 2013-14 USA Basketball Developmental National Team were:
Edrice Adebayo (Northside H.S./Gatesville, NC)
Tyus Battle (Gill St. Bernard's School/Edison, NJ)
Thomas Bryant (Bishop Kearney HS/Rochester, NY)
Amir Coffey (Hopkins HS/New Hope, Minn)
Bryant Crawford (Gonzaga College HS (DC)/Kensington, MD)
Eric Davis (Arthur Hill HS/Saginaw, Mich)
Henry Ellenson (Rice Lake HS/Rice Lake, Wis)
Daniel Giddens (Wheeler HS/Mabelton, GA)
Harry Giles (Wesleyan Christian Academy/Winston-Salem, NC)
Mustapha Heron (Wilbraham & Monson Academy/West Haven, Conn.)
Josh Jackson (Consortium College Prep/Southfield, Mich)
V.J. King (St. Vincent-St. Mary HS/Akron, Ohio)
Joshua Langford (Madison Academy/Untsville, Ala)
T.J. Leaf (Foothills Christian HS/Jackson, Miss)
Ivan Rabb (Bishop O'Dowd HS/Oakland, Calif)
Horace Spencer (William Tennent HS/Warminster, Pa)
Diamond Stone (Dominican HS/Milwaukee, Wis)
Jayson Tatum (Chaminade College Prep/St. Louis, Mo)
Derryck Thornton (Sierra Canyon HS/Simi Valley, Calif)
DJ Williams (Simeon Career Academy/Chicaco, Ill)
Seventh Wodds (Hammond School/Columbia, SC)
These group of players will train May 30-June 7 in Colorado Springs, Colo., with the final 12-player USA 16U National Team selection being made prior to the team departing for Maldonado, Uruguay, for the FIBA America U16 Championship.