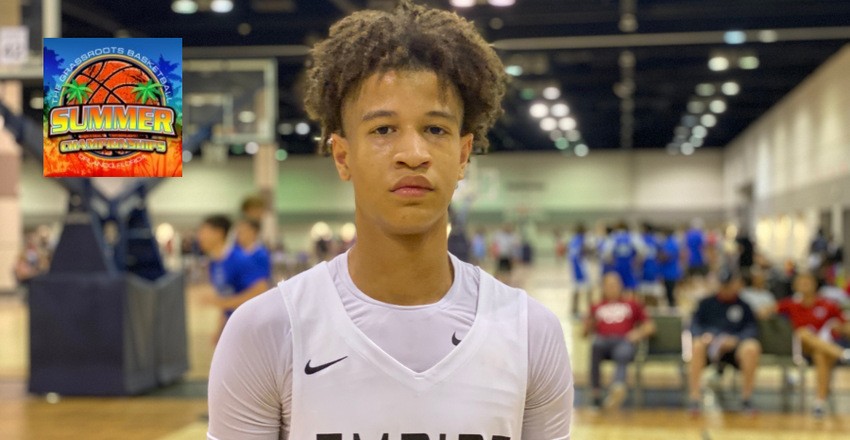 ORLANDO, FL - The final live period is here. The last chance for college prospects to show out on our HoopSeen stage in front of college coaches. Here in Orlando, Florida our Grassroots Summer Championships is where we will crown the top independent team in the country. 
Top Players from Day One 
Amboree has been as impressive as anyone I have seen over the first day of the Grassroots Championships. The guard out of Pearland, Texas made shots from all spots on the floor, controlled the tempo for one of our top teams in the TGBA and helped lead them to two wins yesterday setting up a match-up with another Florida squad, Ball4Lyfe United at 1:55 today. Oral Roberts University was on hand for all of his games and looks to be the leader right now for his services. 
The Tennessee Tigers are one of our top teams over the years and they get the job done by playing fundamentally sound basketball. Farrell mixes a little bit of athleticism and explosiveness that we normally don't see a lot of with one of our perennial top programs but he adds a different component to the way Chip Smith's program handles business. The 6-foot-5 guard does a great job of getting by his defender and getting to the rim. The class of 2021 prospect will spend a prep year at Tallahassee's Train Like a Pro. 
Bartee was one of the most impressive big men that I saw yesterday. I like his footwork and his motor. He is able to create space in the paint with his big legs and wide shoulders. He has some go-to moves that he uses to get easy baskets around the rim and has solid timing for put-backs at the rim. I like a guy that can run his mouth and back it up on the floor and Bartee does that. He had Kansas City's Billy Donlon and High Point's Keith Gatlin watching his games yesterday. Both have offered. 
Callahan continues impress with All-Carolina's 2024 program. He has the size and the skillset to be a guy that is heavily recruited in that class. In his game's yesterday, Callahan was a half-foot taller than any guard that was set to defend him and he made them pay with his size advantage and his ability to handle the basketball. He is a natural scorer that can score from anywhere on the floor. The biggest difference with him and other prospects his age is his ability to create space. He uses his size and and his shiftiness to lose defenders and make the tough shot or get to the rim. A lot to like with this one out of the Raleigh, North Carolina area. 
Treveon Jackson scores it as well as anyone I saw during Day One. The class of 2021 guard from Horizon Christian School in Indianapolis was carving defenders up one at a time yesterday. He put on a really impressive scoring display, he can easily break defenders down, he's a good passer, he changes direction so quick while being really hard to stay in front of and can score from all over the floor.
Not So Sleeper Pick 
Team United out of Charlotte, North Carolina is looking as the big sleeper pick this weekend to take home the crown. Team United went 6-0 at our Best of the South. With the addition of big man Daniel Hankins-Sanford, Jermaine Walker's program have won both of the games is bracket play by a combined 37 points. They will face off against Game Elite Blue at 12:50 to keep the ball bouncing. I like the way the bracket is set up for Team United and I think they can make a run at the finals.