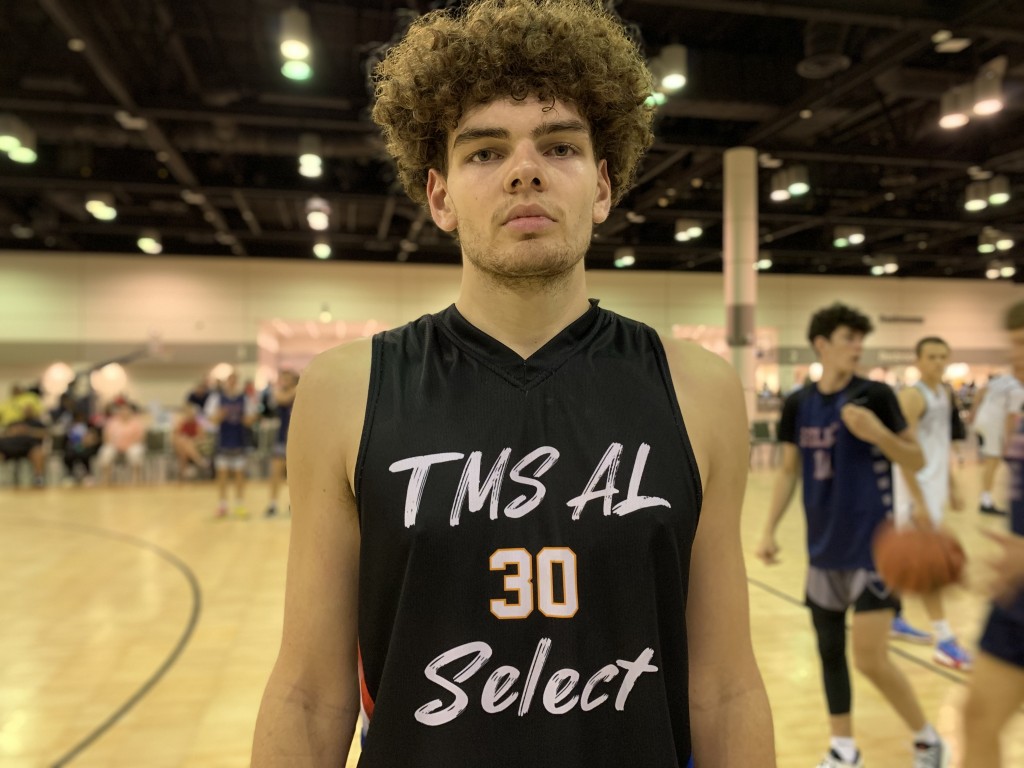 With the travel season coming to an end, it's only fitting that we finish strong with the Grassroots Summer Championship. Here are some players that caught my eye on day one.
Eye-Catcher: 
Deakin Pereira is a 6-foot-9 forward playing for Team Speights AL. Just from warmups, you could tell that it was something special about this kid. Pereira has the ideal size for a big and doesn't stray away from contact. His ability to finish in the post is next level, and his release from the three is flawless. It's quite evident that this Australian native has all the tools for the next level. 
Top Guards:
Colby McAllister yet again has himself another breakout first day at a Hoopseen event. This 6-foot-3 guard improves each time I see him. McAllister's shot from the three is so smooth; it's quite obvious that he should not be left open, not even for a second. He's definitely been the go-to guy when Team Speights AL is in need of a bucket. I know what McAllister can do on the floor; I think it's about time for everyone to take notice.
It's no surprise that Anthony Black comes through as a top guard on the first day. This kid was everything and more on the court. He's a 6-foot-7 PG playing with 3D Empire, and he's an elite ballplayer with a lot of versatility to his game. Black has a nice stroke from around the perimeter and is a big-time slasher attacking the lane. One of his key qualities is his ability to facilitate and put his teammates in great positions to score, like Camron Amboree or Ryan Agarwal, who are elite players as well. One thing I noticed about Black is that he's willing to take over down the stretch, but he's more ok with setting up anyone for a basket; his main goal is just to win. 
Stock Riser:
Reece Bloomberg is a 6-foot-3 guard playing with the Hawks Elite. Bloomberg stepped on the court with whole new energy this weekend. I had seen flashes of what this kid could do all summer; he has an excellent pull-up jumper and is very swift when attacking the lane. But this time, something different caught my attention with Bloomberg; it was like everything he worked on this summer just emerged before my eyes. He started to take over; he wanted the ball and did not hesitate to pull up in a defender's face. At his best from yesterday, he dropped 15 points and pulled down four rebounds. I am interested to see how far Bloomberg can raise his stock down here at the Summer Championship. 
Top Big:
Alex Steen was a man on a mission at the Summer Championship. Steen is a 6-foot-7 with the size of a forward but with a guard game, which makes him a threat on every level. He has done many great things with the Hawks Elite this travel season and has definitely turned a lot of heads. Steen just has an all-around great game; he has the ability to shoot the ball at a high level and, at the same time, can do work in the post if needed. One of his favorite moves is getting the ball and driving the baseline for a monster jam. With his incredible reach, it is tough to outrebound a player like Steen; it's just not going to happen. It is truly remarkable to see a player from the beginning of the travel season stay consistent with his game as we wrap up with the last showcase as the Summer Championship.