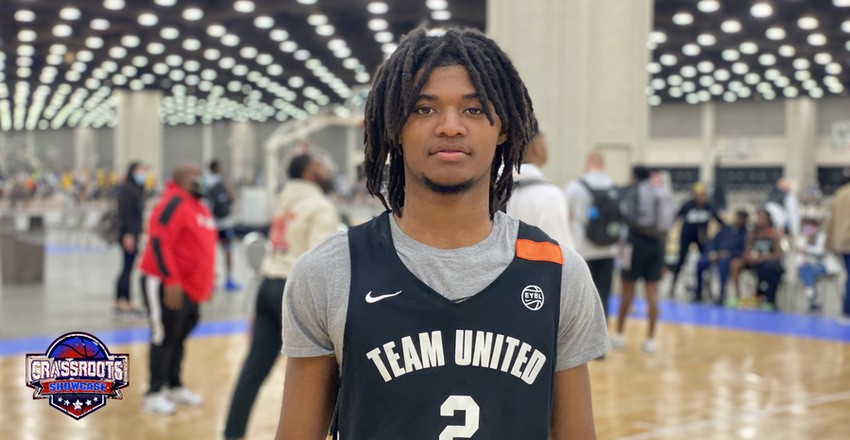 LOUISVILLE, KY - The Grassroots Showcase kicked off tonight in beautiful Louisville, Kentucky as HoopSeen, NY2LA and Ohio Basketball partnered to bring 55 courts under one roof at The Kentucky Expo Center. We take a look at some of the top performers from the start of the event. 
Top Performers
Julian Kiett, PCH Nyghtrydas - With leading scorer Jazian Gortman playing on the shoe circuit this weekend, PCH Nyghtrydas guard Julian "Juice" Kiett knew he would have to take on the bulk of the scoring for his club and he did just that. scoring 18 points in their opening night win over the Illinois Jaguars 72-54. Kiett showed good athletic instincts and was able to finish with contact on nearly every drive he took to the basket. His footwork is impressive and is a terrific anticipator allowing him to come away with steals. He has a strong upper-body coupled with a keen passing ability. The guard has a quick-first step and change of direction. Kiett keeps getting better every time we see him and he is continuing to show that Division I schools should be tracking him. 
Chris Hammonds, Illinois Jaguars - The 6-foot-3 scoring guard went for 19 points for the Illinois Jaguars in their first game of The Grassroots Showcase. Hammonds has nice looking shooting form, gets into the lane and is a pretty good shooter from outside. The scoring ability is there and doing some research on Hammonds, he averaged 38.3 points per game this high school season at Lincoln Park High School in Chicago. 
Mike Best, Team United - This was one of the most dominating performances by a point guard I have seen this travel season. Best did not turn the ball over while dishing out nearly 10 assists on the night in the win for Team United. The 6-foot-2 guard scored 12 points and showed he can make shots from the outside, knocking down two three-pointers while controlling the tempo and finding his teammates nearly every time down the floor. This was a complete performance for Best and high-level Division II and low-to-mid level Division I schools should be taking a look at the prospect out of Wayne Country Day. 
Smooth as Tennessee Whiskey 
I really liked Tennessee Tigers wing Jack Carter. The 6-foot-5 Carter, attacks the rim and has good size, he came away with a big block on a breakaway dunk and showed good timing on blocks and rebounds. He can handle the ball and is shifty with the ball in his hands. I am a fan of his overall skill-set and he understands when to attack the defense. He is a smart,  high basketball IQ prospect with a soft-touch around the rim. He showed finesse when he takes it to the basket and uses a lot of shot fake to makes defense get off-balance. 
New Kidd on the Block 
Kidd Brizek was impressive tonight for Team South Carolina. The 6-foot-7 small forward out of powerhouse Legacy Charter has some tools to work with and some genes. His mother played basketball at Clemson University. Brizek is still growing and could top out at around 6-foot-9. With his skill-set and if he keeps growing, he could start to sniff at some high-major programs. His biggest threat right now is his ability to score and get to the rim off the bounce. He has a 6-foot-10 wingspan and can cause problems on the defensive side of the ball.