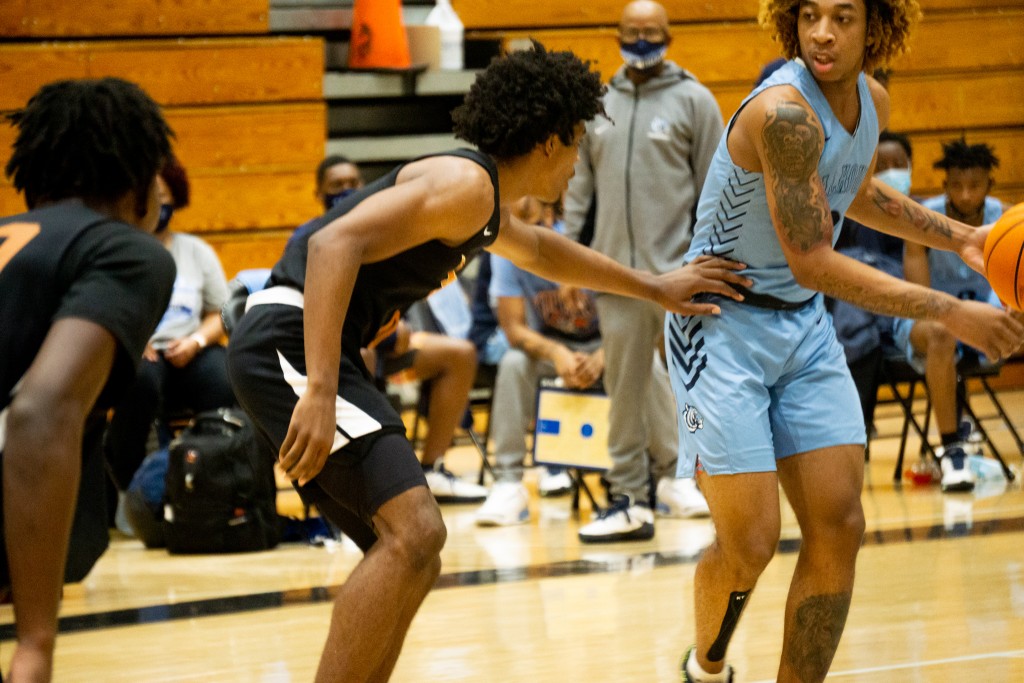 Day 1 of the Holiday Hoopsgiving Tournament was fantastic. Both courts were filled with premiere teams and players throughout the day. Here are my takeaways from Day 1.
Scoot is like that
Scoot Henderson's marquee match up with 2021 5-star JD Davison was the most anticipated match up of the day. In this game, Henderson put the world on notice. He began the day with a big slam and guarded Davidson right off the jump. He picked him up full court and made it tough for him to get the ball. Offensively, he was a monster. Henderson simply got whatever he wanted. He got to the basket with ease, hit jumpers, and threw down about five or six monster slams finishing the game with a game high 30 points in just three quarters. If he is not already, Henderson needs to be considered as the top guard in the state of Georgia and maybe even nationally.
First Impression of Thornton
Today was the first time I have gotten the chance to see Bruce Thornton play in person and man, is he good. I've heard a lot of high praise for the Ohio State commit. This kid is strong and physical. He has a frame that looks as if he could go play RB for Ryan Day on his off days. Thornton utilizes that strong frame to bulldoze his way into the lane where he has the ability to finish through contact. He finished with 27 points in a win over Greenforest today. 
Grayson Passes Early Season Test
Grayson took on nationally ranked Wasatch Academy in an exciting game today. The Rams ultimately lost by three points in overtime, however, they still had a great showing. Wasatch would go on runs, but Grayson would not go away. They kept clawing back at the Tigers and showed tremendous fight. Taje Kelly was dominant. He finished with a game high 25 points and 8 rebounds. Kelly was automatic once he got the ball inside of the paint. Robert Cowherd was also big for Grayson, scoring 18 points. This was a good test for Grayson. Going against a talented Wasatch Academy team will pay off as they have to fight through the rest of 7A.
Welcome, Devon Barnes
If you did not know who Devon Barnes out of Shiloh High School was before today, chances are, you do now. Scoring a game high 30 points, Barnes led his team past South Cobb. He simply picked a part that defense. Nobody could stop him. Barnes has the ability to change speeds to blow past his defender to get into the lane which gave the defense fits. He utilized his midrange shot to get going in the fourth quarter where he scored 18 of his 30 points. Barnes is definitely a guard to keep an eye on this season.