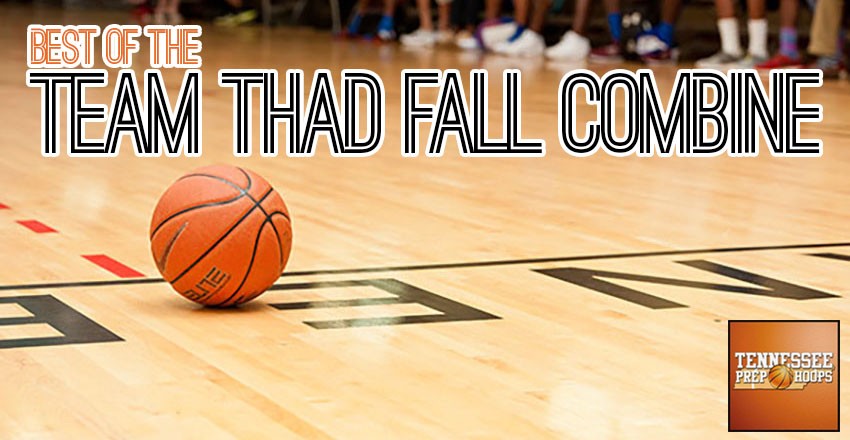 The Team Thad Fall Combine in Memphis, of course also had a Tennessee flavor. Here are five from Tennessee who stood out during this weekend of exciting action. 
Chandler Jackson
Christian Brothers (Memphis, TN)
6'5 PG/SG
2022
The strong body and skills draws your immediate attention to this burgeoning star on the Memphis hoop scene. Big lead guard seemingly has his way in the paint, makes space with his strong build, scores with ease and distributes like a dream. Jackson has a nice stroke from the mid-range out to the deep line. He has a real understanding for game situations and knows when to attack or when to help other do the same. He squares his body to the basket for scoring chances and is well on his way to being a national recruit in the near future. 
Braeden Moore
CPA (Nashville, TN)
6'8 WF
2022
One of the best shooters at the combine, Moore has big time size for a wing and the stroke to match. He has vastly improved his lateral quickness and explosion, showing more prowess off the dribble and even adding some mid-range shots to his arsenal. He played with effort on the defensive end of the floor, fighting for rebounds and using his improved quickness to make stops.  
Javar Daniels
Arlington (Arlington, TN)
6'10 PF
2023
This young prospect had a monumental growth spurt during the past calendar year and now tops off at 6'10. He remains rail thin but has retained the quickness and lateral movement even with the growth spurt. He showed some offensive prowess around the basket with good hands and the ability to rise up and score. He fights hard inside despite his lack of bulk and more than holds his own on the glass. He runs the floor very well and seems more comfortable on the perimeter at this juncture of his career. 
Josh Holloway
St. George's (Collierville, TN)
6'0 PG
2023
Dynamic young lead guard is a bundle of energy on both ends of the court. He comes with supreme confidence in his shooting stroke and with his advanced handles understands how to control tempo and make plays for others. He loves to create scoring chances from the baseline and as he matures will learn to make the easy play instead of the glamorous one. 
Malik Dia
Ensworth (Nashville, TN)
6'7 WF/PF
2022
He excites with his size and ability to shoot the ball but needs to bring more effort on a consistent basis when he steps on the floor. He went through the motions on Saturday but really stepped up his effort and production on Sunday. He has range on his shot and the size to be a very capable back to the basket scorer if he so chooses. He played with more urgency the final stanza of the combine, blocking shots and giving effort on defense. We have seen what he can do now will you give us consistent effort.