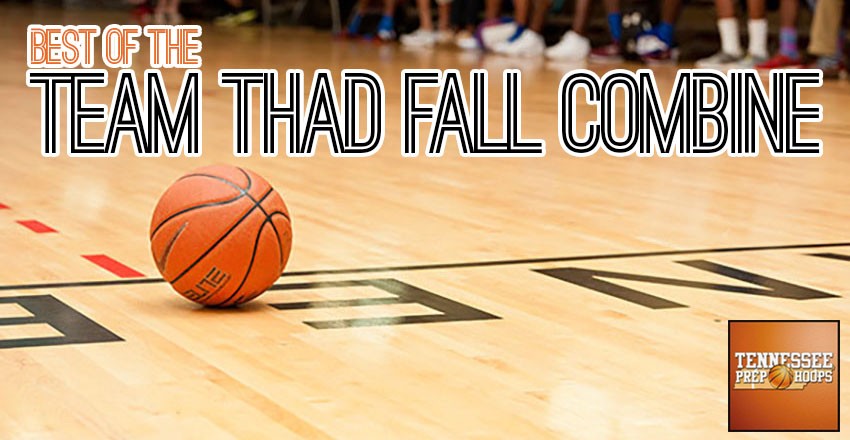 The gym was packed full of big time players at the inaugural Team Thad Fall Combine in Memphis this past weekend. Here are some of the top players I observed during the event not from the state of Tennessee.
RELATED: Part I 
Under control athlete who can play either guard spot with equal success. Finister possesses great length and is a hard nosed kid who plays with a high level basketball IQ and is always composed and under control. He has a growing offensive skill set, his shooting is superb and his ability to handle allows him to get anywhere on the court he desires. He defends with gusto and isn't afraid to go after rebounds out of his area. His size allows him to guard on the perimeter against quicker, smaller guards or in the post if he find himself in the paint against a bigger stronger athlete which makes him compatible in any defensive scheme. He has a penchant for attack, which at times calls for better game decisions, but his effort and enthusiasm for the task at hand never appear in question. 
One of the most physically gifted players at the combine. Golden is a specimen who is still learning the game. He has an energy that allows him to make massive strides in his development each and every time he steps on the hardwood. He fears no defender and challenges every shot in his general vicinity. He rebounds at an Olajuwon clip and despite still embracing the nuisances of the position, keeps the ball high, has a capable outlet pass and runs the floor hoping for a reward on the other end. He can score on the block or from the mid range with a work in progress lefty stroke. He relies on his athleticism at this juncture but is on the upward trajectory of big time recognition as his game continues to evolve. 
His size and ability to move are breathtaking, his growth and development will be swift and powerful. Young player with a world of potential who didn't back down from a post collision and used his length to create havoc in the post for his opponent. His offensive game needs to continue a rapid upward growth but he has embraced some of the basics and shows an ability to score off the block. His size and length are ideal to become a shot blocking savant and he doesn't back down for any challenges. Eager competitor was a willing participant in all the drills, back court and front court, absorbing as much knowledge as he could to make himself a better and more valuable player. His work ethic and his ability to be coached make him a very coveted prospect in this class nationally. 
The more you watch this kid, the more impressed you become with his relentless effort and his will to win. Tough youngster with a strong build was among the top guards in the event. His shooting touch was top notch and his aggressive nature always keeps his squad in the game. He is powerful and uses his body to make space for scoring chances for himself of others. He uses a powerful drive to draw defenders and bring easy scoring chances to grateful teammates. His demeanor is calculated and he doesn't show much emotion, good or bad. Everybody, coaches especially, love a competitor and few showed the will to compete like this gentleman. 
If effort and determination are your criteria for a player then this guy is for you. Shannon was among the top effort players in the event. Relentless and all over the place on defense, he was especially vigorous on the glass, seemingly getting his hands on every 50/50 ball making that ratio more to his liking. His shooting touch and ball skills are areas of the game he needs to improve but one cannot teach the hustle and effort he brings to the table. His offensive productivity will come from extra scoring chances at the rim with tip rebounds and buckets, plus keeping possessions alive; as well as, running the floor and finishing in transition, which seems to always be in his favor.