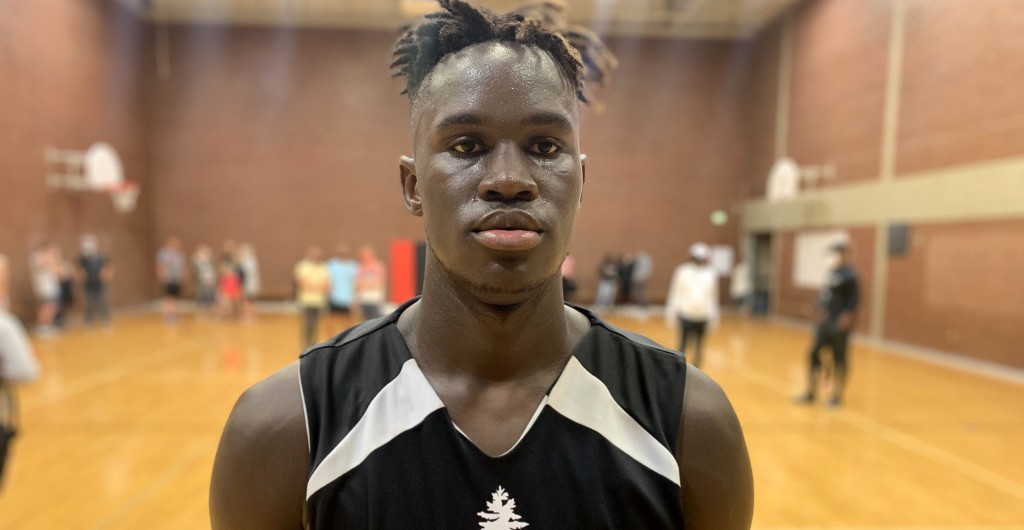 AMERICAN FORK, UTAH - The opening day of the Great Western Classic tipped off a teams from nine states made their way to the Beehive State for some fall action. We will be at the event for the duration and had a chance to see some hoops appetizers at AFHS. 

GAME OF THE NIGHT 
Colorado Prep and Skyridge (UT) went toe-to-toe in the night cap of opening day in what was a terrific back-and-forth battle. This was a great pairing fo a team with size and depth in Colorado Prep and passing and execution from Skyridge. 
In the end, the interior size and strength of big man Mouhamed Mbaye was too much to contain in the homestretch. The 6-foot-8 senior is a prospect that teases you with his physical traits and his activity around the rim. To date, Mbaye said he has offers from Bryant, Cincinnati, Louisville, Iona and Rutgers. As the big men continue to pick schools as we draw closer to National Signing Day, Mbaye could be a player we hear more about in the next month and a half. 
For Skyridge, the toughness and playmaking of senior guards Parker Christensen and Duncan Reid was clutch. The pair played with a competitive edge that was fun to watch. Both guys relished in the stage on a Thursday night in the SLC burbs. Both guards are nice players. 
THE KIDS ARE ALRIGHT  
I watched Kevin Love play from his freshman year of high school at Lake Oswego in Oregon. He was the best rebounder I've ever seen at the prep level. Just tremendous as a box out star, great hands and we know about his outlet passing. I wondered out loud on Twitter if Jaxon Kohler watched the NBA All-Star and took notes. The class of 2022 forward from host school American Fork showed traits of Love's game on opening night. That's Kohler's game. His rebounding skill is terrific.
Kohler is an old school player in a new school era. His low post game is a throwback and it works for him at this level. Footwork and fundamentals still win and translate. Let's never forget that. 
Kohler said he holds offers from BYU, Grand Canyon, St. Mary's, Texas Tech, Utah and Utah State. He added he has interest from Arizona, Iowa, Oregon and a host of other schools. 

SENIOR MOMENTS 
Cameron Brimhall (6-8/2021/Lone Peak UT) was a bight spot for the victors in the opening game of the HS division of the Great Western Classic. The senior big man rebounded well, shined as a vocal leader on both sides of the floor and leaned into his strengths well. Brimhall said he holds offers from Dixie and San Diego. He added that he has had good Zoom visits with the Torero program. He will take an unofficial visit there sometime this month.  Also involved are: Utah State, Pepperdine, Yale and Air Force. 
HI, MY NAME IS… 
Admittedly, I am playing catch up in the West. So, guys that are well-known are just guys I'm not too familiar with. So when I found myself watching Veritas Prep on Thursday night against American Fork, I kept going back to their lead power guard Malik Thomas. He was the best player on the floor, despite his team's loss. The future Southern Cal guard separated himself with his play. He's a power guard that should fit in nicely with the way Andy Enfield plays at SC. 
The next year could be a good one for Colorado Prep big man Brock Wisne. The 6-foot-7 junior is an intriguing big man with bounce, skill, shot, footwork and a frame that would grow well in college. He said he holds an offer from Northern Colorado and has interest from a long line of schools. They are: Colorado, Colorado State, Nebraska-Omaha, New Mexico, Northwestern, Utah State and Wyoming. It wouldn't come as a big surprise to see his recruitment grow even more with more playing time and more stages. 
GETTING READY FOR OCT. 17 
We had a chance to get a peek at some of the players who are coming to our HoopSeen West Preview camp, powered by Pro Insight on October 17. 
Jackson Holcombe, Timpanogos: The 6-foot-4 junior was back on the court with his squad for the first time in a competitive game since July.  Holcombe was good at getting to the iron, always touched the paint, was the team's best passer, too. Like his swagger and strength as a creating guard. Knew how to get past or through his defender.