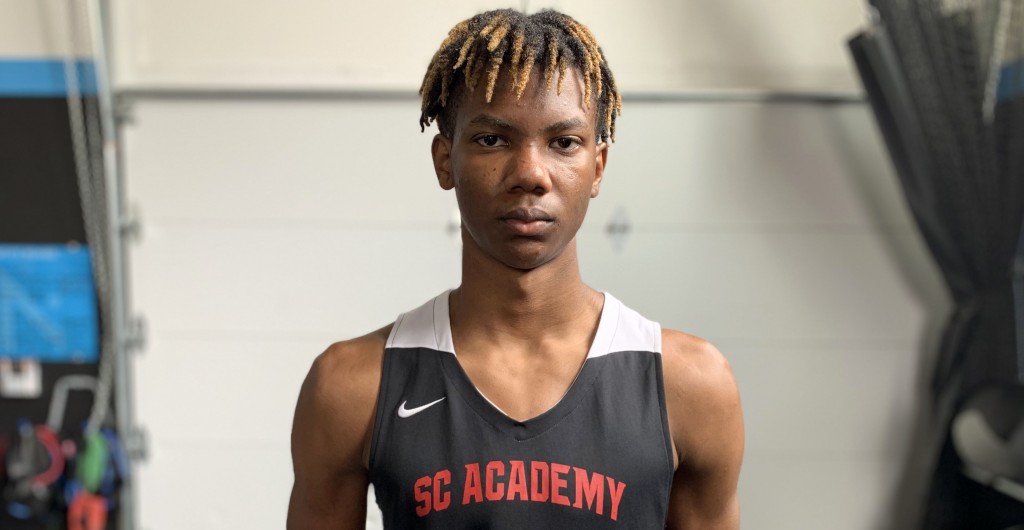 AMERICAN FORK, UTAH - As we continue to look back at the loaded Great Western Classic, there was a trio of juniors who stood out for their work in the here and the now but also intrigued with potential for what they can become down the road at the college level. 
After a stellar fall, the buzz continues to grow for Farmington (UT) guard Collin Chandler. The Beehive State wing has been a trending player at the Pangos camps this fall and is on board for our October HoopSeen West Preview camp, powered by Pro Insight. 
What we saw at the Great Western Classic was a continuation of what he's done this fall - great speed, great athleticism, great passing and great spot up shooting from three. Chandler was able to be a connector of talent for his talent-rich JM Elite squad. 
To date, Stanford and Utah have recently offered a scholarship while BYU, Oregon and Oregon State are interested. The buzz is growing with him and a spot on future top 150 national lists is in the conversation.
Pop Pop Isaacs - There was a stretch in a highly competitive game between Wasatch Academy and Prolific Select where Isaacs took over. He knocked down a pair of stop and pop three-pointers and then piloted his offense in a 12-0 run that opened things up en route to the victory. 
His passing and shot-making down the stretch were the difference makers in Wasatch's first competition of the season. Isaac's competitive edge is his experience. He's been on the floor in big time match-ups. That unflappability is one of the most attractive things about what he does now and what he will do in college. He and Kentucky-bound guard Nolan Hickman make up one of the best backcourts in America. Collectively, they will make each other better. 
Arizona State, Arkansas, Cal, Creighton, Florida State, Illinois, Iowa, Kansas, Missouri, Notre Dame, Oklahoma State, Ole Miss, Oregon, Texas A&M, Texas Tech, Washington and West Virginia have all offered and are involved with the Las Vegas native. 
There are times when you see a player in the moment and know that his best days of basketball are years down the road. That's not to discount what he does in the here and the now. Not at all. What it means is this - you know what's ahead. That's what I thought when I watched Jaylen Thompson play. 
The long and lean wing was one of the best long-term prospects at the Great Western Classic. Thompson is a top 80 composite rated player in the class of 2022. That's easy to understand. 247 Sports had him rated No. 42 overall. I fall in line with that way of thinking. Long term, high ceiling is what we are looking at here. 
So are a number of high-major schools. Thompson holds offers from Alabama, Loyola Marymount, LSU, Nebraska, Stanford, USC and Washington State. He said he also holds interest from Arizona, Cal and St. Mary's. 
When I asked him what he is looking for the most in a school, he said player development holds the most value. Hard to argue with that. Thompson's long term ceiling is connected to that very benefit.