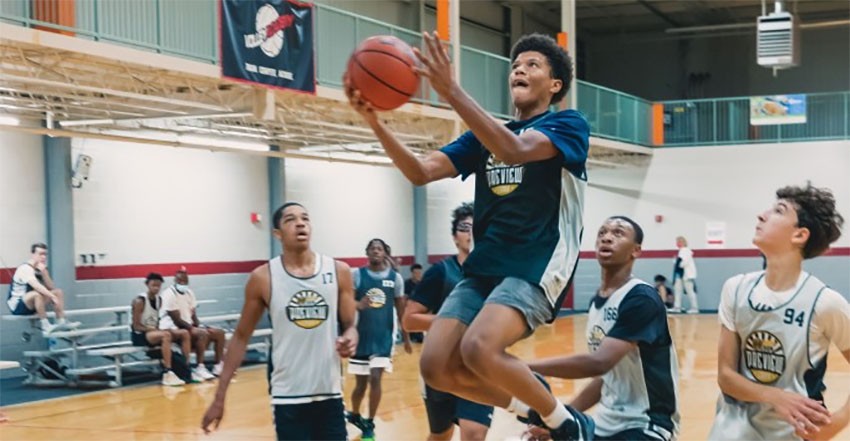 Our Fall Preview camp is in the books as we welcomed 80 prospects from across the southeast. It was an eventful day that led to players breaking out while others solidified their reputation. Our staff of evaluators and coaches came together to discuss every players strengths and weaknesses that participated through out the day. Here are our team 6 evaluations. 
Lewis Robertson, 2022 G, Northgate: Robertson showed his ability to hit spot up threes throughout the day. He has a quick release that helps get his shot off before the defense can alter the shot. Robertson also played well off of the pick and roll.
Nathan Rodriguez, 2023 F, North Paulding: The energy that Rodriguez played with was unmatched. This kid is a high energy player. He went after every rebound, helping him to a double double in the final game of the day. 
John Ross, 2022 G, Campbell: Ross was most effective in the transition game. He showed good body control, often having to contort his body mid-air to finish tough shots. Ross has potential on the defensive end, too.
Demyron Williams, 2022 G, Walnut Grove: Williams displayed a lot of poise throughout the day. He got going on the offensive end by locking in on defense. He made a couple of steals that he turned into lay ups on the other end which got him going offensively. He was hitting 3-pointers from various spots and converted on floaters. Once he got into the middle of the lane, his floater was automatic. 
Randy "RJ' Simmons, 2022 G, Whitefield Academy: Simmons was one of the more versatile players at the camp. He showed the ability to play all three guard positions. A two-sport athlete, Simmons has a strong frame. He used that strength to bully smaller guards when he got inside the paint. His quick first step and tight handle allowed him to get to the basket, blowing by defenders with ease. 
Max Skidmore, 2024 G, The Heritage School: It did not take long to notice that Skidmore likes the catch and shoot three. He was posted around the arch, with his hands and feet ready for his opportunity. Skidmore knocked down some timely threes for his team.
Andrew Phillips, 2022 F, Whitefield Academy: Phillips is a long, versatile big man. He was able to get to the basket in just a few steps with his long stride. Phillips used his strength to finish through contact around the basket. His best play of the day was a poster dunk that had the gym rocking.