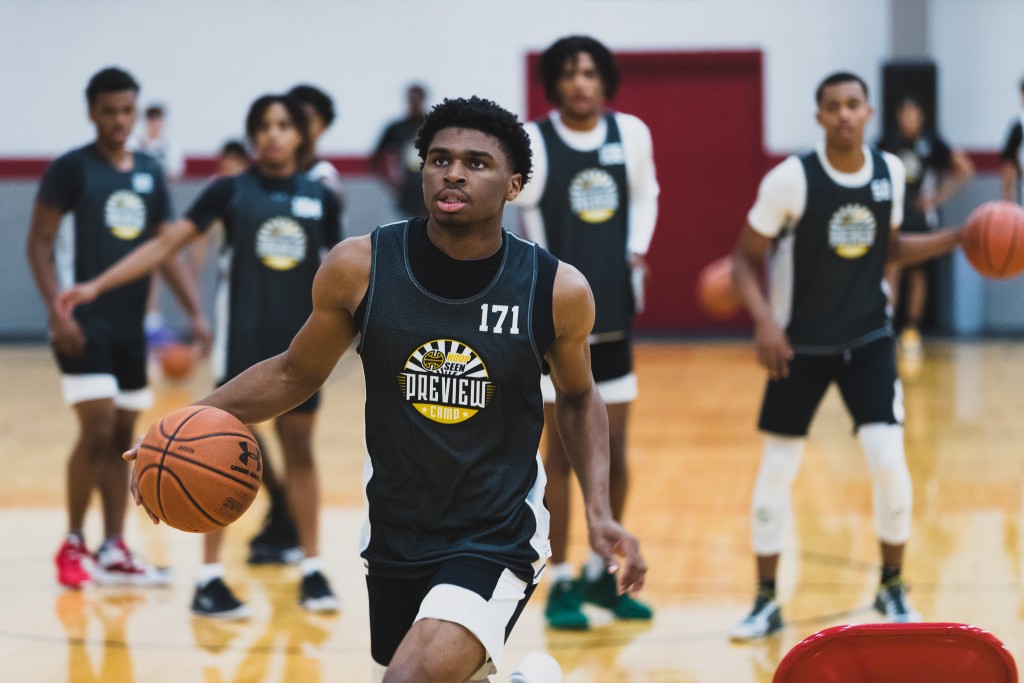 Fall Preview II was one of our better camps as some top prospects across the region joined us at Suwannee Sports Academy. After reviewing the notes from our staff and coaches, here are the evaluations from team eight.
Christian Johnson, 2023 G, Morgan County:
Seth Hubbard, 2022 G, St Francis: Hubbard's tough shot making was beneficial whenever his teams offense bogged down for numerous possessions in a row. In both transition and in the half court, Hubbard can pull up off the bounce and make shots from different areas on the floor. As a defender he competes with some tenacity and does not give up easy offense. His length and fluidity blend well together to make up a solid two way prospect. With Dwon Odom out of the fold, Hubbard should be leaned on more to score the basketball.
Mitchell Taylor, 2022 G, Carver: Taylor has been known for his down hill ability for sometime now and that didn't let up with his play at the Fall Preview II camp. Taylor's quick twitch ability lends itself well when sizing up a defender as he can get past them with relative ease. When his team forced a turnover, Taylor never wasted anytime as he pushed out in transition for easy offense. The Carver junior is wired to score and should give anyone a boost in offense.
Robert Dix, 2022 F, South Cobb: One of the more physical prospects in attendance, Robert Dix seems to take pride in doing the dirty work that wins games. On both ends of the court he rebounds well and doesn't mind throwing his body around. It's an old school mentality that gets his job done as Dix goes into every possession with a hard hat on. Offensively he continues to improve his handle, making him a tougher cover in the process. With his only offer coming from Bryant, Dix has time to add more suitors to his current offer sheet.
Jakyre Best, 2021 G, Meadowcreek: It was a solid day on both ends of the court for Best as he found a way to contribute in different areas. His shooting started him off on the right foot as defenders had to respect his shot making ability. Once they tightened up he was able to get into the teeth of the defense and kick the ball out to other capable shooters. On the other end, Best did a solid job as a man to man defender. This was due to the fact that he was able to guard on an island without forcing his team to scramble and rotate.
Bryce Wilson, 2021 W, Dacula: An explosive dunk or two set the tone for what was going to be a straight to the point type of day for the Dacula senior. Bryce Wilson kept his foot on the gas as he powered through for tough finishes at the rim after turning defense to offense. In the half court he was tough to contain as his slashing ability put him in good positions to finish. A long wingspan and revved up motor helped him on the defensive end as he was able to cover a lot of ground. Overall, Wilson had a productive day as a two-way prospect.
Evan Howell, 2021 C, Brookwood: Howell continues to make strides and that couldn't of been more evident at our Fall Preview II camp. The long and mobile forward was able to cover a lot of ground, especially on the glass where his team needed it the most. From his running hooks to feathery soft touch, Howell has shown a lot of promise on the offensive end. Although there are some days in the weight room ahead of him, that doesn't stop Howell from mixing it up down low for prime position. Whoever lands the Brookwood forward will be able to mold him into a multi-faceted big man.
Mihir Patel, 2022 G, River Ridge: It was the smoothness of Patel that made him a good ball handling option for team 8. His speed and ability to change gears was impressive as it didn't allow defenders to dictate his tempo. In transition he was able to get out in front and finish over oncoming defenders. In the half court he was able to effectively use ball screens and make the right decision as a playmaker and facilitator.
Nicholas Mason, 2023 G, Eagles Landing: A tight handle and a willingness to be physical was all Mason needed to be effective at the rim. While others shy away from contact he sought it out as he welcomed the opportunity to get to the free throw line. His ability to create off the bounce led to some spontaneous offense as he churned something positive out of what seemed like a dead possession. His ability to think quick on his feet put him a step ahead of the defense and even some of his teammates.
Bryce Johnson, 2022 G, Grayson:   Although a injury cut his day short, it was evident that Johnsons speed was going to be a useful attack.  In ball screens he was able to show off a nice mid range and floater so he didnt have to battle with the trees down low. On the other end of the court, he displayed a willingness to be a solid on the ball and weakside defender.
Ryan Mobley, 2023 G, Spencer:  A slasher that can score from the perimeter and attacking the rim. Mobley was able to defend multiple positions with long arms and quick lateral movement. He was also a good rebounder for a guard and once in his possession he turned the ball up the court quick for plays in transition.