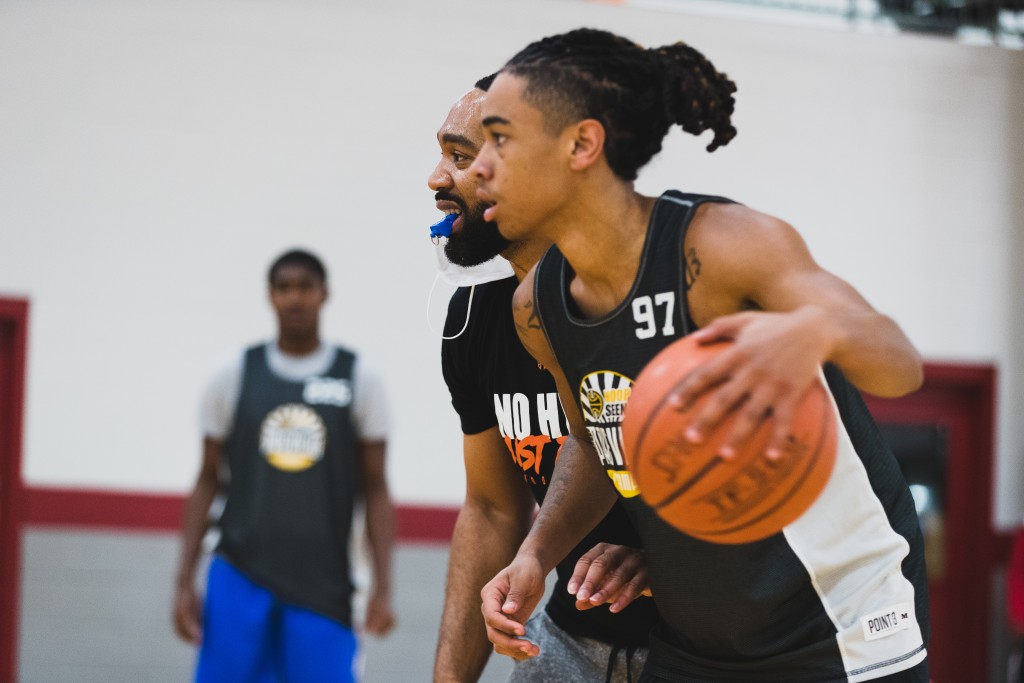 Our Fall Preview camp II is in the books as we welcomed 80 prospects from across the southeast. It was an eventful day that led to players breaking out while others solidified their reputation. Our staff of evaluators and coaches came together to discuss every players strengths and weaknesses that participated through out the day. Here are our team 7 evaluations.
Cole Kirouac, 2024 F, North Forsyth: Too much of Kirouac's credit, he was able to compete thorughout the day in a very honorable way. Despite giving up strength to some of his older counterparts, Kirouac was willing to compete on both ends of the court. As he gets stronger over time, his ability to become a better scorer will eventually shine through. For now he was able to make shots and show the ability to rip drive when defenders played him too tight. His versatility will be a key tool at some point down the line. 
Thomas Allard, 2022 F, North Gwinnett: One of my favorites during the event, Allard had both Knocked down shooter the opposing coaches and players screaming not to leave him. That was due to the fact that he was one of the better knock down shooters that could get his shot off with just a slither of space. As players pressed up he was able to attack closeouts and get to his spots for lay-ups and pull-ups. The productivity from Allard was a constant as he seemed to have an answer for any defense he faced. As the 3&D position has started to become more coveted, Allard will have a chance to see an uptick in his recruitment alot sooner than later. 
Quinones Corpman, 2021 G, Meadowcreek: "A fiesty competitor" were the words used after asking his camp coach to describe the play of the newly minted Meadowcreek guard. Corpman does what we've come to expect and that's scoring the ball while leaving it all on the court defensively. After securing the outlet, Corpman would push it well in transition to look for easy points. Not only did he score it well in those situations, he was able to find some of his teammates for easy finishes. Although he's capable of scoring from the outside, it was his ability to score around the rim that left us impressed.
Stephen Lewis, 2022 G, Stephenson: Between his motor and his size for a guard, Stephen Lewis was one of the better competitors on team seven. His activity level led to some difficult rebounds that would typically typically be reserved for the wings and forwards. As a slasher he was able to find creases in the paint and work his way to to the front of the rim. While others may have waited for an opportunity to put points on the board, Lewis forced the issue while doing so in an efficient manner.
Tristan Armas, 2022 G, Bradwell Institute: Armas didn't waste any time getting acclimated to the game as he was ready to push the pace from start to finish. While others were better suited in a half court game, Armas pushed the tempo and got easy ones out in transition. The offense came easy as he put himself in great situations by pushing up in the passing lanes. His aggressiveness was one of the key catalyst is having a productive day offensively. Armas took our message of playing hard and translated it to the court. -Tai Young
Joshua Blassingame, 2024 G, Buford: Blassingame's ability to control the ball made it easy for his teammates to roam and even press up in the passing lanes. Even as ball handlers pulled out their best moves, Blassingame didn't budge off his spot or give up ground. It was an impressive feat for a freshman as he takes pride in defending at a high level, across many positions.
Trevor Georges, 2024 G, Woodland: Quick bursts of athleticism and an aggressive mentality made Trevor Georges a tough defender for team 7. Georges ability to defend was impressive given his ability to be left on an island. The team did not need to rotate much as he was able to stand his ground and hold his own. Georges has a solid base to build on going forward as he continues to grow older.
Justyn Burnett, 2023 G, Warren County: The activity from the Warren County guard was contagious as he fought and scrapped his way to a ton of rebounds. While others sat and waited for the action, Burnett made his way to the front of the rim and put himself in position. His coach mentioned his willingness to compete at a high level and throw his body around. hysicality was not something that Burnett shied away from. 
.Randy Brady was named as a top performer by our staff. To read more about his performance, click on his profile below