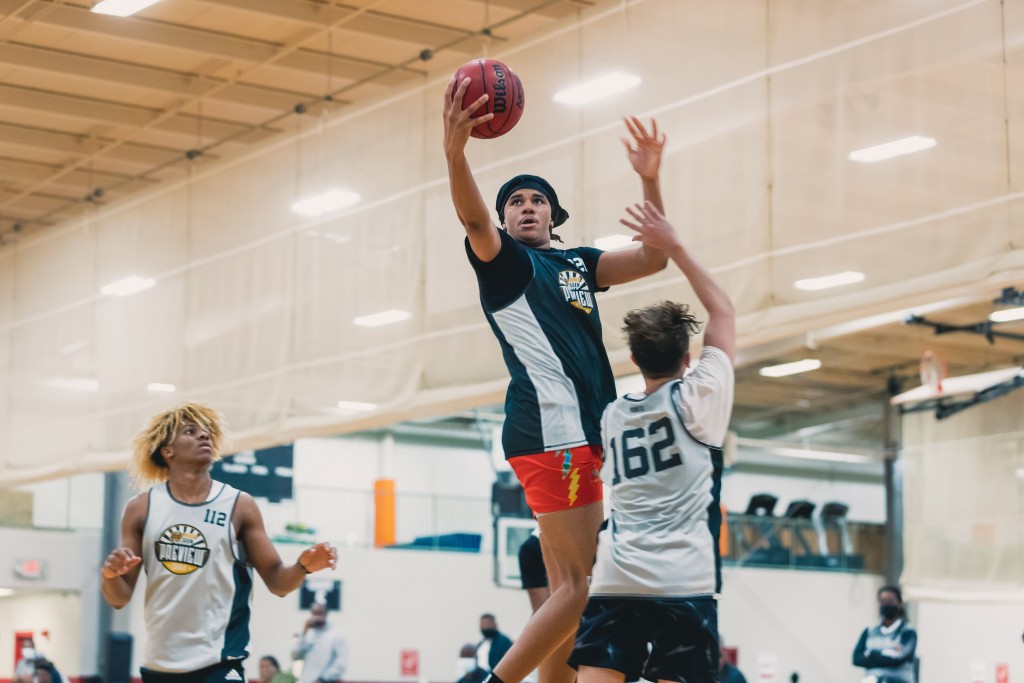 Our first Fall Preview camp is in the books as we welcomed players from across the southeast. While picking the cream of the crop is always difficult, our staff of coaches and evaluators have selected a few of their favorites. Here is our final group of top performers.
Omari Fonteno, 2021 G, Douglas County: It's always refreshing to see a player approach a camp with as much defensive enthusiasm as they do on the other end. Douglas County point guard Omari Fonteno was able to turn defense into offense all day, using his 6'3 frame and length to create quick steals for easy buckets. He applied pressure for 94 feet, getting into his matchup's jersey as soon as the ball was inbounded. He had it going in the half court as well, knocking down several threes and making some nice passes. He even punched in a couple dunks on the day. Fonteno had one of the more well rounded showings of the Fall Preview camp by far. - Bre Singleton
Sammy Moss, 2022 W, East Coweta: I haven't seen a motor run as hot at our camp since the days that JaQueze Kirby was wreaking havoc at SSA. Moss caught the eye of every member of our staff by working himself to exhaustion. A high motor and some freaky athleticism made for some memorable plays, especially in transition. In the half court, Moss made the most of some open seams by being an active cutter that thrived off of layups and free throws. On both sides of the ball, Moss was able to make his stamp on the game without gambling or taking a ton of his team's possessions. It was an active day to say the least. 
EJ Walker, 2021 G, Stephenson: Guards that can get a piece of the paint are one of the most valuable assets that a coach can utilize. What is usually a tall task seemed to come easy for EJ Walker as the bulk of his possessions were finished off in the painted area. Nimble feet, strong shoulders, and a nice blend of will power was enough to make defenders play on their heels all day. Walker squeezed juice out of possessions that seemed lifeless with his ability to get to any spot on the floor. As one of the event's best scorers, Walker was able to separate himself from a guard dominant camp. 
Malique Ewen, 2022 F, Berkmar: As I've said both in stories and to others behind the scenes, Malique Ewen is one of the most gifted prospects I've covered in the high school game. With unteachable gifts and an uncommon feel for his position, Ewen makes the game seem easy as a multi-faceted scorer. With a presence both inside and out, coaches will be hard pressed to completely utilize every aspect of his scoring ability. The soft spoken giant killer made waves at our fall preview camp and should continue to do so at the high major level. 
Izaiyah Nelson, 2022 F, Marietta: Long and lean at 6 foot 8, Izaiyah Nelson impressed throughout the day with his ability to affect the game in a number of ways. From his high-low game to his ability to stretch the court, Nelson showed us all that there's more to his game than just his measurables. That's not to say that his wingspan didn't play a factor in his day as those long arms helped him both rebound and play out in the passing lanes. His ability to be a mismatch was evident as he has enough tools to out defenders in a situation to pick their poison. With another two years of high school ball ahead of him, Nelson could look like a completely different prospect with more polish and experience under his belt. Nelson's talent is intriguing to say the least.