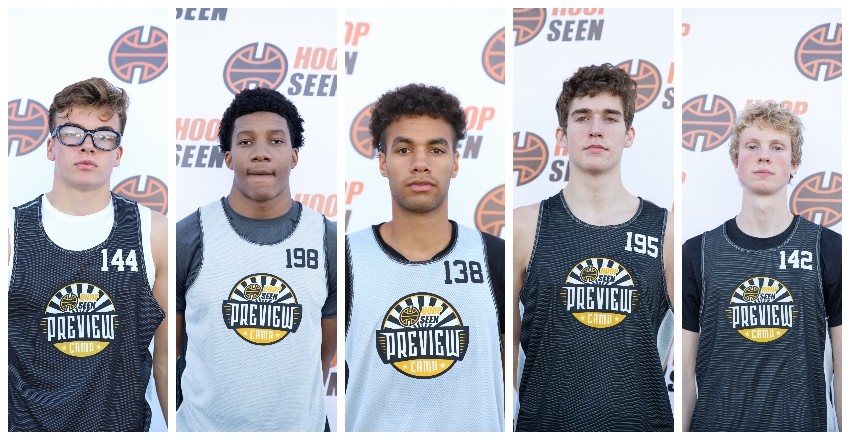 LEHI, UT - Let's take a look at some of the top players from the class of 2021 from the HoopSeen West Preview camp, powered by Pro Insight. There was a deep roster full of college-level prospects. This quintet caught my eye. 
The big man from Colorado was one of the better post players we had in camp. Every time you saw him, he was finishing in the paint. He plays as strong as he looks and wanted to find the body of a defender to bang against when he went up for a close range bucket. Edmonds was tough enough to win 50/50 balls and got into the action as a rebounder. The 6-foot-8 forward warrants more attention on the recruiting front. He's a Division I rotation forward that could develop into an important post player for a program. 
The eye-opening athleticism was on full display from Jones. He's a strong wing forward who tapped into his tight end playing days on the gridiron. The result? Not too many people stepping in the way of him when he muscled his way around the basket. Jones plays really hard on both sides of the ball and does it in a way that makes you remember the last time you tried to body him on defense. He'll make you pay for such action. Jones is a smart player and has been well-coached in his playing days. Every Division I program needs a guy like Jones on the roster, gluing all of the talent together and stepping up with production. He's consistently and productively low key. That's a tremendous compliment. 
Looking back on the day, he stacked up good things on good things. Chatman shot well from three, especially in the drill work. He's catch and release is quick and liked knocking down shots from the top of the floor. There was some wiggle din his game and he was able to finish at the rim with regularity. The overall skill and understand of the game shined through in the three on three and five on five action. File him under "under-recruited for the class of 2021 here in the West". 
If you're into competitive guards, and why wouldn't you be, Reid has to be on your short list in the state of Utah. For starters, Reid will guard you. Unabashed and not intimidated, he was in the mix with every positional match-up that demand energy and grit. Respect for that. On the flip side, he was a squared up shooter who could fire off a feathery jumper when space opened up for him in the offense. We saw some midrange action and stop and pop buckets from the foul line drop through. Skyridge is a good team to watch in Utah and Reid will certainly be a key player in their season ahead. Low-majors should be in tow, too. 
The big man will tease you with a feathery shot and undeniable length as a four/five man. The 6-foot-11 post runs light on his feet and didn't have any issues with keeping up with the speed and athleticism of the camp. His game is comfortable out to the wing and he doesn't shirk away from taking the three-ball. In fact, he welcomes it. Squire is a specialist big man prospect right now and could be a really nice college player once he gets some time to fill out his long frame. Squire was one of the five best shooting bigs in the entire camp.