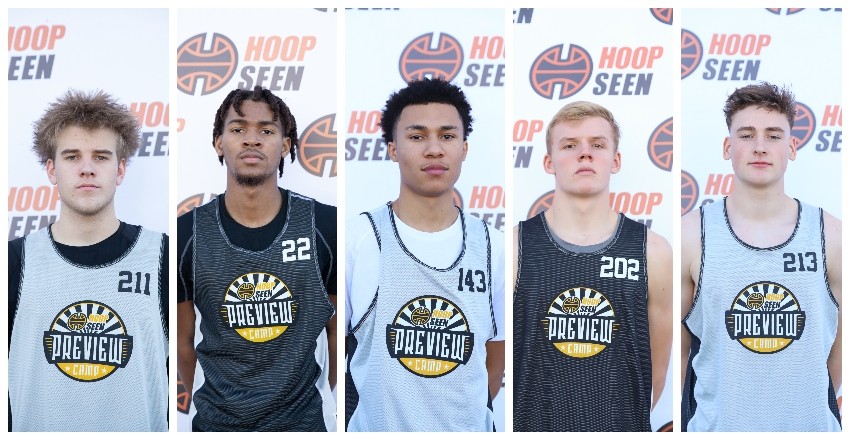 LEHI, UT - Let's take a look at some of the top players from the class of 2021 from the HoopSeen West Preview camp, powered by Pro Insight. There was a deep roster full of college level prospects. This quintet caught my eye. 
Patience and poise. That was the book on the Portland, Oregon point guard. We loved how well he passed the ball, set up teammates and ran his offense. Even though he didn't know many, if any, of his teammates, Hall had a feel that made his teammates better. There was a good natural sense to his approach throughout the camp. Hall knows how to run a team. When it came time for him to be an option on offense, he was comfortable in stepping up and being a shot-maker, too. To date, he said he has heard from Dartmouth , Portland state, UTEP and Cal.

The competitive spirit that Holcombe plays with is infectious. He went right at the guys in the camp that the hoop mavens say are "the guys". Physically, he was really good. Holcombe powered through defenders and guarded just as hard. His bread and butter, in my few viewings, is his passing ability. Holcombe is a confident ball-handler and he has really good vision. His unselfishness allowed him to set up shooters with his drives and kicks. In the shooting drills, he was right down the middle - hitting 25 of his 50 three-pointers in the NBA combine testing. 
This was a good stage for us to see Jessee in. We saw the wing play with his loaded Wasatch Academy team and as is the case with talent-rich rosters, opportunities to shine as an individual may be tough to come by because of the approbate team-centric approach (which we sign off on). For Jessee, he was able to show some really good moments on the hardwood at camp. We saw a player who competes with smarts, finished tough shots around the rim and knew how to be in position for productive and positive plays throughout the day. The lefty is good as a spot-up shooter from three and big and strong enough to have success in the paint.
Talk to any of the coaches or staff that spent the day at the Karl Malone Training Center and they will all tell you he was one of the "those dudes" that just made plays. There is a toughness to Krystkowiak that not too many players possessed at the camp. He was one of the few players who laid out his body for charges or loose balls or hard screens. When the game was in need of a pilot, Krystkowiak was willing and able to run the show. When a big shot was needed, the senior guard from Salt Lake City stepped up and drilled a game winner. That's the book on him - he makes winning plays. Krystkowiak said he's hearing from Montana State, Northern Arizona and Idaho State. 
Overall, this was an efficient day for the Denver, Colorado wing. He's a three-level scorer with good length. His versatility was on full display throughout the drills and game competition. He used a nice jab step to create space for his jumper, he's long enough to get to the rim with a few strides from the wing and tough enough to grab rebounds and covert offensive rebounds into points. We had a lot of talented seniors in the camp and McPhee played like a guy hungry to earn a scholarship at the next level. We'll sign off on that.