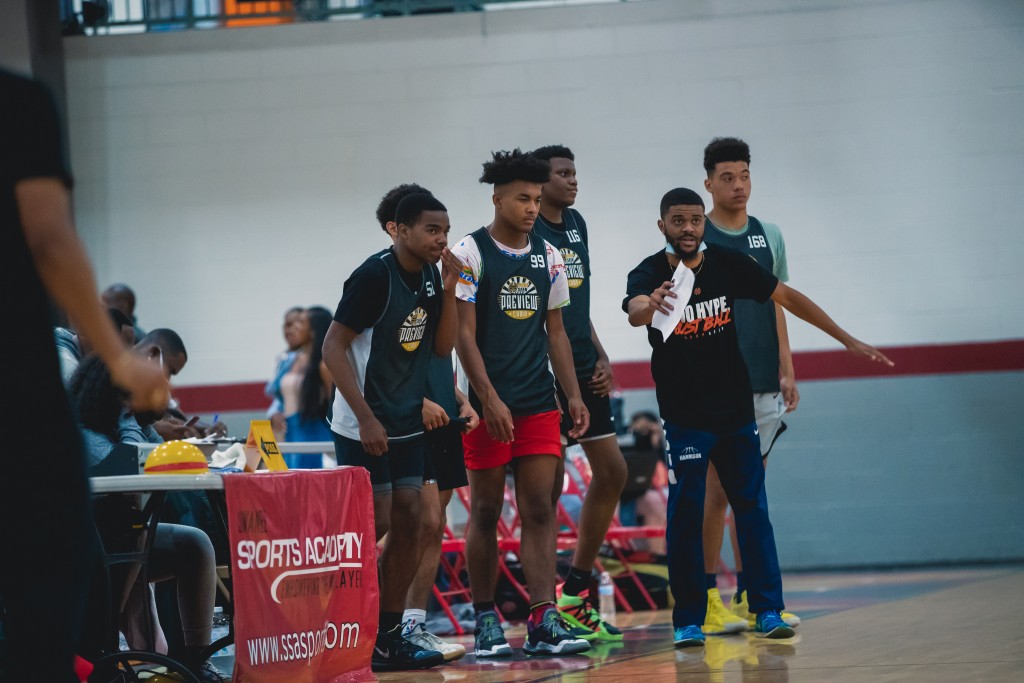 SUWANEE, GA - Our HoopSeen Elite Preview was held this past Sunday with loads of talent from the region in the 2023 and 2024 classes. Here are our team 5 evaluations from the camp.
Bilal Abdur-Rahman, 2023 PG, W. D Mohammed: Abdur-Rahman showed that he has a smooth shot with a quick trigger. He does not hesitate to shoot it if given space. He displayed a crafty handle, making defenders miss left and right. He also does a nice job of using his body to shield and get baskets in transition.
Khalil Green, 2024 PG, Stratford Academy: Green proved to be a consistent mid range shooter. He is able to create space with his handle and his quickness. Green is unassumingly explosive when attacking the rim. There was one play where he took off somewhat nonchalantly and almost brought the house down. With his athleticism, he has a lot of upside.
Patrick Green II, 2023 CG, Aquinas: As one of the quickest players we saw on the day, Green II showed that he can finish baskets in transition and blow past defenders to get his teammates involved. He had a solid showing on the defensive end, too. Green II has the ability to change directions extremely quick.
Will Hopkins, 2024 G, Legacy Community Academy: Hopkins is a long and lanky guard that can score from all spots on the floor. He has a good looking form on his outside shot. He was struggling early offensively, so he took the assignment of guarding the other team's best player which got him going on the offensive end. 
Kelvin Hunter, 2023 F, Chapel Hill: Hunter has a lanky frame that could be scary as he continues to grow into his body. He already has good timing as a shot blocker and rebounder. He showed that he is not afraid to get physical downlow. He likes to get the ball deep in the paint and back his defender down.
Jase McCullough, 2023 CG, Roswell: This is a kid that can definitely go. He has a tight handle and can create off the dribble. He made some strong moves to the basket, squeezing through tight spaces to get to the rim. 
Derrion Reid, 2024 F, Grovetown: Reid improved each game as the day went on. Once he got comfortable in his flow, he became more aggressive, making some strong moves to the basket. 
Charlie Reisman, 2023 G, Gainesville: Reisman came up big during the situational part of the camp. He showed that he can make good decisions under pressure with the game on the line. Reisman made some nice outlet passes and rebounds that prove to be crucial in helping his team get the win. He also impacted the game defensively, notching some steals when his team needed a stop. 
Aiden Sherell, 2024 F, Norcross: Sherell will be a prospect to keep your eye on in the coming years. He is very raw on the offensive end, however, he already has a nice, soft touch around the basket. Sherell was great on the rebounding end, going after every defensive board. He uses his length and frame to get great position on rebound opportunities. He also has the potential to be an elite shot blocker. 
Trent Thomas, 2023 SF, Cottage Hill Christian Academy: With his thick upper-body with broad shoulders, Thomas was a force to reckon with on the boards. He is an aggressive rebounder, going after boards with both hands. Offensively, he has a nice midrange shot and touch around the basket.