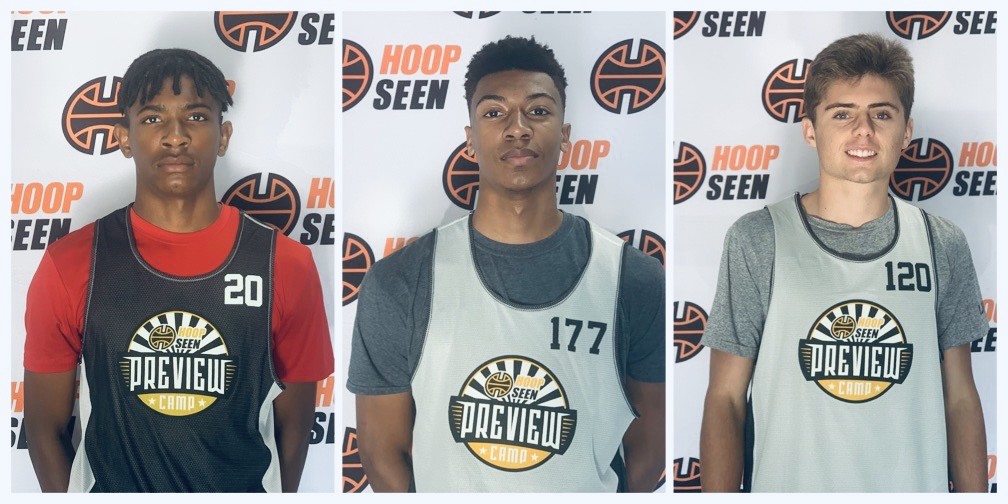 Our Alabama Preview camp is in the books as we hosted 80 players at the Supreme Courts in Guntersville, Alabama. After rounding up the evaluations from our coaches and staff, here is our team 5 breakdown. 
Cal Bennett, 2023 W, Trinity Presbyterian: Some consistent three point shooting and back door cuts gave his team a much needed boost in scoring. Some instinctive off the ball play gave defenders fits as he kept them with their head on a swivel. Most of his points came without a struggle as he fed off of his teammates penetration. His willingness to not stand in one spot and cause confusion in the defense made him a key component to his teams offensive success.  
Cameron Crawford, 2021 W, Spain Park: Crawford put his finger prints all over the weekends games as a long limped two way prospect. Before his initial points were scored, Crawford had already snatched down a handful of contested rebounds. After threading the needle with some of his passes, Crawford eventually found his offensive rhythm and produced quality points. The potential that our staff has talked is still sky high as he looks to have a great season with Spain Park. 
Clayton Cunningham, 2021 CG, Gardendale: Cunningham's coach described him as the best shooter in the gym and for a very obvious reason. Time after time it seemed like Cunningham had his feet set and shoulders squared as he launched another one at the basket. The steady stream of jumpers made him a constant outside threat as he got the attention of his defenders very early in the day. Defensively he was able to get through ball screens well and blow up a few actions that were headed his way. Cunningham's approach to the game made him a favorable option when the coach was looking for his best 5 man lineup. 
Christopher Fuqua, 2022 G, Raymond (MS): The ultimate hustle player made sure his energy was felt throughout the day. Fuqua's ability to guard different players, chase down rebounds, and stay involved in the action was impressive. A few made three's showed his ability to help offensively although he made his mark on the defensive end. Overall it was a very productive day as he played the role of glue guy for his team. 
Skylar Lykes, 2022 G, Ramsay: While Lykes wasn't able to find a great grove offensively he was able to make dents in other areas for his team. What stood out the most was that his offense didn't dictate his defensive effort. Regardless of what was happening on the other end he made sure to dive after loose balls and maintain his ability to give effort. On a team with scoring ability he found a way to find his niche as a energy giver. 
Elijah Thomas, 2024 CG, Hoover: When a stop was needed for team 5 you could see the sense of urgency build withing Hoover guard Elijah Thomas. A high motor allowed him to disrupt the offense as he got his hands on lazy passes throughout the day. Often times Thomas would turn some of those careless plays into quality possessions for his team on the other end. HIs ability to hit an occasional three kept him involved and made sure that defenders knew where he was. 
Jalon Moore, Parker Henry and Donovan Shangase were named top performers over the weekend. Look back on their profiles to read up on what our staff had to say.