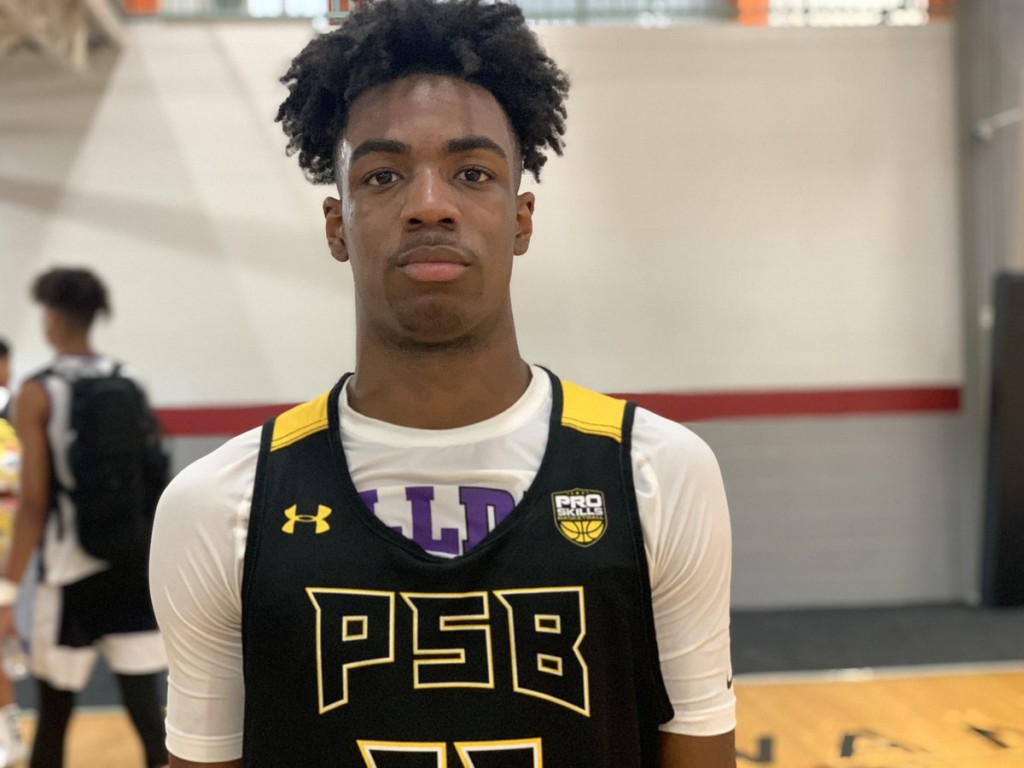 SUWANEE, GA - Day two of the 2020 Best of the South is in the books. Some teams advanced closer to gold, while others seen their journey end. Here's a few prospects that caught my attention throughout the weekend. 
One-Two Punch
North Point Youth has a great one-two punch of Jalen Gilmore and Vanari Johnson. These two have been one of the most, if not the most, dominant tandems here at BOTS. Gilmore is a smooth combo guard who can play the 1 or the 2. He has a nice shot from deep, can get to the rack, and dish it out. He has been in the top-10 of the assist leader category. Johnson can also shoot it from the outside. He knocked down eight 3-pointers in a loss this afternoon. Johnson locks up on the defensive end, too. I saw him make several steals where he was playing like a safety. The chemistry between these two is noticeable. They know where the other will be on the court and find each other for open jumpers and easy baskets in the lane. Stuffing the stat sheet each game, both Gilmore and Johnson are both averaging nearly 20ppg this weekend.
2022s Shining
There have been some impressive 2022 players this weekend at BOTS. Kyle Jones, Jazian Gortman, Jalen Gilmore, Elijah Wyche, and Sebastian Tidor have all showed a scoring prowess and glimpses of what their potential could be. Jones came into Sunday as the leading scorer of the entire tournament. He has made scoring the ball seem effortless as he is gone on to score 25+ ppg multiple times. He currently holds offers from Depaul and Virginia Tech, but that list will increase soon. Jazian Gortman went off for 31 points in a comeback win today. He simply looked like he was on another level than everyone else on the court. Gortman is making his case as one of the top players in South Carolina, holding offers from Maryland, Clemson, Ole Miss, and South Carolina. As I mentioned earlier, Jalen Gilmore is a prospect to keep an eye on. He is smooth and can score points in a hurry. Wyche is the best player for the Broward Storm. He is long and plays with a high motor on both ends of the floor. He has been the leading scorer for the Storm in every game. Sebastian Tidor went for 30 points in a game on day 1. His length and skill set make him an intriguing prospect to follow.
Performance of the Day
The top performance that I saw today was from Furman commit Jaylen Pegues of PSB Elite Nashville – BA. He scored 24 points in a 57-56 win over the Broward Storm. I was so impressed with his performance because he made it look easy against a team who has been an absolute force on defense, giving teams fits. Pegues went on a personal run, hitting three consecutive 3-pointers giving his team a lead. He was active on the defensive end, collecting a couple of steals and blocking several shots against the backboard. The most notable play was a poster dunk over two defenders that made the gym go crazy. Pegues got whatever he wanted the entire game. Threes, lay ups, pull up midrange. Wherever he wanted to get to on the court, he made it happen and converted on those shots efficiently.