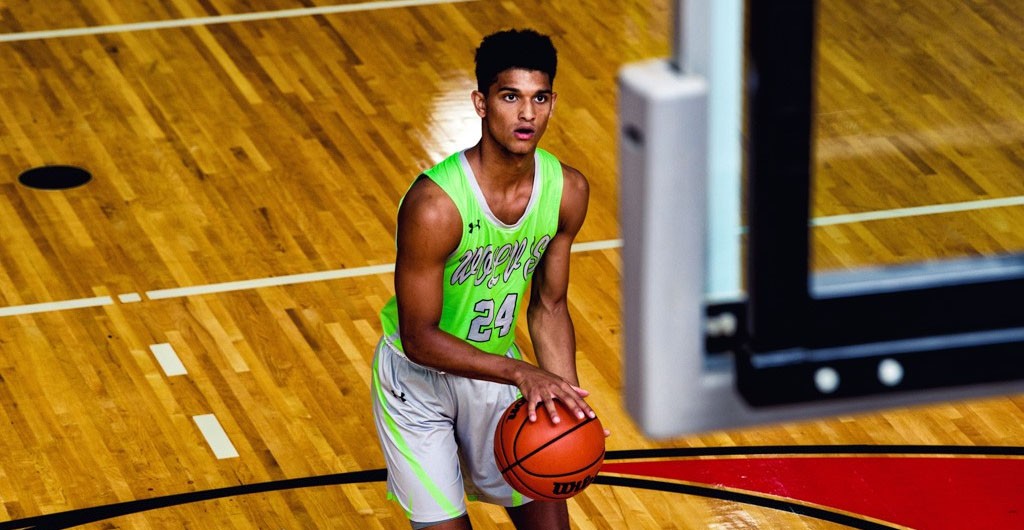 The HoopSeen Fall League is a must-stop for hoop heads on Thursday nights at Suwanee Sports Academy. Our Brianna Patton was on hand to see the action. What stood out to her? Check out his notes from the action. 
Jax Bouknight Continues to Produce
Jax Bouknight looked really good tonight for Blessed Trinity. He finished with a game high 33 points leading his team to a 51-39 win over GAC. Each time GAC would make a run to come back, Bouknight made a play stopped it. Making a name for himself this summer with the Atlanta Timberwolves, Bouknight showed that he is a player that can consistently produce points and it was on display tonight. He really had it going from deep, hitting seven 3-pointers. This is an athlete that can make an impact at the next level. He is a prototypical guard: very few turnovers, can distribute, and consistently score points. Blessed Trinity will definitely be relying on his production this upcoming season
Josh Fulton Impresses
This was my first-time seeing Josh Fulton play and I walked away impressed. Fulton led GAC with 20 points in a loss against Blessed Trinity. The 2022 guard out of Greater Atlanta Christian has seen his stock rise over the course of this month due to his performances. He is an athletic wing that has a lot of skill and good athleticism. He has a quick first step and great leaping ability making him a good finisher around the basket. Fulton plays with a lot of confidence and pride on defense. He has the potential to be an elite two-way player. I was most impressed with his 3-point shot. He has a fluid stroke with a quick trigger connecting on four in his game tonight. After only playing in eight games due to injury last season for GAC, look for Fulton to be a big-time player for Spartans this season.
Grayson "Showtime" Rams
Grayson put on an absolute show in its 72-22 win over the 404 Warriors. I was curious to see what this team would look like with the departure of Deivon Smith and Caleb Murphy, but this team did not seem to miss a beat. The Rams are a team full of length. The duo of Ian Schieffelin and Eastside transfer, Chauncey Wiggins, will be a tough matchup on both ends of the floor for opposing teams. Grayson showed off their depth subbing five in, five out at times. The second unit showed no let down in tempo or performance. Players were flying high for highlight dunks every time I looked up it seemed like. They played with great tenacity on defense even though they were up 20+ points the majority of the game. Every single player on the bench was engaged and showed plenty of energy; they were genuinely excited for each other. There's tons to be excited about when it comes to the potential of this Grayson Rams team. Look for them to continue to be a top team in 7A this season. 
Pesky Peachtree Ridge
Fighting back to beat TSF 36-35, Peachtree Ridge showed that it has some dogs on its team. This team is so scrappy on defense and they defend the full length of the court. It does not matter who is guarding who, each player on this team will get in your face and make you prove to them that you can handle the ball. Each time TSF would go on a run, the Lions would step up and make a stop to change the momentum. William Gray-Watson was the heart of this team. He made so many plays defensively. He plays with an extremely high motor and shows a lot of passion on both ends of the floor. This Peachtree Ridge team was like the pesky little brother that will not leave you alone. It is clear that defense is what drives this team and they take pride in that fact.