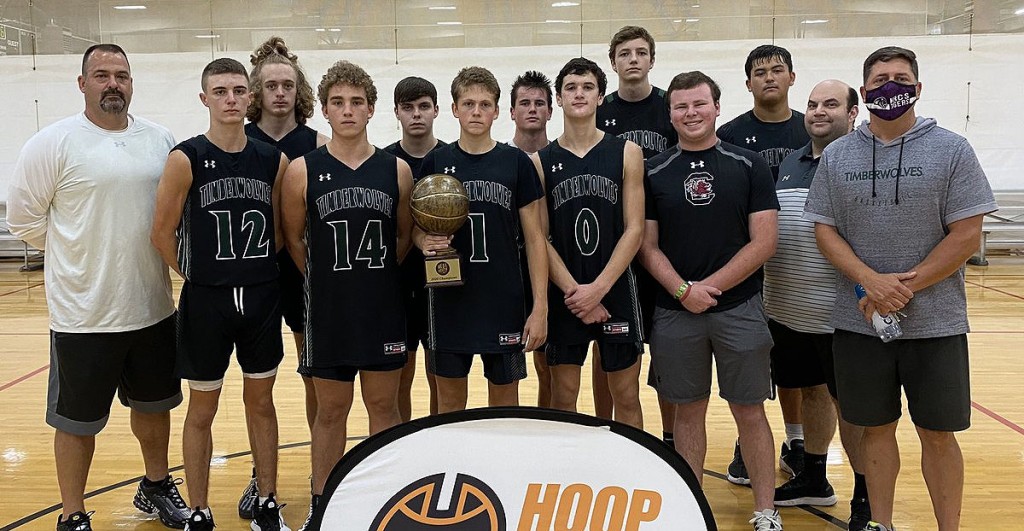 The 15U #BOTS Championship game between the Atlanta Timberwolves and TNBA South ended up being one of the best matchups of the weekend. It would come down to a single, sudden death free throw, but the Atlanta Timberwolves held on to knock off TNBA South 88-87.
Both teams came out scoring the ball well, the Timberwolves from beyond the arc and TNBA in the paint. Andrew Broome hit two threes of his own early for six of his 13 first half points, but TNBA's size is what gave them an 18-10 lead with 11 minutes left in the first half. The lead wouldn't last long as Zach Thomas hit back to back threes for the Timberwolves to bring them back within three. Then, a Charlie Reisman 3 gave the Timberwolves two point lead with 2 minutes left in the half, and they would stretch that lead to five for a halftime score of 43-38, Timberwolves up. The Timberwolves had three guys in double figures in the first half, Charlie Reisman, Zach Thomas and Brent Bowman all getting it done offensively.
The team from Atlanta would come out strong yet again after the half, securing a nine point lead, their largest lead of the game, with just over 12 minutes to play. They really made it tough for TNBA to take advantage of their size by simply knocking down shots from everywhere. Jalon Cole would get it going for TNBA, scoring 14 of his total 23 points in half number two. But the story of the second half for TNBA would be their turnovers. The Timberwolves took advantage and pushed the lead to 13 with six minutes to play.
Kevins Charles began to make his presence felt though, putting up 12 of his 18 points in the second half. He'd help TNBA cut the lead to ten with three minutes on the clock. After a Cole three and Kevins Charles put back, TNBA found themselves down five with two minutes left. Cole came back down the next possession, finished through contact and hit the free throw to bring his team within two. Charles tied it up and the game would go into overtime locked at 80.
In overtime, the Timberwolves hit free throws to gain the lead, but Jalon Cole hit a deep three as time expired to send the game into sudden death double overtime.
The Timberwolves took it to the cup off the tip and an Isaac Martin free throw claimed the #BOTS 15U Championship trophy for the Atlanta Timberwolves. 
Brent Bowman and Charlie Reisman finishes with 23 and 20 points respectively for the T'Wolves. Jalon Cole has 23 points of his own in the loss. Kevins Charles added 18 points and Andrew Broome hit 5 threes on his way to 19 points for TNBA.