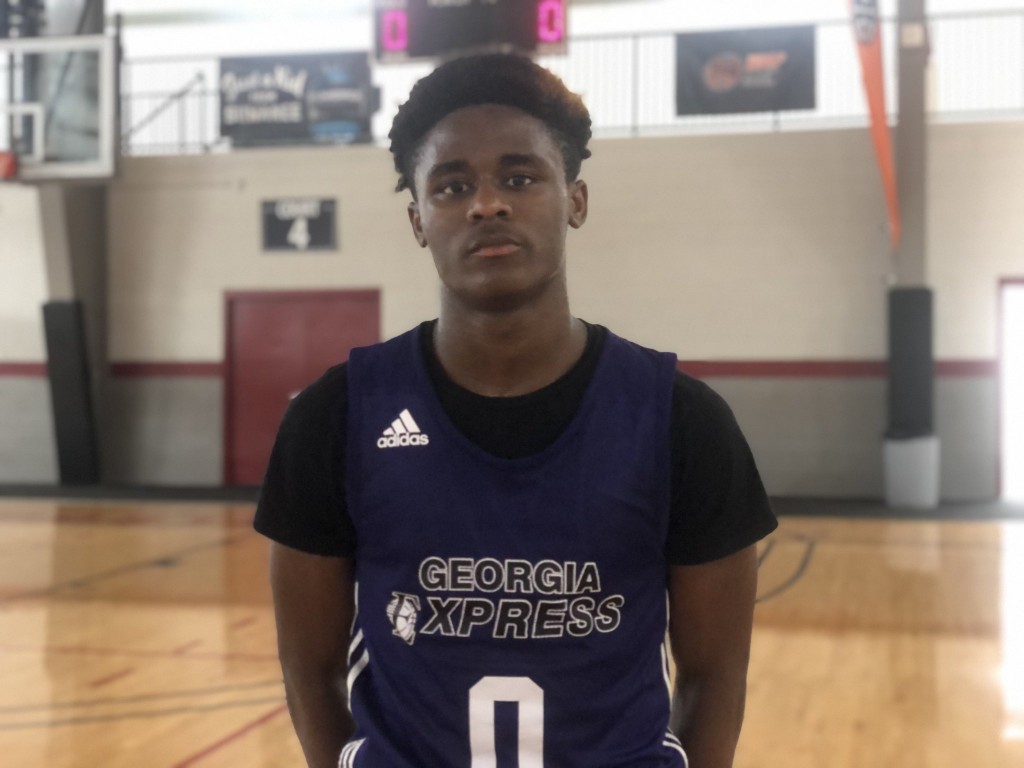 SUWANEE, GA - From sun up to long past sundown, the Atlanta Jam packed in games at Suwanee Sports Academy and the Infinite Energy Forum. Let's take a look at the notes from inside Zach Shugan's notebook.
ALL STAR SPECIAL 
The Atlanta All Stars 17U are as deep and well-rounded of a group as any team I have seen this summer on the HoopSeen stage. The All Stars are loaded with college prospects, and they do a good job spreading the wealth for all to enjoy.
In a dominant 64-28 win Saturday over Flame 2021, the All Stars had 12 different players take court, and all but one player made at least one bucket in the contest. 
Sharpshooting guard Broc Bidwell led the way, tallying 14 points off the bench, including four three-pointers. 6-foot-3 guard Cam Lee added eight points and was constantly on the lookout for an opportunity to posterize an opponent. He was successful in his efforts, as he threw down the most vicious dunk of the day and likely the top dunk of the weekend. Those are just two All Stars players who stood out to me Saturday night, but literally the entire roster played well against Flame 2021. The one player who didn't find his way into the scoring column, wingman Isaac Brito, provided constant energy on defense while on the court against the streaky guards of Flame. 
YOUNG GUNS 
The decision to play up an age group is one that doesn't come lightly. 
Unless a player clearly needs to be playing in an older division (which is rarely, if ever, the case in basketball compared to a sport like football), it's risky business for a younger player to play with older players. The teams are often bigger, stronger and more skilled as you make your way up the age ranks. When it works out, though, it can give players a leg up on their peers and drop jaws in the process. 
There were two instances Saturday in which some of the top talents on the court were playing up an age group. 
In the 17 and under division, Atlanta Select Elite"s Nixon Stewart filled up the stat sheet in a 60-56 win over STARS Basketball 2021. The rising junior dropped 28 points in the win while playing in a division with rising seniors. In the 16 and under division, Georgia Express' Jaylen Priester put on a show offensively in a 78-56 loss to HYPE. The rising sophomore at Creekside Christian (GA) finished the game with 24 points, 18 of which came in the first half, while playing in a division with rising juniors. 
After watching both games and being impressed with the game of Stewart and Priester, it came as a pleasant surprise to find out following the game the two were playing up in their respective age groups.
IDENTITY...
Every team needs an identity. It might sound cliché or like something a coach would say on the first day of practice, but it's true. The importance of having an identity as a team can't be overstated, especially in basketball.
Take five of the most talented players in the state or region and throw them on the court together, and I bet it takes them a good minute to figure out how to play with each other. How to let their individual games flow while giving their teammates some love, and to do so in a winning fashion.
There have been some impressive, well-oiled machines of grassroots programs on the HoopSeen stage this summer. The Tennessee Tigers and Atlanta Timberwolves are two teams that come to mind, and the Atlanta Jam saw that list grow even more. 
Atlanta WolfPack 2021 put on a clinic in team play in a 72-39 win over Team Synergy 17U. Eight different players appeared in the contest for the WolfPack, and seven of them contributed with points. Do-it-all forward Tyler Lane out of West Forsyth (GA) led the way with 17 points, eight rebounds and four assists. The WolfPack also received 29 points and seven three-pointers combined from guards Mason Barnes and Jake Craft, who finished with 16 and 13 points, respectively. Wingman Jackson Greene out of Lambert (GA) also added 10 points in the win. 
The 17U Georgia Suns have to be the best team without a win yet at the Atlanta Jam. The Suns went 0-2 on Saturday and fell to 0-3 overall this weekend, but the Suns have impressed in each contest and a large reason why is their identity. This Suns group is athletic and absolutely loves playing defense. And if they don't love defense, they do a great job hiding their distaste for it. All game long, the Suns will press defenders, get in their grills, and let the entire gym know when they make a stop. The Suns lost their first game of the weekend by one point, their second game by two points, and their third game by 10 points. With a little more firepower on the offensive side of the court, the Georgia Suns 17U could be a nightmare for any team on the HoopSeen stage.