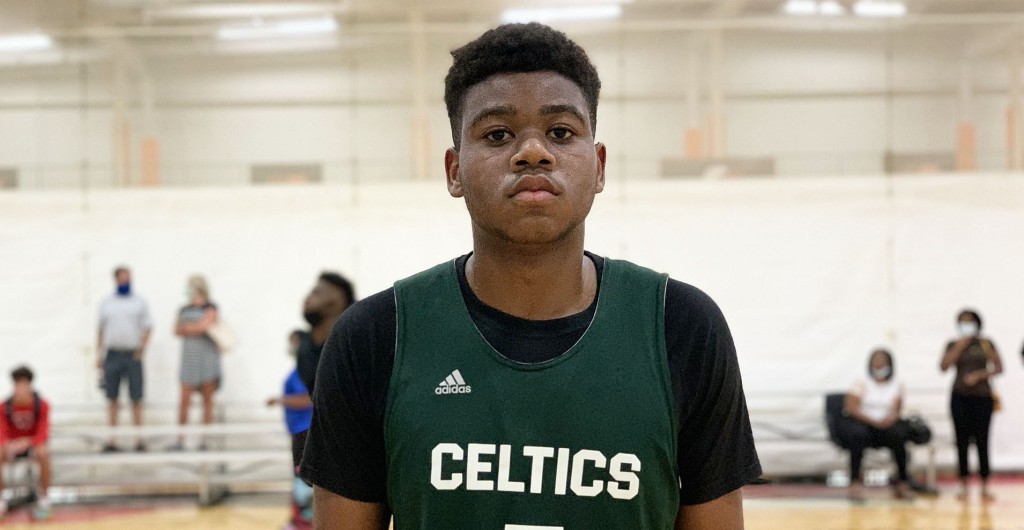 SUWANEE, GA - The opening night of the 2020 Atlanta Jam is in the books as we had a busy slate of action from Suwanee Sports Academy. Let's take a look at the notes from Justin Young's notepad from high above the action. 
DFAVORS CELTICS OPEN THINGS OFF STRONG
The DFavors Celtics 16 and under team has enjoyed a productive and successful summer this year on any stage they step foot onto. On opening night of the Atlanta Jam they paired up with the talent-rich Atlanta All-Stars 16U team in one of the better match-ups of the underclassmen divisions for the weekend. IN what was a back-and-forth battle, the Celtics came away with a hard-earned 71-58` win. 
Big man Mason Lockhart was an eye-catcher once again and he played well against the good size of the All-Stars. He fits the mold of other Georgia big men who have gone on to the college level. Lockhardt reminds me of former North Clayton star Ahsan Assadullah, who is now thriving at Lipscomb. 
Lockhart has enjoyed a good summer with this D Favors Celtics team. He's a throwback big man who has the size to win his one to one match-ups, good hands to secure loose balls in the paint and toughness to make hard-charging opposition think twice about their desired move. He has a nice soft touch down low and did a great job of scoring in the paint. Lockhart finished with 24 points in the contest. 
Lockhart told HoopSeen.com that he has heard from Mercer, Liberty, Cal State Bakersfield and Kennesaw State. 
Class of 2022 guard Anthony Arrington had a good game for the Celtics in this game, showing that he can make the defensive plays in the clutch. He's a good rebounder and wanted to be the alpha dog in an alpha dog matchup. He made a key defensive play down the stretch to help secure the victory. He pumped in 22 points in the win. Arrington told HoopSeen.com that he has an offer from Cal State Bakersfield and interest from UGA, VCU, Appalachian State, Mercer and Wofford. 
BALANCE - AGAIN - PUSHES THE TIGERS ALONG 
There are times when I watch the Tennessee Tigers 17 and under team that it feels like there are eight players on the court playing for them. The team's cohesiveness is fun to watch as they all seem to be aligned with how they play. They move as one, defend as well and balance out their efforts as one. It was really a thing of beauty to watch, really. 
In Friday night's win over the Flame 2021 squad, the Tigers were paced by Sam Spect, who scored all 17 points in the second half. Specht shot from three very well on opening night, connecting on four made triples in the second half. He's been consisnelty good this season for the Tigers on this stage. The 6-foot-7 stretch forward has been in a nice zone on the HoopSeen stage. 

Riggs Abner, the smooth-shooting wing, added 11 points. All of his buckets came in the first half. He's consistently been one of the top overall performers at all of our events this season. He's instant offense. 
FAMILIAR FACES DO FAMILIAR THINGS 
In the night cap, the 17U teams of the Atlanta All-Stars and SOH Elite locked horns in a good match-up of seniors.
The All-Stars did what they always do and ran sets that opened up the floor for everyone. It is hard to find a "star performer" for this team because they never really have just a one. That's the beauty of a team like this one. 
The guard play of Broc Bidwell, Isaac Brito and Cam Lee set up the action for Chance Thacker and Blake Hadley all game long. Their balance is their strength. And we will see this group again this weekend. 
NOTES FROM THE NOTEPAD 
Atlanta All-Stars 16U guard Jordan Brown's jumper is a thing of beauty. He's one of the best shooters there is in the state of Georgia and his confidence continues to grow the older he gets. He's good off the bounce and did a nice job of scoring from the perimeter. 
LaKendric Lyles of Flame 2021 always intrigues me. We've seen guys like him shine on this stage and then continue their point-producing at the college level in leagues like the Peach Belt. I think Lyles is one of those next in line. 
I'm interested in seeing SOH Elite big man Arinze Nnamoko again this weekend. The 6-foot-9 class of 2022 is big and long and has all of the physical tools of a player that I like.