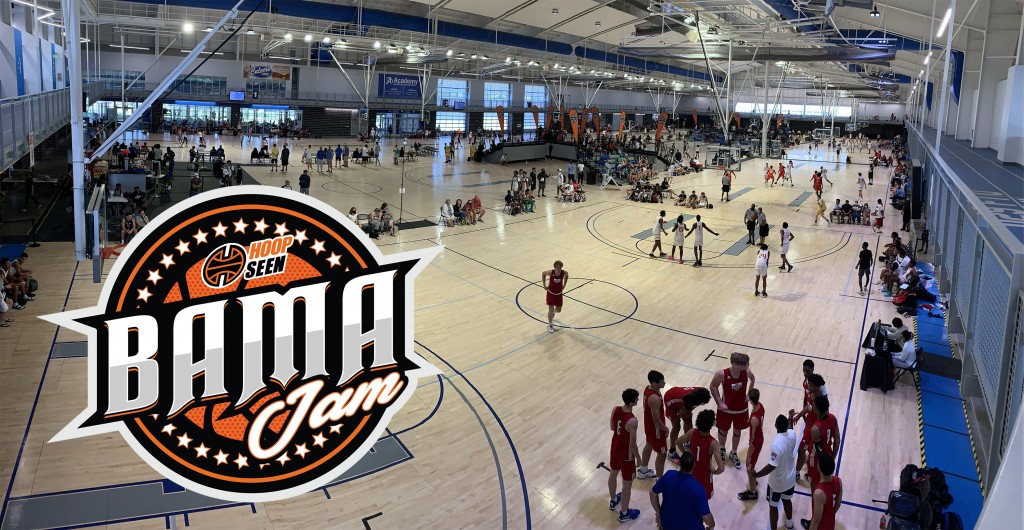 HOOVER, AL - The annual Bama Jam took over the gorgeous Finley Center at the Hoover Met Complex on Friday. With teams from all over the South in the building, there was a lot to take in. 
FRIDAY'S NOTABLES FROM THE BAMA JAM 
Will Shaver, Pro One: The big man from the class of 2022 just continues to get better and better. He's a hard player to guard because of his sheer size paired with his ability to step out and knock down the three-pointer. Shaver has been a popular man amongst college coaches of late and it is understandable why. He's a no-brainer high-major big man and one who should be included in any sort of national update of a top 150 ranking. Shaver is a nice modern day four man who, should he continue his upward trajectory, be a priority guy once the 2022 class recruiting board is the main class of focus for college coaches. 
Cam Crawford, Nike Elite Stars: The 6-foot-4 wing from Spain Park High School (AL) was impressive in a back-and-forth battle between the NES and Georgia Suns. Crawford is a multi-positional prospect with great length. He guards the one, two and three quite well and was hard for opponents to stop as he drove hard to the rim. He said he's hearing from Furman, Gardner Webb, Wofford, VMI, Lipscomb and North Alabama. That level of recruitment is a great fit for his style and skill set. 
Geraldo Lane, Pro One Academic: The class of 2020 wing was an eye-catcher on Friday as he attacked the rim and ultimates his long frame for mismatches. The senior said he has heard from VMI, UNC Wilmington, Flagler and UAM. Lipscomb reportedly watched him online today for this game. The 17-year-old will be off to a prep school in the fall. 
THE KIDS ARE ALRIGHT 
MCW 2022 had a really good day of work on Friday. The group of rising juniors didn't have an easy draw in bracket play, drawing a good Pro One Academic Select team and then the always-tough Tennessee Tigers. MCW walked away 2-0 on the day. This group is gritty, they battle in every positional match-up and find ways to win. Guard Antonio Kite has been impressive in the clutch for this group of battle-tested underclassmen playing up. 
Jalen Gilmore, North Point Youth: The class of 2022 guard had himself a heck of a day here in Hoover. The Floridian pumped in a hard-earned 28 points in the night cap, coming off a game earlier in the day where he controlled the tempo and pace throughout. He's been one of the best guards in the tournament, regardless of class. 
Rylan Houck, Pro One: The 16U team for Pro One is deep with prospects. The class of  2022 shooting guard from Oxford was impressive in both games today. The 6-foot-5 guard does what you would like to see from your backcourt players and pumped in 26 points. Houck was one of the top underclassmen we saw on the day. 
Andrew Paige, PSB Nashville: This 16U group is a good-looking bunch, boasting the right kind of size at the right kind of places. Paige was one of those guys. He's a big, strong and athletic big man who can play multiple positions and guard inside and out. 
Zachary Amonett, Tennessee Tigers: The 6-foot-2 guard had the hot hand today, pumping in 30 points in a tough defeat. He sits atop the scoring leaderboard after Friday and was one of the top perimeter players in the camp. Amonett was also one of the top passers from the day. 
Knute Wood, Nike Elite Stars: The class of 2022 guard controls the pace of this team and also pushes the action well. He was a free throw master down the home stretch of a good win over the Georgia Suns. Wood said he is hearing from Appalachian State, Lipscomb, North Alabama (offer), Ole Miss, San Diego, Southern Miss, Tennessee State, Troy and Western Illinois. 
NOTES FROM THE NOTEPAD 
Pro One 16U guard Jordan Frazier has reportedly picked up an offer from Georgia, joining Alabama State in the race for the 6-foot-5 guard. The junior said he also has interest from Auburn, Virginia Tech, Georgia State and North Alabama.
Ronnail Tape and Duncan Alevok were impressive for Team Speights SWFL inside the paint. Both big men played well off of each other. Tape, a bouncy 6-foot-6 forward, turned offensive rebounds into easy scores. Aleyok used his good length to deter shots and shine on the defensive end of the floor. 
Rayven Turner of Pro One was one of the best rebounders we saw on Friday. The Oregon transplant is now at Mountain Brooks HS and uses his non-stop motor to clean the glass. 
Christopher Blount of the Iron City Huskies had a good showing on Friday, pumping in the points at a high clip. He had mutliple 20 point games and used his speed to get bucket after bucket.