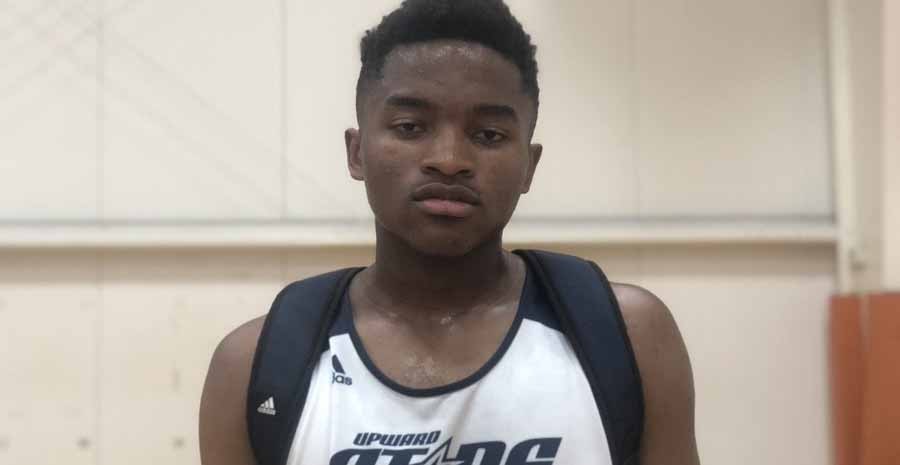 SUWANEE, GA - We wrapped things up at the HoopSeen Tip-Off on Sunday, putting a cap on a busy weekend of action. Our Zach Shugan was posted up in our social distancing headquarters and caught the action from up top. Three things stood out to him on Sunday. 
Big Man On Campus

In my three things from Saturday, I shouted out the new age big man, the so-called unicorns of the game. Today, I have to give some love to the old school big men still holding it in down in the paint. In the 17U division, Upward Stars Watson's Adam Comer (6'8") and Joseph Richey (6'6") put on a clinic in rebounding and second-chance points against HYPE Lee 2021. There was simply no stopping the two in the paint, as they grabbed rebound after rebound and backed their man down in the post for an easy bucket time after time. After one of many post moves by Comer, a HYPE Lee defender looked at his teammate and shrugged as if he was saying "I don't know what to do." Comer had 14 points and Richey had 15 points in the game, as Upward Stars Watson cruised to a 60-39 win in its final game of the weekend.
The Mighty, Mighty Tigers
No matter the age group, Chip Smith's Tennessee Tigers program won't wow you with athleticism but they are skilled, fundamentally sound, create turnovers and beat opponents down. Up 38-15 late in 2nd half for the 15U group.

— Justin Byerly (@JustinByerly) July 12, 2020
Justin Byerly hit on it earlier in the day in a tweet, but I wanted to expand a bit on how impressive the Tennessee Tigers are as a program. There's an archetype to these Tigers teams. Regardless of which age group Tigers team you're watching, you're going to see a team that plays hard-nosed, unselfish basketball. The 17U Tigers finished the weekend 6-0, and the 16U Tigers finished 5-1. The 15U Tigers didn't fare as well with a 3-3 record, but I'll bet they played hard every game.

"When people come to watch us play, we hope they take away the fact that we play hard, try to utilize our depth and share the basketball," Tigers head coach Chip Smith said.
An Update on Rust

Earlier in the weekend, I made an argument for why some rust should be expected on the court. For many players and teams, the HoopSeen Tip-Off was their return to competition after four long months away from the game. Some teams weren't able to practice at all, while some were able to hold one or two limited practices. I'm not saying I was wrong to expect some rust, but I didn't expect the rust to wear off as fast it did. Time heals all wounds, and the product on the court made a jump from Friday to Sunday. You could tell the players started regaining that sense of what live-action felt like and with it their confidence, too. With more time back on the court, the play will keep improving. Here's to hoping we all stay safe and stay healthy so we can get back in the gym again as soon as possible.