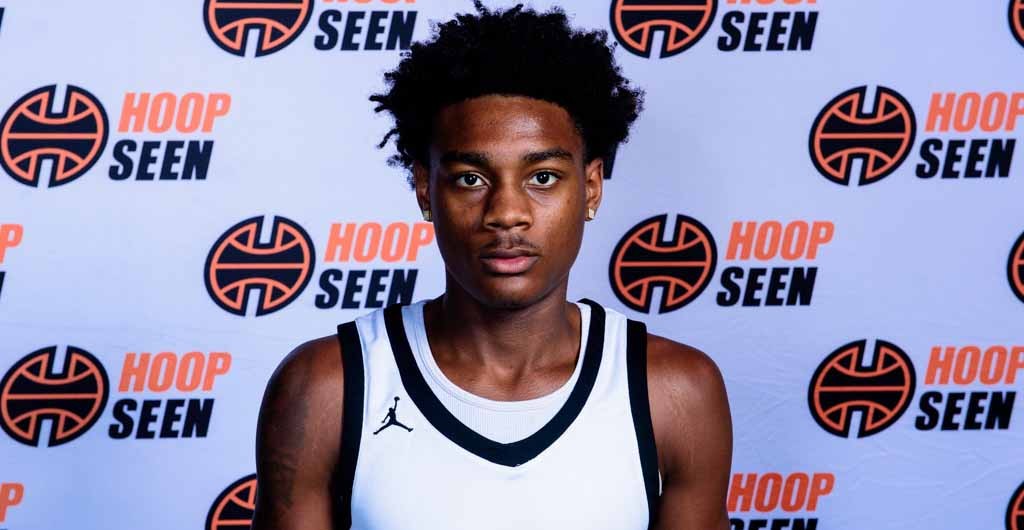 SUWANEE, GA - The first day of the HoopSeen Tip-Off is underway and there is a lot to discuss. Our Zach Shugan was posted up in our social distancing headquarters and caught the action from up top. Three things stood out to him after a full day of action. 
Lekendrick Lyles let's it fly for the Flame
Lekendrick Lyles showed up and showed out during the first day of the HoopSeen Tip-Off, dropping 60 points and 13 three-pointers combined in two games. The 2021 guard scored 31 points in Flame's first contest of the day, a hard-fought loss to the Atlanta Timberwolves (Green). In Flame's second game of the day, Lyles picked up right where he left off, scoring early and often for his team. He finished game two with 29 points as Flame took home the 79-66 win over SEBA F.C.I. Lyles was able to watch the game's final five minutes from the bench after building a safe lead for Flame 2021. It was certainly a strong showing for the Monroe Area guard.
ONIONS
If two halves aren't enough, there's always overtime. If overtime isn't enough, there's always sudden-death double overtime. In one of the most exciting finishes of day one, Will Guest hit a three-pointer to give Reach Higher Kings 15U the double OT win over the Tampa BayHawks.
🧅 by @RH_Kings here at the #hoopseentipoff pic.twitter.com/2wgkhpTX2G

— HoopSeen Georgia (@HoopSeenGA) July 11, 2020
RUSTY
Disclaimer: The HoopSeen Tip-Off is the first sporting event I've attended since COVID-19 reared its ugly head some four months ago. It was a long four months without sports as a spectator, but I can't even imagine how tough it's been on the players. No team practices, no showcases, no tournaments. Just putting up shots in the driveway or whichever local park had courts open. This time away from competition was evident after watching games for just a few minutes. The play was reminiscent of those early November high school games where players are still getting a feel for each other and trying to mesh as a team. And just like those early November games, some teams were without key players. Only this time, they weren't missing games for football. As it's been said many times before and will be said many times again, these are some of the strangest, most challenging times in our lives. A little bit of rust on the basketball court should be expected.