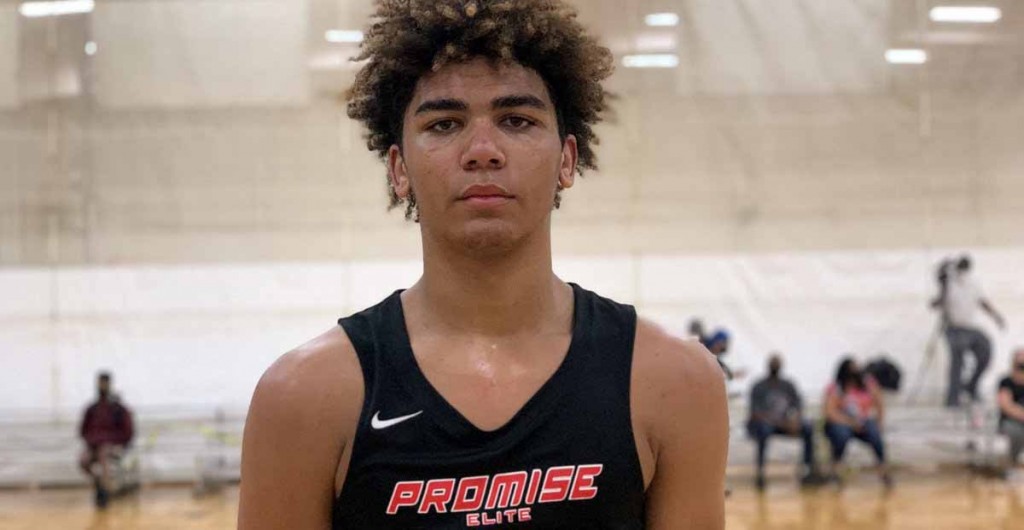 SUWANEE, GA - The second day of the HoopSeen Tip-Off is underway and there is a lot to discuss. Our Brianna Patton was posted up in our social distancing headquarters and caught the action from up top. Three things stood out to her on Saturday at Suwanee Sports Academy. 
Ethan Davis has next
It did not take long for word to spread that a 2023 kid from Promise Elite dropped 39 points this morning. I went on Twitter and saw this was not the first time Davis has turned in such a performance. He looked big on social media, but that did not do any justice to seeing him up close. This kid is huge. He looked like a man amongst boys playing out on the court. Davis began the game with two emphatic dunks that got people out of their seats. His bounce was on display throughout the game whether it was going up for a dunk or going after a rebound. One thing that is easy to get overlooked by his freakish athleticism is his passing ability. Davis made several great passes to get his teammates an easy look at the basket. Listed at 6'4 200lbs, he has terrific size as a sophomore and I fully expect him to get even bigger and stronger. Look for him to be a top prospect in the loaded 2023 class
17U Canes
I really like what I saw from the 17U Canes today. The Canes beat Inspire Atlanta 63-50 to win their first game of the day and followed up with hard fought 71-62 win over Upward Stars Bailey. This team loves to run the floor and get out in transition. The Canes are led by 6'7 F Perry Robinson who led them with 25 points in the first game. Robinson has a great supporting cast. AJ Burke of Wheeler High School can flat out let it fly from three. Jens Rueckert is beginning to make a name for himself with his explosiveness at the rim. The Canes also have Makai Vassel, who is a sleeper at 6'6 with great size and ability to finish at the rim. If you like watching fast paced basketball, this is a team you will want to check out. 
The Second Coming of Bill Laimbeer
I came across the second coming of Bill Laimbeer today. No, seriously. He even looks like him, except he has a mullet. Yes, a teenager with a mullet. Kley McGowan of the 17U Tennessee Tiger does the dirty work and loves every bit of it. After watching him play, I immediately thought of Laimbeer and how fearless he was on the court. McGowan was just that. He went after every single loose ball, fought through tough screens, took charges, and made it difficult for his opponent to score an easy lay up over him. I asked him about that role he plays for his team and his answer was golden. He said, "I've played that way since I was younger. My mom told me that was the only way I would get on the floor." Mom's advice certainly seems to have paid off for McGowan.