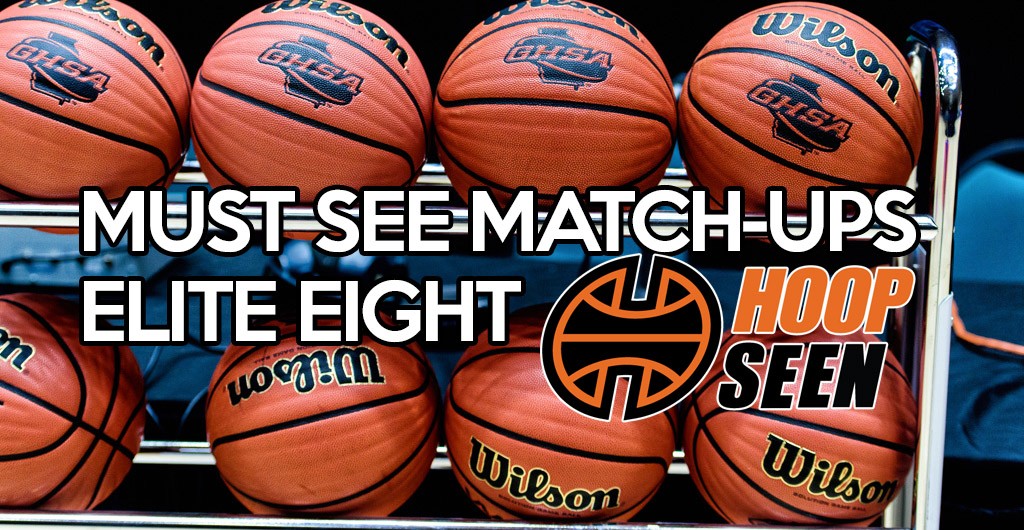 Welcome to the next round of the loaded GHSA state playoffs. We've taken a look at all eight brackets and trimmed it down to the six games you're going to want to see this week. Our Justin Young and Tai Young dive into the must-see games of the week. 
Norcross (26-3) at Grayson (28-1) 
Wednesday, 7 p.m.
Class AAAAAAA Elite Eight
The battle of Gwinnett, episode 2020. That's what we should call it. Every year in the 7A state tournament we have a match-up of the very best teams in Gwinnett County. This year's battle, like most years, feels like we could be watching a state title game level pairing. Both teams have been playing high-level basketball this postseason. 
Grayson beat Pebblebrook 67-54 in the Sweet 16 and knocked out Discovery 76-41 in the first round of state. The last close game the Rams have had was a 68-67 win at Shiloh on Jan. 24. 
Norcross smacked Hillgrove 67-27 in the Sweet 16 and beat Lambert 66-49 in the first round of the state playoffs. 
Both teams are loaded with players that we are all familiar with. There are at least six Division I players in this game. Clearly there is more, perhaps as many as 10. 
Grayson has a stable of talent led by Deivon Smith (Mississippi State), Caleb Murphy (South Florida), Toneari Lane (Winthrop), Josh Smith, Ian Schieffelin, Taje Kelly, Quinones Corpman and Kaden McArthur. 
Smith, a triple threat for this Grayson team this postseason. He's averaging nine points, nine assists, and 6.5 rebounds a game. If there is one area to attack the big Norcross lineup, it is in the backcourt. Smith is one of the quickest and most athletic players in the state of Georgia.
Norcross runs with JT Thor (National top 50 senior), Josh Taylor (Georgia) and  Quincy Ademokoya (Temple) are the big three while Kevon Eskridge, Will Campbell, Izaiah Williams, Jaden Harris and Kok Yat all make up a great supporting cast. 
The Blue Devils frontline is one of the best in the state, if not the best. But the team's guard play and shooting has gotten better each week of the season. Keep an eye on Eskridge. He's been a key player for the team down the home stretch. 
Does it get better than this? Well, not in this round it doesn't. This is the most talented and potentially the very best game we will see this week in Georgia. It is one of the 10 best games in the nation, too. Heck, it may be better than that, too. We will be there and we suggest you get there early for the action.  
MATCH-UP TO WATCH: Caleb Murphy against his old team. That's the thing to watch. The former Norcross guard moved to Grayson over the summer. He and Josh Taylor are long time travel ball teammates with the Atlanta Playmakers. Murphy is averaging 22 points a game in the state tournament. He's been a dynamic player for a dynamic team. You better believe Norcross is ready for him. They game plan and prepare as well as anyone in the country. 
Who wins this Class AAAAAAA Elite Eight game?

— HoopSeen Georgia (@HoopSeenGA) February 23, 2020
Sandy Creek (25-4) at Woodward Academy (27-2)
Wednesday, 7:30 p.m. 
Class AAAA Elite Eight
This is a state championship level game and the winner of this game could be the eventual state champion. It is that simple. And, boy, what a battle this should be. 
Sandy Creek beat Chestatee 66-50 in the first round and then made easy work of Baldwin in the second round by a score of 85-56. The Patriots haven't had much push back since a one-point loss to Fayette County at the end of January. 
Woodward took care of business in the first round, knocking out Spalding 77-46 and then stomping Madison County 70-39 in the second round. The War Eagles are looking for some stiffer competition. They haven't lost at home this season. 
This is a game of two of the very best teams in the very best bracket (all eight No. 1 seeds are still alive). But make no mistake about it. This game is about star power. We'll get to that down below in our match-up to watch. So, that means supporting cast. 

Woodward has a lot of talent around their stud Walker Kessler. Davidson bound senior Emory Lanier is a good shooter, good defender and versatile guy. Senior guard Michael Whitmore can impact a game without scoring a bucket. Senior Jacorrei Tuner is the ultimate glue guy. Keep an eye on junior Will Richard, who has come on strong this season and stepped up big in big games this season. 
For Sandy Creek, the supporting cast starts with toughness. Junior big man Deshon Procter and senior Daryl Rice will get into anyone's business in a competitive setting. You gotta love that. The rotation of seniors Destin Jenkins, Immanuel Alexander and Brian Branch will also have their numbers called in a variety of ways. 
MATCH-UP TO WATCH: Is there any question about this? The state will have two of the best players in the nation featured in this game as Walker Kessler of Woodward and Jabari Smith of Sandy Creek lock horns. Kessler, a McDonald's All-American, and Smith, a likely pick for the game in the 2021 class, 
This match-up lines up with some of the best player vs player match-ups I've covered in my three decades in Georgia high school hoops. Don't scoff but it is up there with Dwight Howard against Randolph Morris. It's up there with JJ Hickson and Gani Lawal. 
For Woodward, Kessler has been playing like the McDonald's All-American that he is. The future North Carolina big man can burn you out to three but also be a major factor as rebounder, passer out of the post and a shot-blocker. 
Now repeat that same saying for Smith. He's one of the very best juniors in the nation and one of the best three-point shooters, too. Smith is as hard to guard as anyone in the country. Now he's paired with the best player he will face potentially his entire high school career in Georgia. 
This is a historic, once in a decade kind of pairing. Enjoy it. 
Who wins this Class AAAA Elite Eight game?

— HoopSeen Georgia (@HoopSeenGA) February 23, 2020
Tri-Cities (25-5) at Tucker (25-3) vs
Wednesday, 7:00 p.m.
Class AAAAAA Elite Eight
Tri-Cities will make the trip up the road to face off against Tucker in what will be a battle against two highly capable teams. The home team boasts one of the better forward pairings in the state in seniors Terrence Edwards and Jermonte Hill. Both have used their size and talents to churn out wins all season. With sophomore guard Travis Burrus at the helm, the Tigers are well versed in being both a transition and half court team. 
On the other end, Tri-Cities continues to get things done despite the odds being stacked against them. Two solid wins against Johns Creek and Houston County have propelled them to the Elite 8 where they will continue to bank on the tough play that has been a constant all season. The source of the team's toughness has come from junior forward Julius Lymon and senior wing Demetrius Rives. The duo makes up a good bulk of the teams offensive and defensive rebounding numbers. 
Both teams live in the trenches. From fouls to rebounding, both teams understand the importance of playing through physicality. The team that controls the others ability to produce paint points will move the needle a ton in their favor. 
MATCH-UP TO WATCH: Terrence Edwards vs Demetrius Rives 
Again the toughness aspect of this game will be the deciding factor. Two players that personify this attribute will have plenty of possessions against each other in Tuckers Terrence Edwards and Tri-Cities Demetrius Rives. In Edwards, you have one of the most underrated prospects in the state. As one of the better swiss army knifes in the state, Edwards has the talent to be a positive contributor across multiple box score columns. Throughout the course of his senior season, Rives has been penciled in to be a double-double contributor in both points and rebounds. This match up may not have the bells and whistles of a few others around the state but that doesn't take away from how entertaining it could be. 
Who wins this Class AAAAAA Elite Eight game?

— HoopSeen Georgia (@HoopSeenGA) February 23, 2020
Kell (25-5) at Buford (22-6)
Wednesday, 6:30 p.m. 
Class AAAAA Elite Eight
Kell beat Miller Grove at home 92-91 in overtime then went to Warner Robins and won 60-53 in middle Georgia. Buford stifled Statesboro 54-34 at home in the Sweet 16 and knocked out Decatur 75-57 in the opening round of the tournament. 
Is this the most impressive coaching job of the Eddie Martin tenure at Buford? You could make an argument that it is. Coming into this season, there weren't many people outside of the program that expected this team to be in the Elite Eight. But here we are. And Buford keeps getting better, too. Now they match-up with the best player they've faced all season. 
Kell sophomore Scoot Henderson is a one-man wrecking ball right now. He's one of the most deadly offensive weapons in the nation. The five-star guard is the type of player who can win a game by himself, which we saw against Miller Grove. This is also the first time in school history where the Longhorns have put together back-to-back 25-win seasons. One more win is the most in school history. That isn't by accident. This team is high-powered on offense. Keep an eye on Buford's size advantage. Who controls the boards could be the key to the win for both teams. Buckle up because this should be as entertaining of a game we will see Tuesday or Wednesday night. 
MATCH-UP TO WATCH: Can Kell's perimeter defense maintain the three-point shooting from Buford, particularly senior Sebastian Augustave? If Miller Grove found a crack in the Kell defense, it was on the wing and they attacked it with aggressiveness. Buford does a nice job of creating action for Augustave and when he has space, he can absolutely break your heart this time of year. 
Who wins this Class AAAAA Elite Eight game?

— HoopSeen Georgia (@HoopSeenGA) February 23, 2020
Newton (21-9) at Milton (25-4)
Tuesday, 7:30 p.m.
Class AAAAAAA Elite Eight 
This game features a ton of talent, primarily in the back courts as both teams roll out several playmaking options. For Milton, the back court combination of Bruce Thornton and Kanaan Carlyle is about as good as it gets as a sophomore and freshman. Thornton has cemented himself as one of the nations best defenders while Carlyle has done the same on the other end. Senior guard Evan Hurst is the team's X factor as they lean on him for their outside shooting. 
For Newton, a pair of seniors in Caleb Byrd(Georgia Southern signee) and Shawn Smith make for an explosive scoring combination. Both can get downhill and put pressure on defenses. Sophomore TJ Clark has been a constant from the outside and gives the defense another scoring threat to consider. 
The coaching match up between Charlamagne Gibbons and Allen Whitehart will be just as fun as the game itself. Both coaches are well versed in the X's and O's and have enough in their toolbox to keep the other off guard. Both teams have fully taken on the temperment of their coaches. 
MATCH-UP TO WATCH: At some point in the game, the old dogs on both teams will have to step up and make a play. Experience wins big games. So with that in mind, Caleb Byrd or Evan Hurst will be counted on to deliver in a key moment down the stretch. Byrd has fit nicely with this group as a scoring guard that has blended well with others. His ability to create his own will increasingly become more beneficial. In Hurst, Milton boasts one of the more underrated rebounders and shot makers from the guard spot. As an outside outlet, there are few better at this stage in the post season. One of them will be asked to deliver in the fourth. 
Who wins this Class AAAAAAA Elite Eight game?

— HoopSeen Georgia (@HoopSeenGA) February 23, 2020
Berkmar (17-9) at Wheeler (21-7)
Class AAAAAAA Elite Eight 
Wednesday, 7:30 p.m.
It's been a tale of two different seasons for Berkmar. They stumbled out of the gates early on without a few key members of their usual rotation. Once fully together, Berkmar put together a double-digit winning streak that showed off their talented roster. Jalen Deloach and Malique Ewen are one of the better post duos in the state and pose as a tough test for any backline defense. Elijah Wood, Cam Blount, and Jermahri Hill give Berkmar a ton of switchable perimeter size. All three have stepped up during different moments of the season. 
Is there anyone more battle-tested than Wheeler? Two of their last three games have gone into overtime and two of those wins came by slim margins. Sam Hines and Jahiem Hudson give the Wildcats some versatility at the forward positions that can be used in a number of ways. Isaiah Collier has played beyond his classification for some time now, resulting in an all-region selection as a freshman. Prince Davies gives Wheeler a floor stretcher while Nash Kelly has worked himself into a nice playmaking option. 
MATCH-UP TO WATCH: Jalen Deloach and Sam Hines give their respective teams a playmaking option that offense can be funnelled through. Both can score it, facilitate, and keep an offense moving in a number of ways. How they counter each other will be fun to keep our eye on as both have the ability to one-up the other. 
Who wins this Class AAAAAAA Elite Eight game?

— HoopSeen Georgia (@HoopSeenGA) February 23, 2020