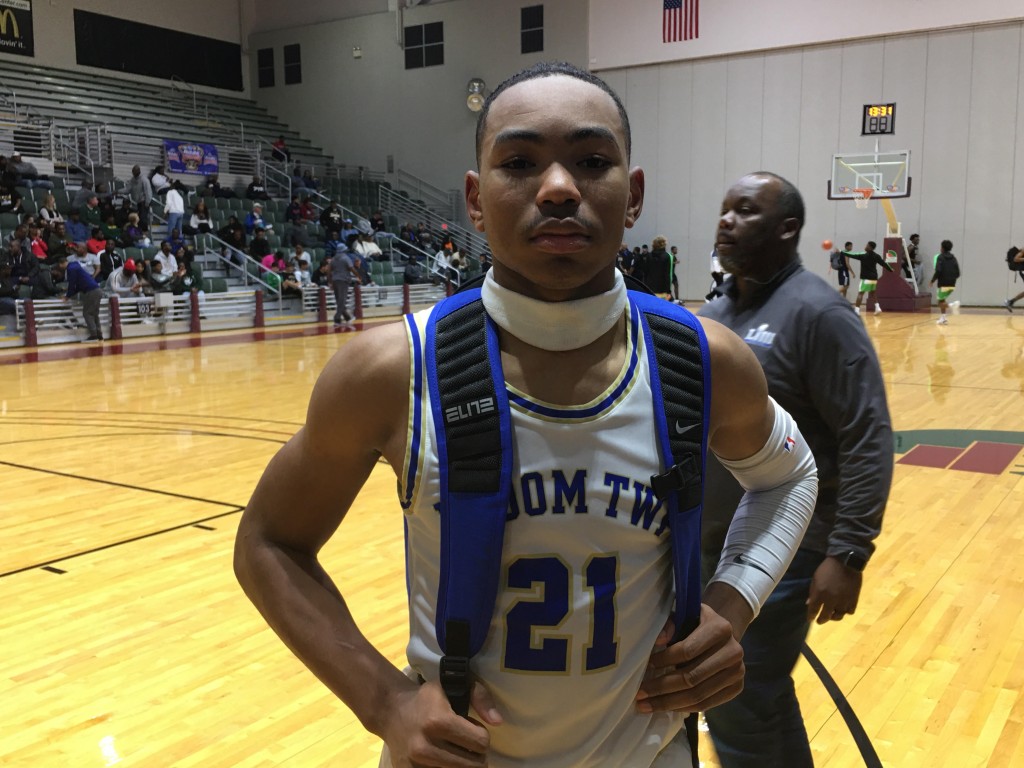 New Orleans, Louisiana- With so much football taking place in one area, it was impressive to see the crowds, and talent that converge to the Alario Center for the All State Sugar Bowl Prep Classic. Teams from both in state and out of region looked to start their new year off with a bang as the National and state brackets kicked off. Here are my takeaways from Fridays action. 
The signees shine...
The Bloom back court of Keshawn Williams and Dante Maddox Jr. was one of the most impressive duo's I've seen at the midway mark. Tulsa and Cal State Fullerton have future centerpieces headed to campus as both players are more than primed for the big stage. Williams provides Frank Haith with a high level shooter that oozes confidence behind the line. Becoming a three level scorer is certainly in the cards given his proclivity to show flashes now. In Maddox, Cal State Fullerton has a well rounded prospect that could contribute from day one. Maddox boasts that IQ, motor, and savviness needed to earn early minutes on the court. With his quick off the floor athleticism and ability to make shots, the future looks bright for Dedrique Taylor's future guard.  
The best name that no one talks about...
An overwhelming loss to Bloom did not overshadow the play of Walker guard Brian Thomas Jr. It was a more than impressive viewing of Thomas as his polished skill set sparked a ton of initial intrigue. At 6'4, Thomas has a smooth pace about him that can't be rattled and from there, his size proved useful in the paint. His natural play making ability is evident as he kept a live dribble and routinely prodded for his teams best shot. High major programs would be wise to get involved with the 2021 guard. 
The best availables...
Programs that could use a back line motor should look into the services of Bloom(IL) forward Christian Shumate. An unbelievable motor and a budding skill set should be useful for teams that need to sure up their depth at the combo forward position. On both ends, Shumate imprinted his will on the game, well before his number was called offensively. In a switch heavy scheme, his ability to defend could shine as he's willing and capable of guarding them all. While he carries a long list of offers, Shumate claims Tennessee Tech and Southern Utah have prioritized him the most.  
The in-state talent has been strong at the event but Salle Wilson was the most impressive through the first day. With a sole offer from Lamar, the Dunham guard is worthy of more division I offers in the region. Not only does Wilson pass the eye test, at 6'4 he made use of his size and contributed with a double digit rebounding total. Although his ability to score is not in doubt, Wilson is a willing passer that made life easy for others. While he's still looking to find his niche for the next level, there is a well rounded base that can be cultivated. 
A few thoughts...
I like the shooting touch and IQ of '21 Sindney Lanier(AL) guard Greedy Williams.
Scorey Holmes got to the painted area as well as anyone. Holmes delivered whenever Sophie B Wright needed it. 
Defensively, Tampa Catholic wing Alijah Harrison had as good of a day as any perimeter defender in the building.
Brandon Gardner has a ton of potential. High majors are right to track the Gray Collegiate forward. 
 Our HoopSeen stage is designed to provide the best exposure opportunities for top independent programs. Tons of coaches, social media exposure, and elite competition are some of what you'll find at our events. For more information on our 2020 events, visit our events page, or call our hotline at 470-266-8862.