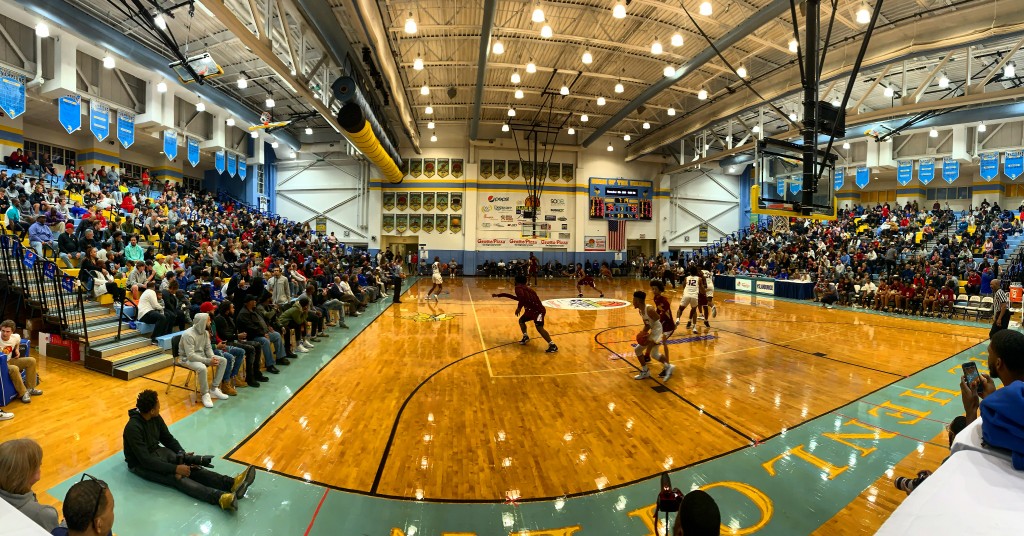 LEWES, DE - The Slam Dunk to the Beach is one of the historic staples in the post-Christmas holiday hoops tour in North America. HoopSeen made it to Cape Henlopen High School for what will be the first of two days of coverage from the star-studded event. 
TOP DOGS 
Cliff Omoyuri, Roselle Catholic (NJ): Tonight's "Come at me Bro" award goes to Omoyuri. The 6-foot-11 big man was bending rims on offense and redirecting shots on defense against Sanford. Omoyuri is one of the very best available players nationally in 2020. He finished with 16 loud points on 7-11 shooting from the floor. Most of his buckets came at or above the rim. He also grabbed 11 rebounds and blocked four shots. He neutralized Sanford School's Nnanna Njoku, keeping the top 100 junior to two points in the nightcap game.
Jalen Warley, Westtown (PA): The buzz is growing with the 6-foot-5 junior guard. Justifiably so. His game is patient and precise at his position. As we look to extend our class of 2021 national rankings at the start of the year, Warley will be in the top 60. Probably higher. Okay, fine, certainly higher. He has that it factor you want to find in top tier guys. Warley was a major player in Westtown's second half separation against Hudson Catholic. The game was a one-point, offensively bland game in the first 16 minutes. Warley came alive and pumped in 14 of his 20 points in the second half. 
RELATED: One-on-one with Jalen Warley
Ike Cornish, Legacy Early College (SC): The Maryland native has all kinds of good stuff to like about his game now and what he can become down the road. Cornish has been a trending player this month and has really raised his profile to a level that warrants an inclusion into the national top 100 for the class of 2021. There is a beast mode flavor to his game that will only get better and more refined. Cornish has drawn a lot of attention, all warranted, by schools from all levels this month. We will have more on him and his recruitment on HoopSeen.com. 
Andre Jackson, Albany Academy (NY): A walking highlight, the future UConn wing can bring a crowd to it's feet with one quick step to the rim. Jackson is one of the most entertaining players in the class of 2020 and he picked his moments to do what he does well - play well above the iron. However, we did see his game cause problems on the wing as a shooter. Jackson hit a couple of three-pointers and continues to add dimensions to his game that should allow him to see plenty of court time in Storrs right away. From start to finish, it was his passing that was the most impressive thing the crowd saw from Jackson here in Lewes. Final line: 16 points, nine rebounds, seven assists, three steals. 
THE KIDS ARE ALRIGHT
Riley Mulvey, Albany Academy (NY): The 6-foot-11 center has intrigued us both times we've seen him this year. He is a good shot-blocker that moves well in speed. Mulvey is a good passer and he has a good set of fundamental tools for a young five man. His pick and roll game is pretty advanced and he showed that he can finish in the paint when he curls to the rim. His hands are soft and he can convert the face-up jumper with ease. Mulvey finished with 13 points, 10 rebounds and four blocks. 
SENIOR MOMENTS
Elijah Allen, Dover (DE): The 6-foot guard was one of the hardest playing guards in the field on Saturday afternoon. His aggressive ball-handling challenged defenders and he pushed the tempo at all times. Allen played well in speed but knew how to downshift and get to a pace that opened up the floor for others. Allen plays with passion and isn't afraid to challenge the defense. He said he has an offer from Southern Utah and interested from UMES, Hofstra and Providence. 
Malik Carson, Rock Creek Christian (MD): The 6-foot-6 wing forward had some good moments for his squad in a loss to Immaculate Conception. He scored 19 points in the game and was the team's go-to guy throughout the action. Carson has good size, good bounce and good range as a prospect. He's been one of the better available seniors that we've seen on this Northeast trip. 
NOTES FROM THE NOTEPAD 
With his future head coach Travis Steele watching on the sideline, Roselle Catholic guard CJ Wilcher was doing what he's always doing - causing problems for the opposition. Wilcher scored 14 points, including three three-pointers. He's a menace on the defensive end of the floor, too. Wilcher racked up four steals in the 52-36 win over the Sanford School. 
Future St. John's guards Dylan Wusu and Posh Alexander were problems against Legacy Early College. The Our Savior Lutheran teammates pumped in a combined 48 points in their hard-fought overtime win. Wusu was the hot hand in the second half. He was a bucket when it mattered. 
Mount St. Mary's has a good-looking player coming to town in Eleanor Roosevelt SG Quinton Mincey. The 6-foot-5 guard was really good against Dover. He scored 21 points and grabbed nine rebounds and was hard to guard because of his herky-jerky game. 
Our HoopSeen stage is designed to provide the best exposure opportunities for top independent programs. Tons of coaches, social media exposure, and elite competition are some of what you'll find at our events. For more information on our 2020 events, visit our events page, or call our hotline at 470-266-8862.