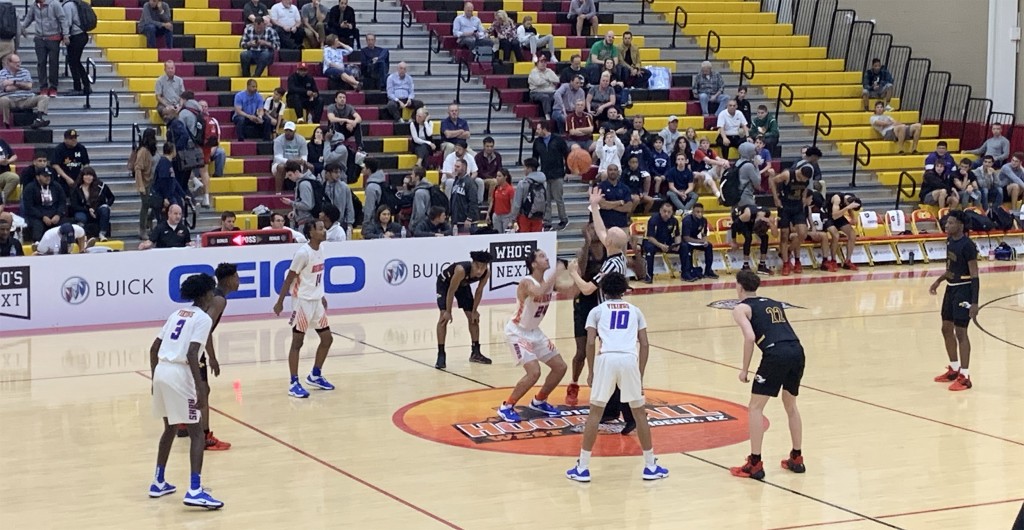 SCOTTSDALE, AZ - The action at the Hoop Hall West Classic at Chaparral High School on Friday was centered on stud big man Evan Mobley and his Rancho Christian squad.  
TOP DOGS
Dominic Harris, Rancho Christian (CA): The future Gonzaga Bulldog looked terrific in his team's win over Rainer Beach on Friday evening. Harris should be able to step into the action right away in Spokane. He drilled five three-pointers in his team's win and also shined on the defensive end of the floor. Harris has all of the tools to become an All-Conference level player in the West Coast Conference and looks to be next in line as the tough guy guard that has shined for Mark Few over the years. 
Evan Mobley, Rancho Christian (CA): The high-ceiling prospect had to fight through a suffocating zone throughout the match-up and found his spots to make an impact on the offensive end of the floor. Those times were few and far between but when he got loose, he played hard to the rim and well above it. Mobley, at this level, makes the most impact on the defensive end of the floor. His length and shot-blocking are unique for the prep level. Simply put, there just aren't guys like him in your neighborhood. Mobley's timing and length are things you just can't work around. The future USC big man could be a one and done player similar to James Wiseman of Memphis. The pro level guys would like to see more but when they do, Mobley is just different than the rest of the pack. 
SENIOR MOMENTS 
Shemar Morrow, Shadow Mountain (AZ): The 6-foot-4 senior wing started Friday's action off with a bang, scoring 17 points in the first half and finished with a loud and impressive 30 points on the night. He's a long and rangy wing to rim guy who started his young career with a lot of buzz. As the story usually goes for players aboard the hype train early, things can level off. For Morrow, he's showing that he's serious about his senior season and worthy of a recruitment that has some lifeblood to it. 
John Hart, Ranier Beach (WA): The 6-foot-1 senior showed why he's at hot option for west coast low-major programs. He's a sniper from three and not afraid to fire up a shot in a quick second. Hart has good range and pairs that with good confidence. 
HI, MY NAME IS… 

Carson Basham, Sunnyslope (AZ): The 6-foot-10 junior should be a name to watch rise this high school season and into the travel season. The big man is a hard player to guard at the high school ranks and his game looks like it still has room to grow and get better.
NOTES FROM THE NOTEPAD 
Luke Turner, a 6-foot-7 wing forward for Rancho Christian (CA), has all of the tools to become a good-looking Pac-12 level shooter. He had 15 points against Rainer Beach.
Henri Adissa, Crossroads Christian (CA): The 6-foot-10 big man is a down-the-road big man with undeniable size and great potential college strength. He scored against comparable size and should be a big man to chart for mid-level programs looking for size in the 2022 class.