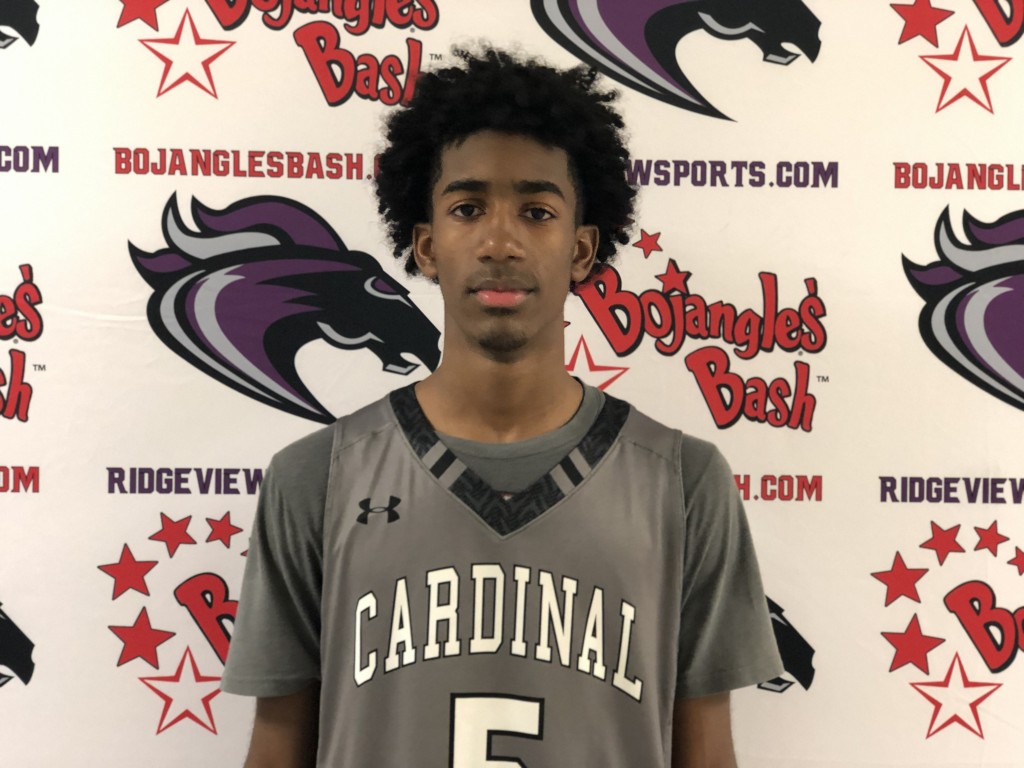 Columbia, SC-The Bojangles Bash held at Ridge View High School on the outskirts of Columbia, South Carolina this weekend was a chance for us at HoopSeen to see some familiar prospects and add some new names to our database. The event featured some of the top teams in the country and regionally. With so many teams and prospects we had an eye on, we will be doing this in segments, today is part one. 
Junior guard Josh Beadle came very close to a triple-double against National Christian Academy finishing with 20 points, 10 rebounds and 8 assist and only one turnover. His size at 6-foot-5, maybe even closer to 6-foot-6 was the biggest thing that stood out to me along with his ability to handle the ball and break down the defense with a crossover and a quick change of pace. The Upward Starts product should be a highly recruited prospect this season on the Adidas circuit heading into his senior season. 
Also impressive for Cardinal Newman (SC) was guard LJ White who made seven three-pointers en route to 26 points in the loss to National Christian Academy. The 6-foot-2 senior guard put on one of the best shooting displays of the tournament on Saturday. 
Matthew-Alexander Moncrieffe of Orangeville Prep (CAN) has one of the biggest upsides to anyone we saw at the event. His skill-set, length and athleticism was on full-display. His highlight reel dunks were a hit on social media with his play over the weekend. He scored 20 points and grabbed 8 rebounds in a win over Ridge View (SC) in one of the Thursday games. In their game against National Christian Academy, Moncrieffe had 14 points and in Orangeville's match-up with Moravian Prep, he scored 14 points and pulled down 5 rebounds. 
Northeastern signee Coleman Stucke was one of the best pure shooters at the event. Northeastern Head Coach Bill Coen is one of the best evaluators in the business and landed the Canadian less than a week ago. Stucke gave us a preview of what to expect when he arrives on campus next summer. He scored 24 points on 5-9 shooting from beyond the three-point line in a 2-point loss to Moravian Prep. Against National Christian Academy he scored 12 points and grabbed 9 rebounds. Against Ridge View HS, Stucke shot 50 percent from the three-point line finishing with 15 points. The high IQ forward will fit right into the type of players that Coen likes to utilize for his program. 
Jamarhi Harvey was one of the less herald players for Moravian Prep with their two NC State signees, but Harvey can play and can play at the mid-major to high-major level. He has a non-stop motor coupled with a deft shooting touch. He consistently made shots from the mid-range out to the three-point line. His toughness and his ability to finish with contact were big with college coaches taking notice. He is expected to make a decision in January and said he will take more visits if new schools get involved. 
New sophomore transfer Amare Haynie wasn't one of the highest scorers for Moravian Prep over the weekend but what Haynie did was show his versatility and his skill-set to college coaches that caused Ole Miss to offer Haynie after his play at The Bojangles Bash. Haynie has big hands, can score from the perimeter and has the length to cause problems on defense. His recruitment will keep steadily rising over the next two years. 
South Carolina signee Javon Benson poured in 62 points, pulled down 26 rebounds and had double-digit blocks in the three games that Ridge View (SC) played in the Bojangles Bash. The 6-foot-8 big man played in front of his future coach on Friday night against Oak Hill Academy (VA) and dropped 20 points along with 13 rebounds. Benson's motor has been getting better and I think he will be able to compete for some minutes on the Gamecock roster late into his freshman year with South Carolina. 
Our HoopSeen stage is designed to provide the best exposure opportunities for top independent programs. Tons of coaches, social media exposure, and elite competition are some of what you'll find at our events. For more information on our 2020 events, visit our events page, or call our hotline at 470-266-8862.