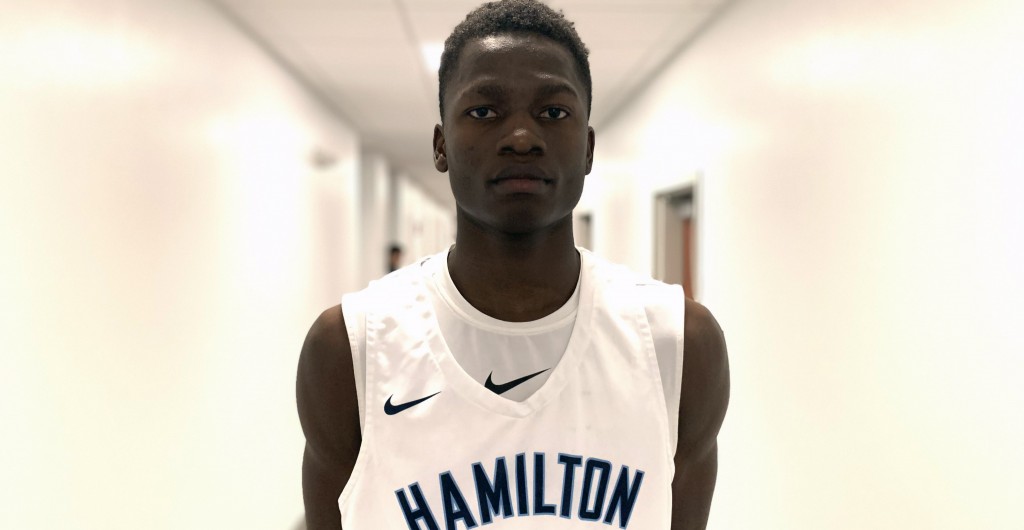 The Big South Shootout was a great way to end the year for fans, media, and teams alike. As we all escaped the cold December air, Cabral Huff hosted several quality teams for is becoming a post Christmas staple event. Here is my notebook from Monday's action. 
Campbell continues to trend upward
Despite the loss to Quality Education(NC) Kendall Campbell continues to make strides in the right direction. Being ahead of the curve physically helps his cause, but it's his motor and improving versatility that should keep people intrigued. Even as he develops into a more well rounded prospect, Campbell has not loss the changed from the physical post presence that first made him known. As a high production, low maintenance prospect, his career is on track to be very fruitful. Georgia Southern was the first to offer but wont be the last. 
 Ewing makes his presence felt
When you peered through the madness of the chaotic Quality Education press, one name that constantly emerged was 6'8 available forward JQuan Ewing. At the end of a lob or as the back line defender, Ewing's athleticism and activity stood out. In a class where size is getting harder and harder to come by, Ewing is a solid option for low to mid major programs. 
Ewing lists Morehouse, Charleston Southern, Tennessee Tech, Livingston and SIU Edwardsville as his offers.
Is there a better shot blocker in the country?
To this day I'm happy I took the time to check out the underclassmen at this past years Bob Gibbons TOC. Of the weekends players to remember, Felix Okpara was one of the names that I knew would come back around. 
 "With elite level shot blockers becoming more scarce by the day, the GA Stars are in a unique position having one of the better defenders in the south. Felix Okpara was a man on a mission, tallying up a handful of blocks on two different occasions. His defensive timing is impeccable, especially for a player whose first dose of organized ball started this past September. Some of his best moments on the court weren't captured on the box score given his ability to alter shots and deter easy dump offs. There is still plenty of room in the game for a 6'10 shot blocker that knows his role offensively. High major programs are going to want to track his progress at Hamilton Heights."
In hindsight, I made the mistake of saying Okpara would be one of the best in the south. It was too small of a claim for Okpara as he's clearly one of the most dominant shot blockers in the country, regardless of class. Not only did he come close to double digit blocks, it would take two more hands to count how many he altered. From vertical challeneges to blocking them on the way down, Okpara has mastered the art. 
Lamariyon Jordan is one to track 
He's a ways away, just like most freshman early on. But there's an obvious talent at Dacula to track throughout the next couple of seasons. As a long and lean 6'3 guard, Jordan showed the early building blocks of a natural scoring guard. The weaknesses of a freshman are there. A lack of strength and pure experience to name a few. But the good is well on it's way to severely out weighing the bad should he keep his trajectory. 
Transfer news to know
Former Florida State commit Naseem Khalid has found a new home in North Carolina. Against a young and coming Meadowcreek unit, Khalid made his debut in the backcourt. 
Decision makers in the building:
Tennessee Chattanooga, Presbyterian, Kennesaw State, Lipscomb, Cal State Fullerton, Georgia College, Dalton State, Southwest Miss. and Point University were all present.  
Quick thoughts:
For whatever Dacula make lack in post size the make up for with long wings and energy. Their defense was active at key moments against Morrow. 
I love what Reggie Bass brings to the table. His exceptional ability to pass could help make any offense better. Florida and Texas Tech were impressed enough after the City of Palms to offer him. Other high majors should put him in their database now. 
One word to use with Mountain View '21 forward Wyatt Fricks? Intriguing. 
Our HoopSeen stage is designed to provide the best exposure opportunities for top independent programs. Tons of coaches, social media exposure, and elite competition are some of what you'll find at our events. For more information on our 2020 events, visit our events page, or call our hotline at 470-266-8862.