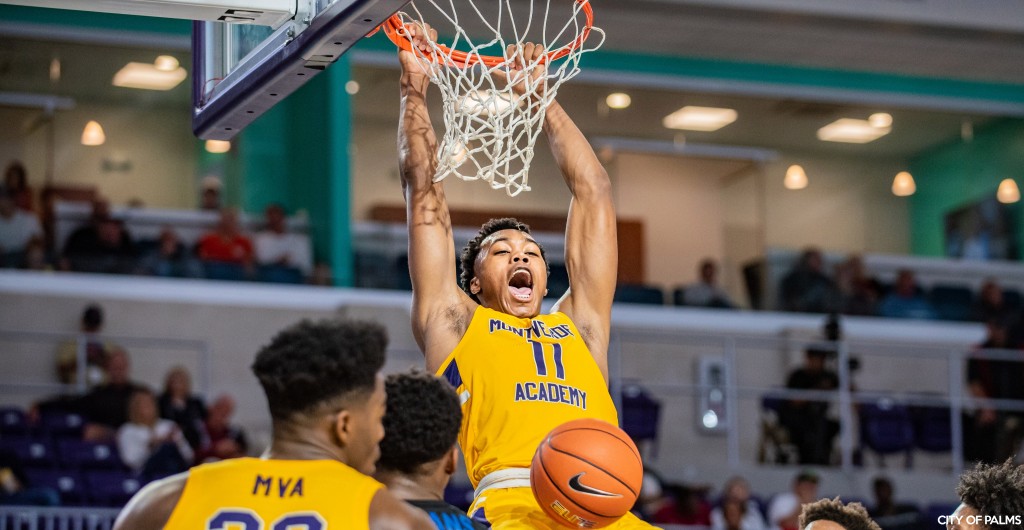 FORT MYERS, FL - The 47th version of the Culligan City of Palms is in the books. It was historic in the sense that the championship game may have been the very best pairing of talent ever on this pre-Christmas stage. We hand out our City of Palms Superlatives. 
THE MOST VALUABLE 
Scottie Barnes knows a little something about the City of Palms. He's won it twice now with two different teams - University School from Fort Lauderdale and now with Montverde. And now he's also a two-time MVP of the event. The future Florida State forward impacted the game in every facet. He posted 11.3 points, 10 rebounds and 4.8 assists a game and shot 57 percent from the floor over the course of four games. He was second in the tournament in both rebounds and assists. With his future head coach Leonard Hamilton watching, Barnes was the catalyst of the championship Eagles. He scored 15 points, grabbed 12 rebounds and had five assists in the 63-55 win. 
THE BEST PRO PROSPECT 
With so much talent and size on the IMG and Montverde rosters, you could probably pick someone off of their rosters and not be wrong. Seriously, the level of talent between those two programs is bananas. Cade Cunningham is our No. 1 player in the nation for the class of 2020 for a reason. He's the most dynamic player in the nation. Cunningham, an Oklahoma State commit, led the tournament in assists and was the toughest player to guard on the toughest team in the field. His game has a Brandon Roy flavor to it. 
MR. BUCKET GETTER 
There wasn't a more impressive scorer in the event than North Carolina bound guard RJ Davis. The senior from Archbishop Stepinac was the most consistent point producer in the tournament. Davis scored 25 points a game and when his team needed to get to the rim or score with a three, he was money. Davis was efficient and purposeful in his approach. Davis is a top 60 consensus player. He needs to be higher than that. 
THE BEST BLOW UP GUY
Remember the date for when the 6-foot-7 sophomore raised his profile from a South Florida guy to know to a national guy who could be trending in the right direction. We see this kind of story play out all the time at the City of Palms when the local talent takes his game to the big stage and shines. Reneau is most certainly that guy. The class of 2022 lists is centennially being built up and he played his way into the high-major conversation. There were some flashes of Scottie Barnes to his game - big, strong and versatile. Don't be surprised to see things really take off for him after this week. 
THE BEST AVAILABLE SENIOR 
Jyare Davis didn't play travel ball in 2019 because of tendonitis is in his right knee. After a well-publicized start to his high school career, the 6-foot-8 senior from Sanford School (DE) is quietly going about his business and focusing on a state title. There was an impression that he kind of liked the time away from the big spotlight and was able to focus on his long term plan. The 6-foot-8 forward had a good showing in Fort Myers and was, arguably, one of the most valuable available players in the entire field. Davis recently took an official visit to Providence and said he would like to make a decision on college sometime after the holiday events come to an end. 
MY GUY
Sometimes you just like what you like. I like a tough guy. I like someone who isn't afraid of getting his hands dirty. Senior big man Cayden Baker of Fort Myers (FL) was that dude. The future North Carolina footballer was Mr. Tough Guy. He played against some of the biggest and strongest players in the City of Palms field and kinda loved every minute of it. Paired against IMG's parade of teenage giants, Baker welcomed the challenge of being the sole defender of a rotation that included players who stood 6-10, 6-11, 6-10, 7-1, 7-3. IMG won. don't mistake that but Baker stood in the coliseum and went full gladiator. And we can't look past this: 
Our HoopSeen stage is designed to provide the best exposure opportunities for top independent programs. Tons of coaches, social media exposure, and elite competition are some of what you'll find at our events. For more information on our 2020 events, visit our events page, or call our hotline at 470-266-8862.